Takeaway From the Biden-Xi Meeting: Jaw Jawing as Success
Little of substance was expected of the Monday night meeting, but Biden said the two sides had to establish "guardrails" to prevent a clash, while Xi said he was glad to see his "old friend."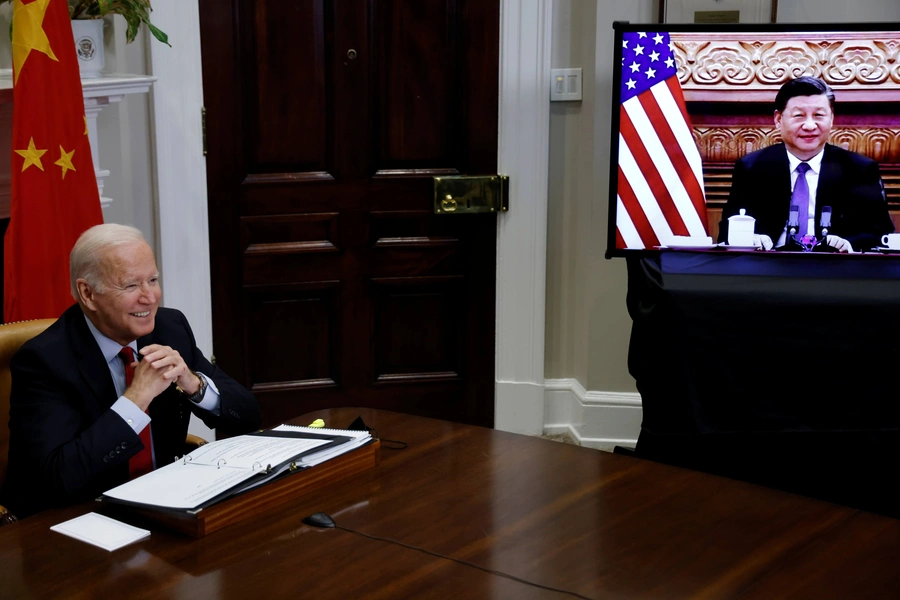 Even though it resulted in little, Monday's video meeting between U.S. President Joe Biden and Chinese leader Xi Jinping at least took place.
With relations between the United States and China near a historic low, the two leaders spoke for three and a half hours on a range of sensitive issues, including trade, human rights, and Taiwan. Little of substance was expected, but Biden said the two sides had to establish "guardrails" to prevent a clash, while Xi said he was glad to see his "old friend."
The better tone was reflected in an agreement to ease restrictions on each other's journalists. Each side said they would issue one-year multiple-entry visas, which reversed a Trump-era policy of limiting Chinese journalists and putting them on short visas—a policy that China adopted in retaliation.  
One critical point was Taiwan. China has ratcheted up the pressure on the self-governing island, which China claims as part of its territory, by sending dozens of planes near Taiwan's airspace. The United States has never formally pledged to defend Taiwan in the event of attack, but for decades the assumption has been that it would if China launched an unprovoked invasion. Formally, the United States is only bound by law to help Taiwan defend itself, especially by selling weapons.
Last month, Biden sowed confusion about U.S. policy, saying the United States had "a commitment" to come to Taiwan's defense. Later, the White House backtracked, saying U.S. policy had not changed.
At the summit, Xi promised to pursue peaceful unification with Taiwan, but used very direct language to warn the United States from becoming too involved with the island's fate: "It is playing with fire, and if you play with fire, you will get burned," he said.
Xi's rhetoric was consistent with China's policy of not compromising on core issues. When the Biden administration took office, Chinese officials hoped that it would offer a break from the Donald Trump era's bellicose criticism. Although the rhetoric from Washington has cooled, many policies have stayed in place, including punitive tariffs on some Chinese exports.
Over the year, Chinese officials have harshly criticized the Biden administration and refused to back down on substantive issues, such as the crackdown in the western Chinese region of Xinjiang or the reduction of freedoms in Hong Kong.
One of the few concrete signs of progress this year was initiated by the United States. That came in September, when Washington dropped charges against Meng Wanzhou, an executive for the Chinese telecommunications firm Huawei, for violating U.S. laws on doing business with Iran. At Washington's request, Canadian officials detained her when she landed there on a trip in 2018. That caused China to detain two Canadian businesspeople and essentially hold them hostage. When Washington dropped the charges, the Canadians were released.
Even though it wasn't held in person, the meeting could be the last chance for a get-together for the next year. Early next year, China will be readying to host the 2022 Winter Olympics in Beijing and then both countries are likely to be consumed by domestic concerns.
Xi will likely be busy preparing for next autumn's Chinese Communist Party congress, when Xi is expected to be appointed for an unprecedented third term, while Biden will be focusing on midterm elections in the hopes of preventing his Democratic Party from losing control of one or both houses of Congress.