Tanzanian President Magufuli's Veneer of Omniscience in Critical Condition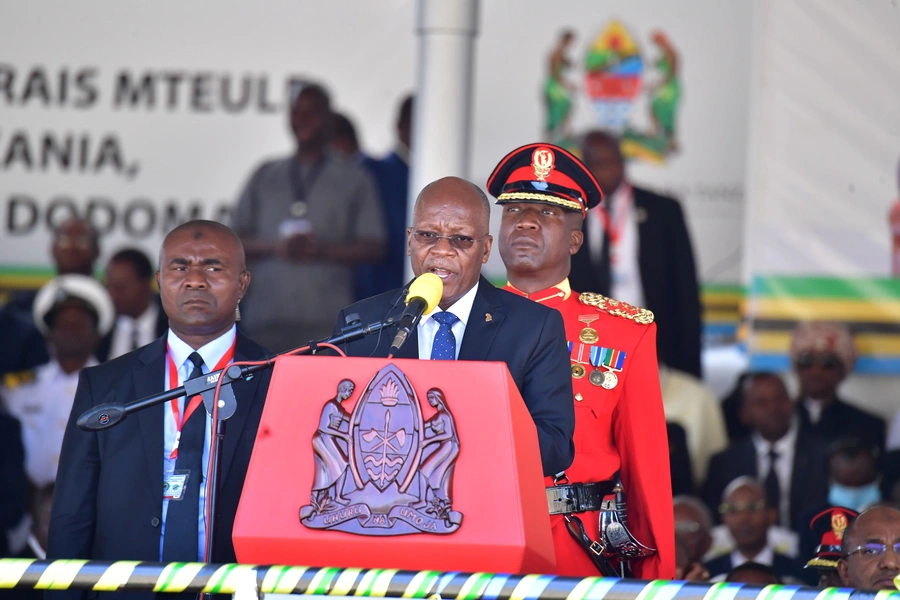 Nolan Quinn is a research associate for the Council on Foreign Relations' Africa Program.
A story published yesterday in Kenyan newspaper the Nation suggests—though does not confirm—that Tanzanian President John Magufuli was flown into Kenya and admitted to a hospital in Nairobi to receive treatment for COVID-19. The president, who has repeatedly downplayed the disease while encouraging citizens to pray and inhale steam to kill the novel coronavirus, was reportedly placed on a ventilator. Main opposition figure Tundu Lissu told the BBC that the president was in critical condition after experiencing cardiac arrest and later tweeted that Magufuli had been transferred to India for further medical treatment. Both claims remain unverified, but Magufuli, according to a senior Tanzanian medic close to the president, has a history of heart issues that could complicate his recovery.
Magufuli's approach to the pandemic has won plaudits from the president's personal supporters and COVID-19 skeptics alike, many of whom have taken his denials of the disease's existence in Tanzania at face value. The president has backed his narrative, and implicitly portrayed himself as the sole arbiter of truth about the virus, through fact-free diatribes questioning the reliability and efficacy of testing, lockdowns, and vaccines. The government's efforts to criminalize the sharing of data on COVID-19—Tanzania last reported case numbers in May—served to further reinforce Magufuli's role as the unquestioned authority on the pandemic in the East African nation.
The president's monopoly on information, however, became untenable as a wave of deaths attributed to "pneumonia" spiked suddenly in Tanzania last month. The country's Roman Catholic Church, to which Magufuli himself belongs, pushed back on the president's claim that prayer had defeated the virus, urging adherence to best public health practices. (The Church's website was conspicuously taken offline shortly after but has since gone back up.) The Church again stepped into the fray earlier this month, announcing that sixty nuns and twenty-five priests had died in the last two months after experiencing COVID-like symptoms. Alongside such warnings came a spate of high-profile deaths—some confirmed as COVID-related, others merely suspected.
Reports that Magufuli has contracted COVID-19 after flouting public health measures invite a comparison to former U.S. President Donald Trump's own bout with the disease. However, should Magufuli recover, his political reckoning could prove much different than that of his American counterpart. Trump, upon being discharged from the hospital, released a video hailing the United States' medical personnel and its development of the "best medicines in the world," a message his supporters found inspiring. Magufuli's decision to seek treatment abroad, on the other hand, conveys a lack of faith in Tanzania's medical infrastructure—this from a fervent nationalist who boasted that he did not send his wife abroad when she was sick due to his belief in Tanzania's health systems, which he said had begun to attract medical tourism. The seriousness of the president's condition has also exposed his medical advice as mere quackery.
Contradicting the official line on COVID-19 remains dangerous for most people in increasingly authoritarian Tanzania. But even before Magufuli's unconfirmed diagnosis, ruling-party legislators had begun to exhibit growing unease about the number of deaths from "respiratory disease" being reported. Lawmakers will feel they have less to lose by speaking out when their lives and those of their loved ones are threatened by the unabated, unmonitored spread of COVID-19. Dissent from the within the ruling Chama cha Mapinduzi (CCM)—the party in power since independence—could provide an opening for a more serious discussion about the disease's prevalence in Tanzania and, in doing so, loosen the president's stranglehold on the party.
Much in the way Magufuli went from CCM outsider to spearheading the shrinking of civic space in Tanzania, a bold figure within the ruling party could capitalize on the current episode to begin to reverse course. (With the opposition effectively kneecapped, immediate change is more likely to come from within CCM.) Such an individual would need to cleverly navigate the party's internal politics—especially during such a tense moment—building a coalition to overcome Magufuli allies who have pushed the president to accept a third term. Until recently, with Magufuli in the ascendancy, this seemed far-fetched. But the president no longer enjoys the all-knowing aura he once did.