Technologies of Freedom Enabling Democracy in Africa
In response to internet censorship by governments across the continent, Africans have turned to technologies of freedom to access blocked content online.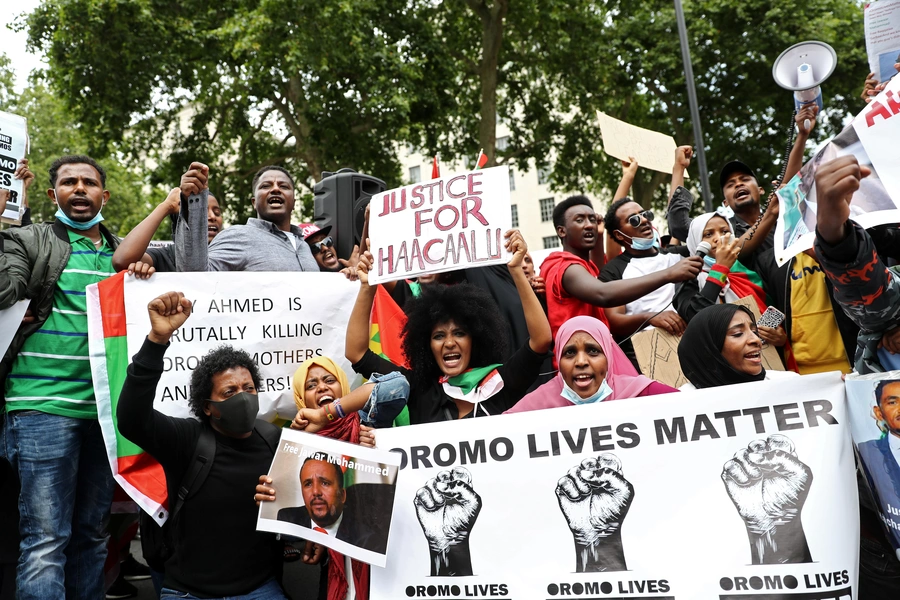 Babatunde Okunoye is an Open Technology Fund senior information controls fellow with the Tor Project. This blog post is a summary of his recently published report, Censored Continent: Understanding the Use of Tools During Information Controls in Africa: Nigeria, Cameroon, Uganda, and Zimbabwe as Case Studies.
Over the past two decades, authoritarian governments in Africa, with more than a little help and inspiration from Chinese and Russian information control models, have tightened their grip on their national cyberspace by imposing internet censorship. The consequences of these efforts were recently exemplified this June when the Ethiopian government shut down the internet nationwide in response to massive protests following the shooting of Haacaaluu Hundeessaa, a popular musician. This is but one incident in the long list of internet disruptions and social media messaging app blockages that have occurred in Africa, usually around political events. After Asia, Africa has experienced the largest number of internet disruptions in the world. Nonetheless, my research of government internet censorship in four African countries—Cameroon, Nigeria, Uganda, and Zimbabwe—has uncovered that widely available technologies, creative methods of sharing technologies that circumvent censorship, and community mobilization often allow for the flow of information despite government controls.
In response to internet censorship by governments across the continent, Africans have resorted to using technologies of freedom, tools such as virtual private networks (VPNs) that allow them to access social media platforms, messenger apps, news websites, popular blogs and other blocked content online. Oftentimes, users download these tools directly from websites and app stores.
However, sometimes government censors do not block specific content but instead make accessing the internet prohibitively slow through bandwidth throttling. In this scenario, accessing all online content, including news websites, communication apps, and even websites where VPNs are downloaded from, becomes incredibly difficult. In response, people have come up with creative methods for sharing VPNs, which, in addition to allowing users to access blocked content, also allow them to circumvent bandwidth throttling. For instance, in Cameroon, people that I interviewed used Bluetooth, USBs, and Xender, a mobile app that allows users to share files without using the internet, to share VPNs that they had downloaded prior to government efforts to slow down internet speeds. The spread of these VPNs in turn enabled access to content that would otherwise be inaccessible.
Although governments in these countries have attempted to block popular social media platforms and messenger apps, these efforts have been undermined by the large number of apps that are widely available. For example, even when censors blocked Facebook and WhatsApp in Northwest and Southwest Cameroon, or created an extensive list of over fifty prohibited communication platforms in Uganda, they invariably neglected to block platforms that they weren't aware of. These consequently become communication lifelines for citizens. In particular, Signal was used by activists that I interviewed in Uganda, Cameroon, and Zimbabwe. People in Cameroon also used Telegram and FireChat, which allows users to communicate without accessing the internet through peer-to-peer mesh networking. Due to their adoption by people to enable the continued free flow of communication channels and information, these messaging apps became new technologies of freedom.
Finally, diaspora communities, political groups, and civil society also help enable citizens to circumvent internet censorship. Although the influence of these three sectors on civic mobilization varied between the four countries, their role has been crucial. In Cameroon and Zimbabwe, for example, I observed that diaspora communities provided early warnings to locals of ongoing government plans to disrupt their local internet connections. Groups from these three sectors also used a variety of channels, including text messages and social media, to recommend safe VPNs and show communities how to use them.
In July 2018, the United Nations Human Rights Council adopted a resolution affirming that the rights people enjoy offline should also be secure online. These include the right to freedom of opinion, expression, and assembly. In African countries with authoritarian governments, these rights are not only denied offline but also online. Nevertheless, across the continent, circumvention tools have become technologies of freedom that facilitate unfettered access to the internet in spite of censorship. This has facilitated the exercise of human rights in cyberspace and enriched democratic participation.