Ten Elections to Watch in 2022
Numerous countries will hold elections in 2022. Here are ten to watch.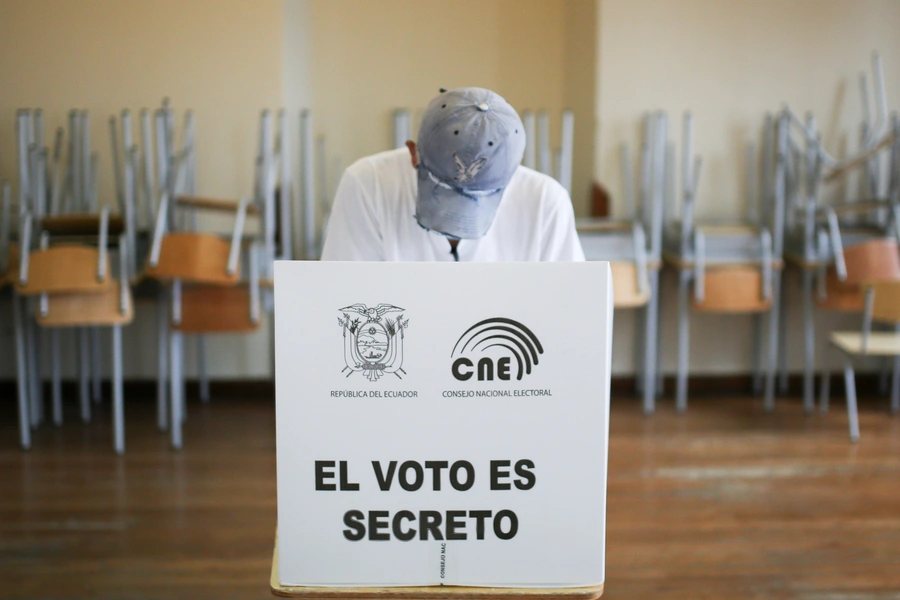 Millions of people around the world voted in 2021. Ethiopian voters reelected Abiy Ahmed as president, despite the Tigray conflict. Voters in Ecuador elected pro-business candidate Guillermo Lasso, breaking sharply with the leftist policies of the outgoing administration. Many Iranians sat out their presidential election, handing the win to hard-liner Ebrahim Raisi. Zambians elected Hakainde Hichilema as president, marking the third time since 1964 that Zambia experienced a peaceful transfer of power. Germans handed power to a coalition led by Olaf Scholz and the Social Democratic Party. Daniel Ortega claimed victory as president of Nicaragua in a rigged election. Israel's fourth election in two years resulted in Naftali Bennett succeeding Benjamin Netanyahu as prime minister. Countries like Canada and Japan held snap elections, with Canadians voting to keep Justin Trudeau as prime minister and Japanese voters giving the nod to Fumio Kishida. And some elections slated for 2020, including Hong Kong's Legislative Council election, never materialized.
Next year will see its share of consequential elections. Some of them might come as a surprise as governments fall, whether because of routine parliamentary maneuvers, protests in the streets, or coups. But many elections are already on the calendar even if specific dates have yet to be determined. Here are ten elections to watch in 2022.
South Korean Presidential Election, March 9. The South Korean constitution limits presidents to one five-year term, so South Koreans will be electing a successor to incumbent President Moon Jae-in in 2022. Moon is leaving office with his public approval ratings falling and his left-of-center Democratic Party of Korea (DPK) having lost mayoral races in the country's two largest cities, Seoul and Busan. Those elections were won by candidates from People's Power Party (PPP), the latest name of South Korea's conservative party. Moon has been hurt by his failure to reshape relations with North Korea and for failing to curb housing prices, which have increased by almost 58 percent since he took office in 2017. The DPK's candidate in 2022 is Lee Jae-myung, a civil rights lawyer who until this past October was governor of Gyeonggi Province. Lee favors instituting a universal basic income and providing more than one million low-rent homes. Lee describes his foreign policy as "practical" and says he supports working with both China and the United States. The PPP's candidate is Yoon Seok-youl, a former prosecutor who charged a minister in Moon's government with corruption. Yoon says he is a "rationalist" running against a "populist." His foreign policy positions look similar to Moon's, though Yoon emphasizes "preparing procedures for deploying U.S. nuclear weapons in South Korea in case of an emergency." As in most elections, though, domestic issues will likely decide the day. Polls currently show Yoon with a slight lead over Lee.
French Presidential Election, April 10 and April 24. French voters will likely get two chances to vote for president in 2022. If no candidate wins a majority in the first election, the top two candidates will square off in a second round of voting two weeks later. Incumbent President Emmanuel Macron of the centrist La République En Marche! Party is expected to seek reelection, though he has yet to formally declare. He defeated far-right candidate Marine Le Pen by a wide margin in the second round of voting back in 2017. Macron's approval ratings have risen into the mid-40s in recent months, which is comparatively high for French presidents late in a term. Le Pen, the leader of the Rassemblement National (National Rally), formerly known as the National Front, has launched her third bid for the presidency. Unlike Macron, she is staunchly anti-EU. She faces stiff competition on the right from Éric Zemmour, a television pundit who has been compared to Donald Trump and who champions the Great Replacement Theory, which in its French version contends that an elite cabal is conspiring to replace the "true" French people with Muslim immigrants. France's conservative Les Républicains Party chose Valérie Pécresse, the moderate head of the Paris region, as its standard-bearer. Recent polls show Macron with the support of 25 percent of French voters; Le Pen, Pécresse, and Zemmour are bunched around 15 percent. Candidates from the Socialist Party, once one of France's two main political parties, the Communist Party, and the Green Party trail in the single digits.
Hungarian Parliamentary Election, April 2022. "Orbán or Europe." That's what next year's Hungarian parliamentary elections could decide. Viktor Orbán, the head of the far-right Fidesz Party, has been Hungary's prime minister since 2010. He portrays himself as a defender of Christian values. He also says he wants Hungary to remain in the European Union even as he rages against it for trampling on Hungary's sovereignty. His critics, and he has many both at home and abroad, say he is destroying Hungary's democracy. That's why Hungary was the only EU country not invited to President Joe Biden's democracy summit this month. Orbán also has come under fire for a range of human rights violations, particularly against migrants and members of the LGBTQ+ community. In 2022, Orbán faces a legitimate electoral challenge for the first time in more than a decade. Six opposition parties from across the political spectrum have agreed to join forces under the banner of the Movement for a Hungary of Everyone (MMM) to unseat Orbán. After two rounds of voting, the coalition decided that Peter Marki-Zay, a center-right candidate and the mayor of the southeastern town Hodmezovasarhely, would be its candidate to replace Orbán. Recent polling shows MMM trailing Fidesz by two percentage points. In addition to electing the 199 members of Hungary's National Assembly, and with it the prime minister, Hungarians will be voting on four referendum questions that would restrict what schools can teach about homosexuality and transgender issues. The referenda, which Orbán supports, are intended to stoke cultural fears and boost Fidesz's chances at victory.
Philippine General Election, May 9. The 2022 Philippine general election sounds like a plot for an HBO series. The Philippine constitution bars President Rodrigo Duterte from seeking re-election. He at first flirted with political retirement. However, the populist rabble-rouser who has waged a violent and often extralegal war on drug traffickers, sought closer ties with China, and famously insulted President Barack Obama, ultimately decided to run for a senate seat. Speculation abounded that he wanted his daughter, Sara Duterte, to run for the presidency, possibly even with him as vice president, so she could protect him from investigations into his war on drugs. However, even though polls showed she had a good chance to win, she opted to run for vice president. She was immediately endorsed by rival presidential contender Ferdinand "Bongbong" Marcos Jr., the son of former dictator Ferdinand Marcos Sr. (The Philippines elects presidents and vice-presidents separately; they do not need to be from the same party.) The Marcos-Duterte partnership is likely intended to perpetuate their respective political dynasties. Other presidential candidates include Manny Pacquiao, a former world-champion boxer who later served as a senator; Leni Robredo, the current vice president; Isko Moreno, the mayor of Manila; and Senator Panfilo Lacson. Recent polls show that nearly seven-in-ten voters support Marcos, with Robredo in second place with just 11 percent support. Whoever wins will inherit a daunting inbox that includes COVID-19, a faltering economy, substantial poverty and inequality, and an encroaching China.
Australian Parliamentary Election, by May 2022. The Australian constitution requires that parliamentary elections be held by May 21 of next year. Voters will go to the polls to elect all 151 seats in the House of Representatives and forty of the seventy-six seats in the Senate. Prime Minister Scott Morrison, leader of the center-right Liberal Party, has yet to set the date for the vote. It's likely to be in the early spring. Australia has never held a national election in January or February, and at least thirty-three days, and no more than fifty-eight days, must be allowed for campaigning. The Liberal-National coalition, known simply as "the Coalition," hopes to win a fourth three-year term as the majority. The opposition Australian Labor Party, led by Anthony Albanese, hopes to return to power for the first time since 2013. The Coalition has been widely criticized for its supposed lax rollout of COVID-19 vaccines, or "strollout" as critics called it. Morrison's approval ratings have fallen to their lowest point since March 2020 when they dropped in the wake of the government's faltering response to the extreme "Black Summer" bushfires. Climate change is expected to be a major issue in the election. Labor recently released a plan to cut greenhouse gas emissions by 43 percent by 2030, a more ambitious goal than the Coalition's. Polls suggest that the election is Labor's to lose, though those same polls show that Australians prefer Morrison to Albanese as prime minister.
Colombian Congressional and Presidential Elections, March 13, May 29, and June 19, 2022. Colombians head to the polls in 2022 to elect a new Congress and their next president. The congressional elections will be held in March. Colombians will be electing 166 members of the House of Representatives and 102 members of the Senate. Alongside the congressional elections will be presidential primaries, called interparty consultations. Three consultations are likely—one for candidates on the left, a second for those on the right, and a third for centrists. In May, the first round of presidential elections will be held. If no candidate gets a majority of votes, as seems likely, a second round will take place in June. Term limits bar President Iván Duque from running for reelection. He likely wouldn't have won in any event. He is Colombia's least popular president since the advent of polling—his disapproval rating tops 75 percent— in large part because the COVID-19 pandemic has led to higher unemployment and increased inequality. The elections will test whether the political polarization gripping other Latin America counties extends to Colombia. Senator Gustavo Petro, a former guerilla member who finished second to Duque in 2018, could become Colombia's first leftist president. A recent poll showed him leading. Other candidates include Sergio Fajardo, a moderate former governor making his third bid for the presidency; Juan Manuel Galán, a former three-term senator; Alejandro Gaviria, a former health minister; Federico Gutierrez, a former mayor; and Rodolfo Hernández, a businessman and former mayor.
Angolan General Election, August 2022. Angola's upcoming general election is the second since the 2017 retirement of President José Eduardo dos Santos, who led the country for thirty-eight years as head of the Popular Movement for the Liberation of Angola (MPLA). Dos Santos's hand-picked successor for the MPLA and the presidency, João Lourenço, is seeking reelection. (Angola's constitution stipulates that the head of the party with the most seats in the National Assembly becomes president.) The MPLA has been in power since Angola won independence from Portugal in 1975. The National Union for the Total Independence of Angola (Unita), the MPLA's longtime rival and Angola's largest opposition party, hopes to end that dominance. It has joined with two other parties to form the Patriotic Front, a coalition for "Angolans eager for change." Unita's leader, Adalberto Costa Júnior, is the Patriotic Front's presidential candidate. Lourenço took office promising to combat corruption and poverty. He has pushed several high-profile corruption cases—including ones involving members of the dos Santos family. However, Angola is mired in a prolonged recession and the economy continues to depend on oil exports. The recent spike in oil prices may help on that score. But Lourenço doesn't appear to be leaving things to chance. The opposition complains he is tilting the playing field in his favor by changing the constitution to give himself greater control over judicial appointments and through a new law that centralizes vote counting. Lourenço insists that the elections will be free and fair.
Kenyan General Election, August 9. Kenyans will elect members of parliament and a new president in 2022. Term limits bar President Uhuru Kenyatta from running for a third term. His deputy president and fellow Jubilee Party member, William Ruto, is the front runner to succeed him. However, the men are at odds over Kenyatta's efforts to bridge Kenya's ethnic divides. Since the introduction of multiparty politics in 1992, tribal identities rather than political ideologies have driven the country's politics. Elections have frequently been marred by ethnic violence, as was the case in the 2017 presidential election, which had to be rerun because of election irregularities. After that election, Kenyatta made peace with his political rival Raila Odinga, a member of the Luo community. He also pushed constitutional changes that he argued would promote power sharing among rival ethnic groups. However, earlier this year, Kenya's High Court blocked Kenyatta's proposal to hold a national referendum to revise the constitution. In January 2021, Kenyatta noted that only members of the Kikuyu and Kalenjin tribes had led Kenya and that "perhaps it is time for another ethnic community to lead." This statement repudiated a deal Kenyatta, a Kikuyu, seemingly struck back in 2013 to support Ruto, a Kalenjin, for president after Kenyatta's two terms ended. Despite these political machinations, Ruto leads opposition leader Odinga by 15 percentage points in recent polls. Whoever wins will lead a restive country. A November 2021 poll found that only 19 percent of Kenyans think their country is headed in the right direction.
Brazilian General Election, October 2. Brazilians will elect a new president, vice president, and Congress next October. Incumbent President Jair Bolsonaro is expected to seek a second four-year term. In 2019, he left the political party that catapulted him to the presidency, which is a problem because Brazil requires candidates to belong to a political party. Bolsonaro solved that problem last month by joining the centrist Liberal Party. It's doubtful that this signals a softening of his right-wing populism. Bolsonaro's mishandling of the COVID-19 pandemic—he dismissed it as a "little flu"—led to such a terrible surge in COVID-19 cases that a Brazilian congressional panel called for charging him with crimes against humanity. He has also been accused of encouraging destruction of the Amazon rainforest. Bolsonaro's main challenger is likely to be former Brazilian President Luiz Inacio Lula da Silva. He was convicted of corruption in 2017, but the conviction was overturned on appeal. Most polls show Lula leading. However, Bolsonaro's popularity has risen since he embraced a proposal that would substantially increase cash assistance to the poor, though at the risk of breaking the national budget. This was quite a turnaround for Bolsonaro. He had previously proposed reducing poverty by limiting the number of children poor Brazilians had. Bolsonaro has also attacked, without offering any evidence, the security of Brazil's electronic voting system, suggesting he will question the legitimacy of any election that doesn't give him victory. He has said that he sees three possible paths for his future: arrest, assassination, or reelection.
U.S. Midterm Election, November 8. Expect control of one or both houses of Congress to change hands. Midterm elections generally go poorly for the president's party, especially in the House of Representatives. Over the past seven decades the president's party has, on average, lost twenty-five House seats in the midterms. Sometimes the seat loss is far larger. The Democrats lost sixty-three House seats in the 2010 midterms. Making matters worse, the redistricting undertaken since the 2020 Census favors Republicans. Democrats currently have an eight-seat margin in the House. So even if they beat the historical average in 2022, they could still lose the House. And 2022 isn't shaping up to be a year that defies history. Polls show that in a hypothetical House race voters favor a generic Republican candidate over a generic Democratic candidate by a record ten-point margin. Democrats may fare better in the Senate, where twenty of the thirty-four seats being contested are held by Republicans and none of the seats Democrats are defending are in states that Donald Trump won in 2020. But bickering between the moderate and progressive wings of the Democratic Party, and Biden's sagging approval rating, will weigh on Democratic Senate candidates. If Republicans do take back one or both houses, legislative polarization and gridlock will deepen in the run up to the 2024 presidential election. And be prepared for speculation that a Republican House will make Trump speaker. The Constitution does not require the speaker of the House to be a member of Congress.
Margaret Gach, Charlotte Peterson, and Anna Shortridge assisted in the preparation of this post.
Other posts in this series:
Ten Elections to Watch in 2021
Ten Elections to Watch in 2020
Ten Elections to Watch in 2019
Ten Elections to Watch in 2018
Ten Elections to Watch in 2017
Ten Elections to Watch in 2016
Ten Elections to Watch in 2015