Ten Elections to Watch in 2015
Numerous countries will hold elections in 2015. Here are ten to watch.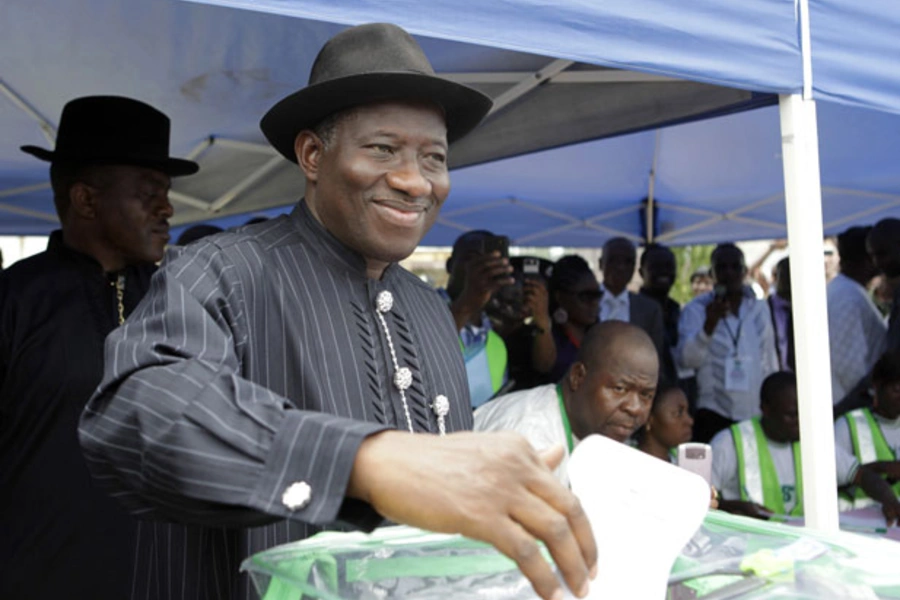 Millions of people around the world went to the polls this year. Indians and Indonesians elected new leaders, while Brazilians and South Africans voted to keep the ones they had. Turks elevated their prime minister to the presidency. Afghans cast votes in a disputed presidential election that took months to settle. Here in the United States, voters gave Republicans control of the Senate, and with it, control of Congress as a whole. The U.S. news media has already turned its sights to the 2016 presidential election, speculating on who is running and who might win. But before Americans decide who will square off in November 2016, the world will have plenty of important elections in 2015. Here are ten to watch.
Nigeria's presidential election on Saturday, February 14, 2015. Nigeria, Africa's largest economy and the continent's biggest oil-producer, holds elections in February. President Goodluck Jonathan of the People's Democratic Party (which has governed since 1999) is running for reelection, despite doubts about his constitutional eligibility. He is favored to win. Possible candidates for the opposition All Progressives Congress include former military ruler Muhammadu Buhari, former Vice President Atiku Abubakar, and Kano Governor Rabi'u Musa Kwankwaso. Whoever wins will have a lot to do. Nigeria's poverty rate stands around 33 percent, and unemployment is high. Making matters worse, the Nigerian economy faces tough headwinds. Oil prices are tumbling, and corruption in the oil industry and oil theft continue. Northern Nigeria continues to be plagued by violence directed by Boko Haram, a militant group that gained international attention this year after it kidnapped over two hundred schoolgirls from Chibok. (My colleague John Campbell, a former U.S. ambassador to Nigeria, has written on what Washington should do to counter Boko Haram.) Nigeria's election could itself be a source of violence. Tensions between the predominantly Muslim north and predominantly Christian south run high; many Muslims believe that Jonathan has violated the informal practice by which the Nigerian presidency alternates between Christians and Muslims.
The United Kingdom's parliamentary election on Thursday, May 7, 2015. The traditional Conservative and Labour party domination of British politics hit a speed bump in the last election: Liberal Democrats won enough votes in 2010 to force the Conservatives into a coalition government. Another, potentially more fundamental shake-up of the British political scene could happen in 2015. The UK Independence Party (UKIP), which is led by Nigel Farage and which favors Britain's exit from the European Union (EU), is gaining strength. That could steal votes from the Tories. Meanwhile, the Scottish National Party (SNP) is riding a wave of popularity in the wake of Scotland's failed independence referendum back in September. Scotland traditionally votes Labour, and some estimates show SNP taking as many as twenty Labour seats next May. While it is too early to call the British election, a split vote that forces an uneasy, multi-party coalition in Parliament could be in the cards. The outcome of the parliamentary vote will have another, broader consequence: Conservative Prime Minister David Cameron has pledged to hold a referendum on British membership in the EU should he win reelection. If UKIP does well in the vote and Cameron hangs on as prime minister, the political momentum for a British exit from the EU could become unstoppable.
Turkey's parliamentary election on Monday, June 15, 2015. Turkey's 2015 parliamentary elections next June figure to pit current Prime Minister Ahmet Davutoglu of the Justice and Development Party (AKP) against Kemal Kiliçdaroğlu, leader of the Republican People's Party (CHP). But neither candidate is the man to watch in Turkish politics. That honor goes to President Recep Tayyip Erdogan, who this year gave up the prime minister's job to become Turkey's first popularly elected president. The parliamentary vote will be another referendum on Erdogan. He has faced criticism for not doing enough about ISIS, for seeking to become Turkey's new sultan, and for spending irresponsibly (particularly on his extravagant new presidential palace). Erdogan hopes to hold a constitutional convention after the June vote, and he is expected to work to expand the powers of the presidency. For that to happen, Erdogan needs the AKP to get two-thirds of the seats in the new parliament. If he falls short of that mark, his political opponents should be able to frustrate his plans to cement his dominance of Turkish politics.
Mexico's congressional election in July 2015. When Mexico holds its congressional election, likely in July, all the seats in its 500 member lower house (Chamber of Deputies) and its 128 member upper house (Chamber of Senators) will be up for grabs. But this election comes with a twist. For the first time in nearly a century, incumbents in both chambers will be allowed to run for re-election. Members of the Chamber of Deputies will be able to serve four three-year terms, and members of the Chamber of Senators will be able to serve two six-year terms. Experts think the change will improve Mexico's governance buy giving lawmakers a reason to work harder and think longer term. Whether the experts are right will take years to figure out. The more immediate question is who Mexican voters will send to Mexico City. President Enrique Peña Nieto's term got off to a great start after being sworn in in December 2012; among other things, he persuaded the Mexican Congress to pass landmark legislation opening up the country's oil industry to foreign investment. But world oil prices have fallen by a third since mid-2014, which will create significant fiscal problems for Mexico. Oil revenues account for 32 percent of the Mexican budget. At the same time, Peña Nieto faces a political crisis over his handling of the September 2014 disappearance and presumed murder of forty-three university students. His popularity, which was already falling, in part because he had not delivered the dramatic economic improvement many Mexicans expected, has slipped even further. His opponents will be looking to take advantage of the political opportunity his missteps have created.
Poland's parliamentary election in October 2015. Ewa Kopacz was selected as Poland's prime minister in September after her predecessor became president of the European Council. She now leads the Civic Platform Party, which has formed a coalition government with the Polish People's Party. In the coming election, her primary challenge will come from the Law and Justice Party, which is a conservative party led by Jaroslaw Kaczynski. The winner will face two major to-do items. The first will be to decide whether to replace the Polish currency, zlotys, with euros. Polish president Bronisław Komorowski, who got the job after his predecessor was killed in a plane crash and who is also up for election next year, wants to open discussions about joining the eurozone. But the once considerable support among Poles for joining the eurozone has been eroding, and Prime Minister Kopacz has been skeptical about the idea. It's easy to understand why: the eurozone has been in an economic slump for five years, and the news is dominated by stories about how the eurozone's smaller economies have been hurt by their membership. The second major issue facing the next Polish prime minister will be to shore up Poland's security. Poland shares a border with Ukraine and has experience with Russian occupation. So Poles are understandably nervous about Russian aggression. They don't think Vladimir Putin is done trying to extend Russia's influence over its neighbors.
Canada's parliamentary election on Monday, October 19, 2015. Polls show that Canadian Prime Minister Stephen Harper faces a tough reelection. That's surprising. Compared to most other advanced industrialized economies, Canada is booming. Economic growth is around 2.5 percent, the Canadian government is running a budget surplus, and the Canadian middle class is the richest in the world. Harper has acknowledged that he is running uphill; he has proposed new economic policies to set himself up as a vibrant candidate. His main rivals are Thomas Mulcair of the New Democratic Party (NDP) and Justin Trudeau of the Liberal Party. If Trudeau's name sounds familiar, it should be. His father was Pierre Trudeau, Canada's prime minister from 1968 to 1979. The younger Trudeau looks to be tapping fond memories of his charismatic and dashing father while riding the "anybody-but-Stephen-Harper" sentiment popular among some parts of the Canadian electorate. National security could be a wildcard in the Canadian election. Harper has been a staunch proponent of confronting Russian aggression in Ukraine and ISIS atrocities in Iraq and Syria. The tragic shooting incident at the Houses of Parliament in Ottawa on October 23, 2014 has likewise pushed counterterrorism to the forefront of Canadian politics.
Argentina's presidential election on Sunday, October 25, 2015, with a run-off (if necessary) on Sunday, November 24, 2015. Argentina's constitution bars President Cristina Fernández de Kirchner from running for reelection. That may be for the best. Her public approval rating fell as low as 25 percent in 2014. While her numbers have since rebounded, she still wouldn't qualify as popular. Fernández has yet to decide whom to back as a candidate, but her party, the Peronist Front for Victory (FPV), looks to be in trouble. Her vice president, Amado Boudou, was accused of corruption back in June, and her central bank governor, Carlos Fábrega, quit in October. The Argentine economy is also in trouble: inflation exceeds 40 percent, the Argentine peso has fallen by a third since summer, unemployment is rising, and Argentina is in default on its external bond payments. Fernández stirred controversy with her October comments claiming that the United States was plotting to remove her and her vice president from office. Some Argentines speculate that she may tap her son, Máximo Kirchner, as a candidate. (If he won, he would be the third in the family to govern the country; Fernández succeeded her husband, Néstor, in the post.) The FPV's more likely candidate is Daniel Scioli, a former vice president and the current governor of the Buenos Aires province. Congressman Sergio Massa also might throw his hat into the ring. The leading opposition candidate is Mauricio Macri of the Republican Proposal Party, the mayor of Buenos Aires. Another possible presidential candidate is Elisa Carrió, founder of the Civic Coalition ARI, who ran and lost in 2007. Whoever makes it to the Casa Rosada will have his, or her, hands full.
Saudi Arabia's municipal elections on a date to be determined. Municipal elections ordinarily wouldn't make a list of global elections to watch. Saudi Arabia's 2015 municipal elections are an exception. It's not because of the issues at stake; these are local elections after all. It's because of who gets to vote and run in them. Three years ago, King Abdullah, who turns 91 next August, announced that women would be permitted to cast votes and stand as candidates. That's a big first for Saudi Arabia, a country that the World Economic Forum ranked 130 out of 142 in its 2014 Global Gender Gap Report. Saudi women have gained incremental freedoms in recent years. However, they still aren't allowed to drive, they can't open bank accounts, and they need to be accompanied in public by a male chaperone under "guardianship laws." The big question, of course, is whether the king will follow through on his promise. Conservative elements in Saudi society bitterly oppose the change, and they have had some success slowing and even stopping Abdullah's other reform efforts. Of course, even if Saudi women do get to vote, they won't be changing the course of the country's politics. After all, Saudi Arabia is ruled by a king, municipal elections are the only elections the country holds, and elected officials don't have much say over actual policy.
Myanmar's parliamentary election in late October or early November. Democracy and human rights activists will be paying close attention to the Burmese election. The ruling military junta's 2011 decision to hand power over to a civilian government and subsequent decisions to release political prisoners and relax constraints on political speech sparked hopes that Myanmar was democratizing. Much of that optimism has faded. The Burmese military has reserved a quarter of the seats in parliament for itself, restrictions on the news media have been tightened once again, and attacks by Buddhist paramilitary groups on minority Rohingya Muslims have escalated. Aung San Suu Kyi, winner of the 1991 Nobel Peace Prize and Myanmar's leading opposition figure, is fighting to revise the Burmese constitution. Most of the changes she seeks, which include eliminating the provision that bars her from running for president, aren't likely to pass. The speaker of the Burmese parliament, Shwe Mann already has said that Myanmar's constitution cannot be changed until after the election. Mann, a retired general, has an incentive to keep Suu Kyi out of the race. He is running for president himself. He is the odds on favorite to win. The incumbent president, Thein Sein, is retiring.
Spain's parliamentary election in December 2015. Spain's parliamentary election is a year away, but the vote is shaping up as a referendum on the economic policies of Prime Minister Mariano Rajoy and the conservative Popular Party. Spain has faced tough times over the past five years as debt problems led Madrid to adopt tough austerity measures. But things may be turning around. While most other European economies are stagnating or contracting, Spain's economy is improving. Rajoy hopes that planned tax cuts in 2015 will provide an additional boost. Whether that growth will do much to drive down the sky high unemployment rate, particularly among the young, remains to be seen. The Popular Party's traditional rival is the Socialist Party, which is led by Pedro Sanchez. But both parties now face a challenge from an upstart, Podemos ("We Can"). Founded and led by Pablo Iglesias Turrión, a political science professor, the left-wing party picked up five seats in the 2014 European Parliamentary election. Early polls indicate that Podemos could pick up sixty seats in Spain's 350-seat parliament, denying both the Popular Party and the Socialist Party an outright majority. A subsidiary factor in the election could be the future of Catalonia. Rajoy has been a fierce opponent of Catalan secession, a position that plays well in much of the country, excepting Catalonia of course.
Bonus election to watch in 2015: Israel's Knesset election on Tuesday, March 17, 2015. This post was in semifinal form last week when Israeli Prime Minister Benjamin Netanyahu dropped a bombshell: he fired his finance and justice ministers and called for elections two years early. Rather than kicking another country off the list, here's some bonus election coverage. The two ministers that Netanyahu canned were centrists in a coalition government led by Netanyahu's conservative Likud Party. Netanyahu said he had tired of their public opposition to his policies, especially his push for a nationality bill that would emphasize Israel's nature as a Jewish state rather than a democratic one and his efforts to expand settlement construction in the West Bank. Netanyahu hopes Israeli voters will return a Knesset that will allow him to form a coalition that supports his agenda. The fighting in Gaza this summer may have shifted Israeli public opinion to the right; most initial polls showed Netanyahu in the lead. However, some recent polls suggest that he may face a tough race. The Knesset officially voted to dissolve on December 8. Netanyahu wasted no time in launching his campaign. A recent spate of terrorist attacks will likely be an electoral issue, as will Israel's faltering economy. Early elections also mean that there likely won't be any significant movement toward peace talks with the Palestinians; U.S. Secretary of State John Kerry hopes to restart peace talks once a new Israeli government forms.
If there are any other 2015 elections you think are worth keeping an eye on, please note them in the comments.
Rachael Kauss and Corey Cooper helped prepare this post.
Other posts in this series:
Ten Elections to Watch in 2022
Ten Elections to Watch in 2021
Ten Elections to Watch in 2020
Ten Elections to Watch in 2019
Ten Elections to Watch in 2018
Ten Elections to Watch in 2017
Ten Elections to Watch in 2016