Trump Kills the G7's Legitimacy
Questions of legitimacy have long plagued the G7. The Trump administration's announcement of the Trump National Doral resort as the venue for next year's summit marks a new low.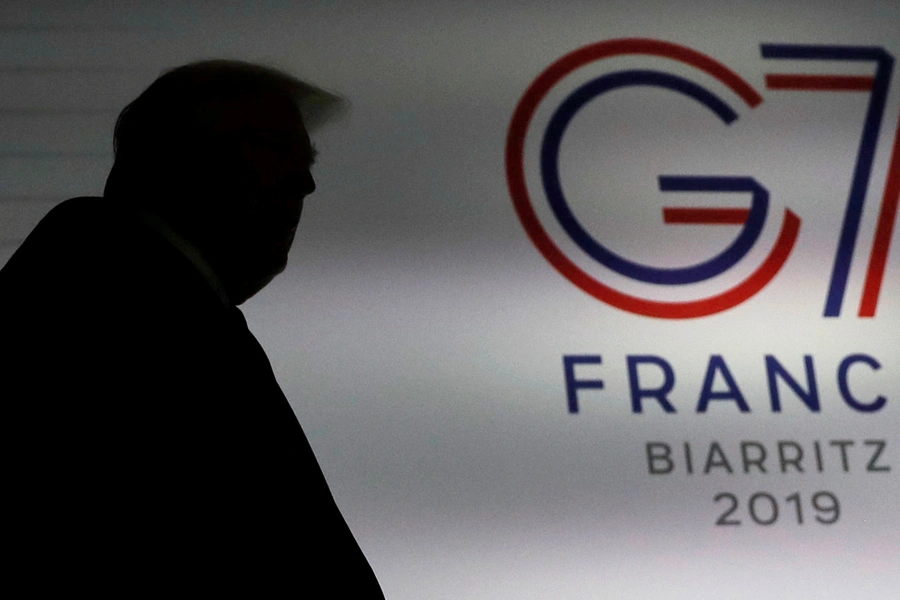 The following is a guest post by Kyle L. Evanoff, research associate for International Institutions and Global Governance, and Terrence Mullan, assistant director of the International Institutions and Global Governance program, at the Council on Foreign Relations.
The Group of Seven (G7) has long been on life support. President Trump, with his administration's confirmation that the Trump Doral Resort in Miami, Florida, will host next year's annual summit, has all but pulled the plug on what remained of its legitimacy.
The G7 has had its fair share of ups and downs over the years. Established in 1975 as a venue for six of the world's largest economies to meet and hammer out collective responses to political and economic issues of mutual concern, it took on its present form a year after its creation, with the entry of Canada into the group. The G7 expanded again in 1981, when the European Union gained acceptance as a "nonenumerated member," and in 1998, when Russia finagled its way into the renamed G8. Russia saw its membership suspended in 2014, however, after its annexation of Crimea.
In recent years, criticism of the G7 has reached a fever pitch. Russian misadventures notwithstanding, the group has faced increasing scrutiny due to its lack of inclusivity and failure to reflect changing geopolitical realities. Although it has had some successes, including the creation in 1989 of the Financial Action Task Force to combat money laundering, its influence and legitimacy have waned over time. As emerging powers such as China and India have come to represent a larger fraction of world economic output, the group has proved less useful in its function as a steering committee for the global economy. It has rebranded itself as a gathering of the world's largest industrialized democracies, even as relative Western power has declined. The group's agenda has expanded to include a panoply of issues pertinent to macroeconomic stability—including gender equality, digital governance, and climate change—but its importance has diminished relative to that of the larger and more inclusive Group of Twenty.
The G7's most precipitous downturn has come under Trump's watch. From spats between the U.S. president and Canadian counterpart Justin Trudeau at 2018's gathering in Charlevoix, Canada, to the decision at this summer's leaders' summit in Biarritz, France, to forgo the usual joint communique announcing the meeting's outcomes, Trump has been responsible for massive hits to the group's effectiveness and legitimacy. The G7's strength, according to this year's French presidency, is its shared values of "democracy, respect for human rights and fundamental freedoms, free markets, and respect for international law"—all things Trump abhors when they do not serve his self-interest. Indeed, the U.S. president's constant antagonism toward multilateralism has in effect created a G6+1, with the United States now at odds with the rest of the group on numerous issues.
Yet, none of Trump's past tantrums, squabbles, or rebukes has been as devastating for the group as his latest misdeed. At a White House press briefing yesterday, his acting chief of staff, Mick Mulvaney, announced that the real-estate-mogul-turned-politician's own Trump National Doral resort would serve as the venue for the 2020 G7 leaders' summit. This latest example of Trump using diplomacy for potential personal profit is his most blatant. Trump seems to be using the power of the presidency to prop up one of his properties that has struggled financially for the past three years. Whether or not it is illegal under U.S. law, such graft is inimical to proper presidential conduct, and belies the G7's numerous pledges to fight corruption. Worse still, this act comes on the heels of Mulvaney's declaration that "climate change will not be on the agenda," amplifying its delegitimizing effect.
Neither Trump's corrupt proclivities nor his administration's decision to ignore the world's most pressing existential threat is surprising. The U.S. president has long made clear where his priorities lie, both in his business dealings and in his distaste for efforts to address climate change, the latter exemplified in his planned withdrawal from the Paris agreement and conspicuous absences from climate sessions at other international gatherings.
Karma, however, may still catch up to Trump. Beyond ongoing impeachment proceedings, his corruption and the forces of climate change could collide in 2020 in a perfect storm of his own making. Next year's G7 summit is slated to take place from June 10 to 12, right around the beginning of hurricane season. Recent research suggests that climate change is increasing the intensity of hurricanes in the North Atlantic, and Trump National Doral is just down the road from the climate-battered city of Miami, which suffers increasingly from "sunny-day flooding" due to natural high tides exacerbated by unnatural sea level rises.
Even if Trump escapes Mother Nature's fury, he may not escape the wrath of his G7 counterparts. The world's advanced democracies could decide to stand up to the U.S. president and his abhorrent behavior by expressing in no uncertain terms their disapproval of next year's venue. They might also consider boycotting the summit altogether. Their failure to reprimand Trump would constitute a tacit endorsement of his behavior, emboldening him to take yet more egregious actions on the international stage.
Trump's presidency may not spell the end of the G7. But he has killed its legitimacy nonetheless. If the G7 continues to exist, it will be as a zombie institution. If its members pretend that Trump's corruption is business as usual, the G7 truly will have outlived its usefulness.