What the Biden-Xi Meeting Means for U.S.-China Relations
The meeting between U.S. President Joe Biden and Chinese leader Xi Jinping did not resolve major disagreements, but it could start the process of building guardrails to prevent competition from turning into conflict.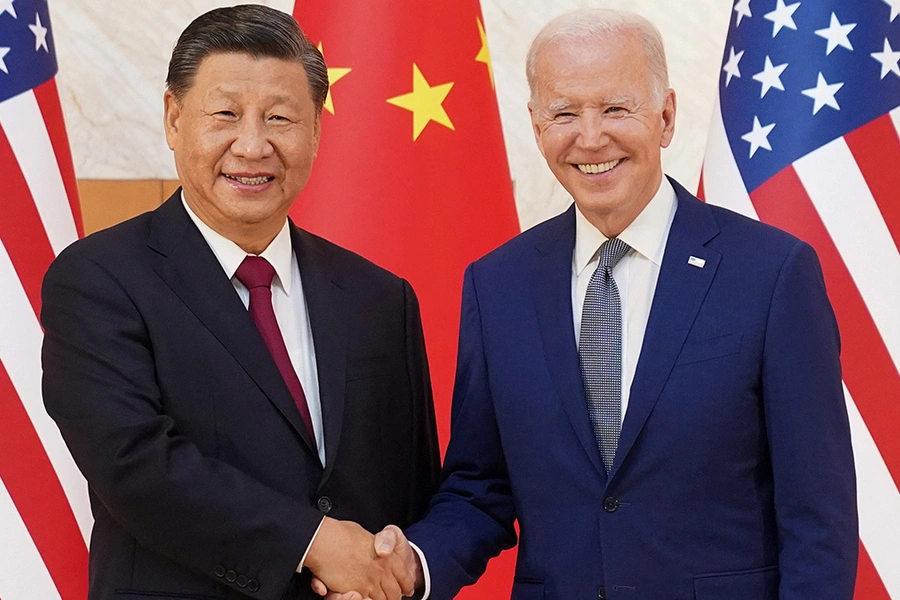 On the margins of the Group of Twenty (G20) gathering in Bali, Indonesia, U.S. President Joe Biden and Chinese leader Xi Jinping met for the first time in person as leaders of their respective nations. Their three-and-a-half-hour meeting came against the backdrop of heightened tensions over Taiwan, unprecedented U.S. export controls on advanced technologies levied against China, ramped up North Korean missile tests, and the ongoing war in Ukraine.
The meeting will not place U.S.-China relations on a new trajectory or produce consensus on thorny issues that have been at the heart of the relationship for decades. It could, however, lead to a shared understanding on the need the establish guardrails to ensure that the increasingly severe competition between the United States and China does not lead to outright conflict. While that would seem to be a modest outcome, it would be a positive development for a relationship that has steadily deteriorated.
Disagreement Over Taiwan
Given increasing tensions in the Taiwan Strait, it should come as no surprise that both the U.S. and Chinese readouts of the meeting devoted considerable space to outlining their positions on this issue. The U.S. statement emphasized that its one-China policy had not changed and that it opposed any unilateral changes to the status quo. It also lodged objections to China's "coercive and increasingly aggressive actions toward Taiwan." This language is consistent with long-standing U.S. policy and does not indicate any shift. As Biden said in his press conference after the meeting, "Our policy in Taiwan has not changed at all. It's the same exact position we've had."
Also unsurprisingly, this is not how China sees the situation. According to the Chinese readout, Xi underscored that Taiwan is "at the very core of China's core interests" and "the first red line that must not be crossed in China-U.S. relations." He continued, "We hope that the U.S. side will match its words with action and abide by the one-China policy and the three joint communiqués." To Beijing, the real issue is not U.S. rhetorical support for its one-China policy but rather the gap between its stated policy and its actions.
The discussion on Taiwan—again, as expected—appears to be an exchange of long-standing talking points and objections with the other side, and there is no reason to believe that this meeting will reduce tensions. Indeed, Chinese pressure on Taiwan will likely continue to intensify in the coming months and years, regardless of other developments in the U.S.-China relationship.
A Chinese Shift on Ukraine?
The most interesting statement came regarding the war in Ukraine, with the U.S. readout asserting that both leaders "reiterated their agreement that a nuclear war should never be fought and can never be won and underscored their opposition to the use or threat of use of nuclear weapons in Ukraine." The Chinese readout did not warn Russian President Vladimir Putin about nuclear use at all, instead noting that China was "highly concerned about the current situation in Ukraine" and supported peace talks between Russia and Ukraine. Beijing also expressed hope that the United States, the North Atlantic Treaty Organization (NATO) and the European Union "will conduct comprehensive dialogues with Russia."
China would have sent a strong message to Putin had it publicly asserted that Russia's use of nuclear weapons in Ukraine would be unacceptable. In reality, China does not seem ready to denounce Putin or distance itself from Russia.
No Consensus on North Korea
One topic that featured in the U.S. readout but not the Chinese version was North Korea. Biden said he told Xi that China has "an obligation to attempt to make it clear to North Korea that they should not engage in long-range nuclear tests." Prior to the meeting, U.S. National Security Advisor Jake Sullivan previewed that Biden would warn Xi that continued North Korean provocations would lead to an enhanced U.S. military presence in the region, which Beijing does not want to see.
In conveying such a warning, the United States hopes that China will use its considerable leverage over North Korea to get Pyongyang to stop ratcheting up tensions. The absence of any mention of North Korea in China's readout, however, likely indicates that Beijing has no intention of reining in North Korea.
What Comes Next
In addition to aiming messages at domestic audiences in the United States and China, Biden and Xi were also attempting to reassure allies and partners, which are largely uneasy with the state of the bilateral relationship. Biden noted at the top of the meeting, "We share a responsibility, in my view, to show that China and the United States can manage our differences, prevent competition from becoming anything ever near conflict, and to find ways to work together on urgent global issues." Xi went further, saying that "the state of China-U.S. relations is not in the fundamental interests of our two countries and peoples. It is not what the international community expects from us either." Both leaders tried to cast themselves as responsible stewards who are doing their best to navigate a difficult relationship.
In that vein, Biden and Xi put forward a positive agenda, with both emphasizing the desire to work together on transnational challenges such as climate change, global economic stability, public health, and food security. China halted bilateral dialogues on some of these issues in response to U.S. House Speaker Nancy Pelosi's visit to Taiwan in August, but China may have indicated its openness to resuming these negotiations in an attempt to show its desire to improve relations.
The leaders also agreed to continue senior-level dialogue and keep lines of communication open, with the next step being a trip by U.S. Secretary of State Antony Blinken to China. The return of active diplomacy to the relationship is a welcome development and marks an improvement over the rancorous exchange between the two sides in Anchorage, Alaska, nearly two years ago.
While the meeting between Biden and Xi did not lead to any breakthroughs in the U.S.-China relationship, that was a bar too high given the state of relations. Instead, both sides signaled that they wanted to establish a floor for the relationship and build guardrails to prevent competition from turning to conflict. This was an important meeting, but it will take sustained diplomacy from both sides to make these goals a reality.