What to Expect From South Korean President Yoon's First Big Global Moment
The upcoming summit between President Yoon Suk-yeol and U.S. President Joe Biden will likely address the U.S.-South Korea partnership, North Korea's nuclear program, and South Korea's relations with China and Japan.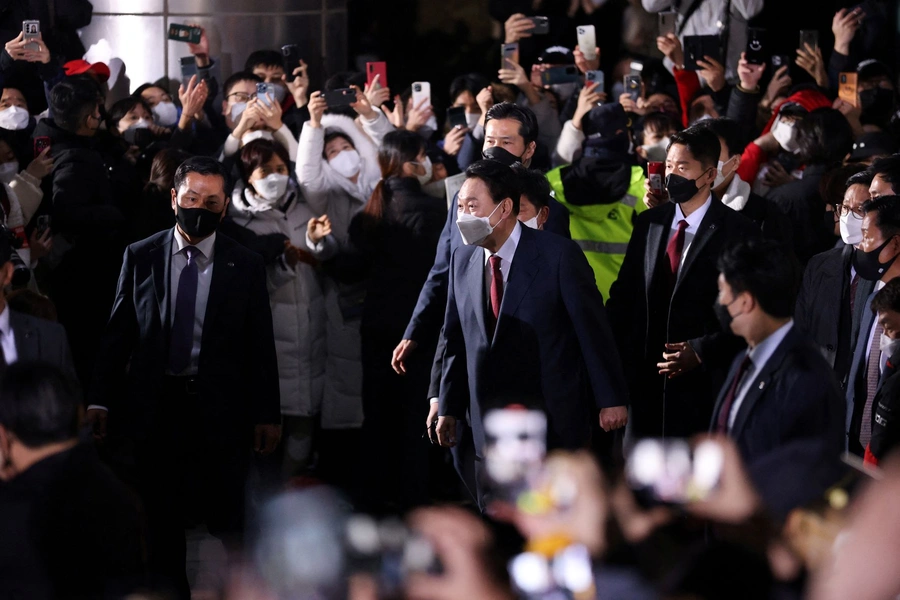 With the start of the Yoon Suk-yeol administration in South Korea, long-time observers of South Korean politics and foreign policy may think back to the last South Korean transition in power from progressive to conservative rule in 2008, when the conservative Lee Myung-bak administration assumed the reins of power from the progressive Roh Moo-hyun administration. During Yoon's campaign, he pledged the restoration of a "comprehensive strategic alliance" with the United States as the centerpiece of a South Korean foreign policy and stated his desire to build on Lee's "Global Korea" by becoming a "global pivotal state." Additionally, the return of foreign policy advisors who served in the Lee administration, such as National Security Advisor Kim Sung-han and his deputy Kim Tae-hyo, inevitably suggests the start of "Lee Myung-bak 2.0." Under Lee, the U.S.-South Korea alliance deepened, North Korea lashed out, relations with Japan remained hamstrung by historical grievances, and China blamed the United States and South Korea for fanning tensions with North Korea. Yoon will likely face similar issues, but his pathway for managing these issues may be narrower than Lee's, as Yoon will face both a steep learning curve and little margin for error.
The scheduling of an early summit with U.S. President Joe Biden in South Korea only eleven days following Yoon's inauguration underscores and generates high expectations for an expanded U.S.-South Korea partnership on global and regional issues. But with early expectations set so high on both sides, it remains to be seen whether or how they will be met. To be successful, Yoon must ensure that both his administration meets Biden's expectations and that the Biden administration's global leadership meets the expectations of the South Korean public.
North Korea will surely place itself at the top of the Biden-Yoon agenda with its intensified missile testing of increasingly varied types and ranges. North Korea's track record of hostility toward South Korean conservative administrations suggests the likelihood that both Biden and Yoon will need to reach an early consensus on how to manage a North Korea-instigated escalation of inter-Korean tensions. North Korea may desire to exacerbate U.S.-South Korean alliance frictions over how to respond to its escalation of provocations by reprising tensions in 2009 caused by the North's sinking of the South Korean Cheonan frigate and shelling of the South Korean island of Yeonpyeong-do. Given the risks of South Korean domestic politicization of Yoon's campaign statements about the "preemptive strike" option, the Yoon administration must show resolution and successfully manage North Korean provocations while avoiding the risk of being perceived as pouring gasoline on the crisis.
U.S. analysts have been heartened by the Yoon administration's public intention to restore Japan-South Korea relations to their highest level in decades, achieved in the late 1990s under South Korean president Kim Dae Jung and Japanese Prime Minister Keizo Obuchi. But Yoon will have to contend with past South Korean judicial rulings on Japan's wartime injustices toward South Korean women and regarding forced labor that have become structural obstacles to the improvement of relations. Most importantly, both Yoon and Japanese Prime Minister Fumio Kishida must show the political commitment necessary to address ongoing domestic political opposition on both sides to the settlement of these issues. To do so, Yoon must find a way to gain domestic support for the role and responsibility of the executive branch in managing foreign relations while also affirming the validity of Korean court judgments.
Finally, Yoon's pathway for maintaining stability in China-South Korea relations while committing South Korea to much closer strategic alignment with the United States will constitute an early foreign policy challenge. China has already issued veiled warnings to South Korea not to align itself too closely with the United States by suggesting that a good China-South Korea relationship is essential to South Korean security. China's ambassador to South Korea has responded to Yoon's campaign statements regarding the acquisition of additional high-altitude missile defense batteries from the United States by signaling that this is a red line that could jeopardize the bilateral relationship. While an overaggressive Chinese approach to the Yoon administration will only consolidate South Korean public support behind Yoon, actions by the Yoon administration that are perceived by the South Korean public as needlessly generating retaliation from China could have the opposite effect.
Given that the Yoon administration faces an opposition-led National Assembly eager to capitalize on his foreign policy mistakes, the biggest foreign policy constraint the Yoon administration faces is the need to ensure public support for his leadership on the international stage. To this extent, Yoon's ability to achieve success in foreign policy will be dependent on his ability to successfully navigate a narrow pathway while maintaining public consensus in support of his global leadership.