Why Major Belt and Road Investments Are Not Coming to Afghanistan
China is unlikely to prioritize Afghanistan for Belt and Road investment.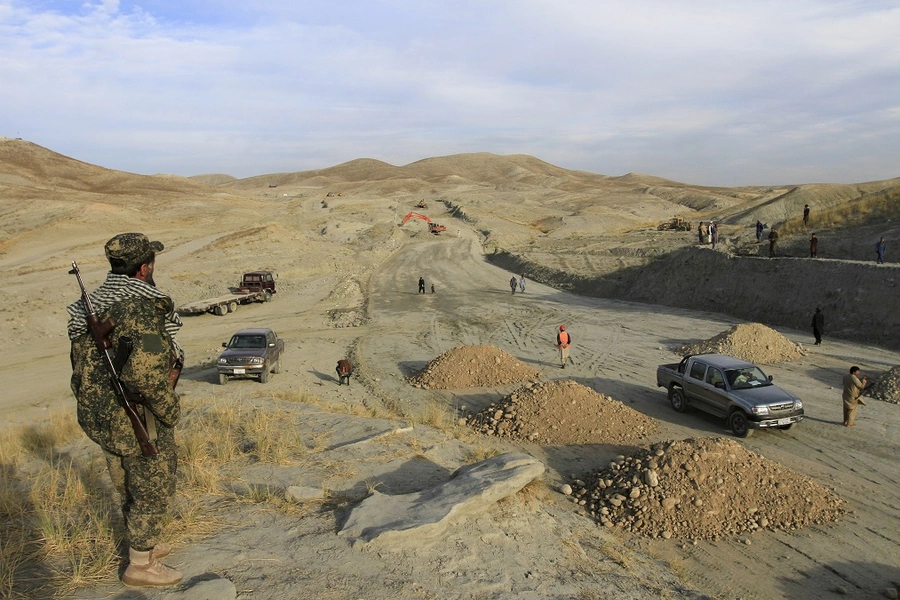 Jennifer Hillman and David Sacks are codirectors of the CFR-sponsored Independent Task Force report on a U.S. Response to China's Belt and Road Initiative, which is co-chaired by Jacob J. Lew and Gary Roughead.
Following the Taliban's takeover of Afghanistan and the U.S. withdrawal, some analysts have argued that China will fill the void in Afghanistan left by the United States. One of the primary ways China may build its influence in Afghanistan is by expanding its Belt and Road Initiative (BRI) projects in the country, according to this narrative. Due to headwinds facing BRI and questions about Afghanistan's stability, however, the country is unlikely to become a major destination of BRI investment.
Afghanistan is a formal member of BRI, and a senior-level delegation from Afghanistan attended China's Belt and Road Forum in 2017. The two largest Chinese projects in Afghanistan, however, predate BRI, and the initiative has not unlocked significant new investment. In 2008, a Chinese corporation won a $3 billion tender to develop the Mes Aynak copper mine, one of the world's largest. In 2011, another Chinese company won the right to develop an oil field in Amu Darya. Both projects have not panned out, and Chinese promises of related infrastructure to support these investments never materialized.
Some now believe that the time is ripe for China to prioritize Afghanistan for BRI investment. China is a leader in mining rare earth metals, and Afghanistan is home to some of the world's largest rare earth deposits. Prioritizing Afghanistan for BRI investment may also help China address certain risks. In particular, Chinese policymakers believe that Afghanistan, which shares a border with China, could be used as a base from which terrorists launch attacks against China. Beijing also fears that instability in Afghanistan could spill over into Pakistan and Central Asia, destabilizing countries on China's periphery and putting BRI at risk.
Chinese officials have repeatedly expressed interest in expanding BRI's signature undertaking, the China-Pakistan Economic Corridor (CPEC), into Afghanistan. CPEC encompasses $62 billion in commitments, covering everything from power plants to railways, roads, and a major port facility. In June, China's State Councilor and Foreign Minister Wang Yi voiced support for extending CPEC to Afghanistan. During this meeting between foreign ministers from Afghanistan, China, and Pakistan, the three countries agreed to "deepen high-quality Belt and Road cooperation…and enhance connectivity among the three countries." Senior members of the Taliban have reciprocated this interest, recently wishing that China "play a bigger role in future reconstruction and economic development" and guaranteeing the safety of Chinese investors and workers in the country.
These statements of support aside, China is likely to be deterred from investing significant money in Afghanistan given the country's deteriorating security and Beijing's concerns with their ability to protect Chinese investments in Afghanistan. Last week, a suicide bomber targeted Chinese engineers working on an expressway supporting the Gwadar port, the jewel of CPEC. In July, a suicide bomber who reportedly trained in Afghanistan attacked a bus carrying workers to a construction site in northern Pakistan, killing nine Chinese nationals. These were just the latest in a string of attacks on Chinese workers in Pakistan.
If China is unable to secure its projects in Pakistan, where the government is supportive of BRI and China enjoys strong influence, then it will have even more difficulty doing so in Afghanistan. China benefitted from the security U.S. forces in Afghanistan provided, and now that the United States has withdrawn it will need to devote significant resources to securing any future projects.
Speculation that Afghanistan will become a focus of BRI is also coming at a time when the initiative is retrenching and China's risk tolerance is declining. In recent years, lending across BRI has fallen. As our CFR Independent Task Force report concluded, BRI has entered an era of smaller lending and its backers are prioritizing projects where Chinese lenders have a greater chance of being repaid. As China looks for smaller and safer bets in BRI countries, Afghanistan does not come to mind as an appealing destination.
Even though Afghanistan will not turn into a hub of BRI, by holding out this prospect, the Chinese government is likely hoping to advance a narrative of U.S. decline and Chinese ascendance. China could be attempting to draw a stark contrast between the chaos of U.S. withdrawal and what it has termed the "destructive" role of U.S. power with the opportunities that China brings to the table. While the past and present in Afghanistan might be tragic, the future can be one of economic development and hope—if the Taliban does what China wants.
By publicly talking up BRI, China may also be hoping to create leverage for future negotiations with the Taliban. In its interactions with the Afghan government and now the Taliban, China has consistently asked for support in fighting the East Turkestan Islamic Movement (ETIM), which it believes "poses a direct threat to China's national security and territorial integrity." In particular, China believes that Afghanistan could be used as a training and staging ground for terrorist attacks in China. China may be betting that the prospect of new BRI projects in Afghanistan will incentivize the Taliban to not provide a sanctuary for ETIM and address China's other security concerns.
It would not be surprising if China announced billions of dollars in new infrastructure commitments in Afghanistan in the coming months. This would further the narrative China is attempting to build that it is the best bet for providing economic prosperity, while the United States is a has-been power. It might also lend the Taliban international legitimacy and help it build support domestically, as it can demonstrate that it is interested in governing the country and delivering economic development to Afghans.
In the end, however, one should not expect that significant new Chinese investment will materialize. At a time when BRI is retrenching, investing in Afghanistan is simply too risky and does not have enough economic upside. China is unlikely to expend significant resources to connect CPEC with Afghanistan, and Afghanistan will not become a focal point for BRI.