Why North Korea Might Reject Yoon Suk-yeol's Audacious Initiative
There are at least three reasons why the North Koreans are likely to reject South Korean President Yoon Suk-yeol's "audacious" initiative outlined in his Liberation Day speech.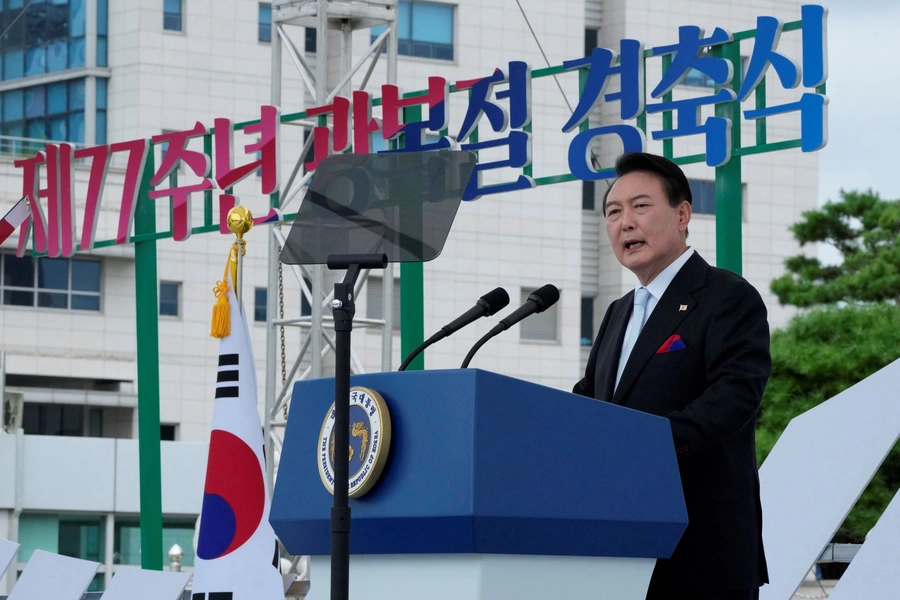 In his first Liberation Day speech marking the 77th anniversary of the end of Japanese colonial rule over the Korean Peninsula, South Korean President Yoon Suk-yeol announced an "audacious" initiative that laid out the foundation of his administration's approach to North Korea. The initiative is premised on the idea of a comprehensive, phased, and step-by-step denuclearization of North Korea and the normalization of inter-Korean relations in exchange for a bold program of economic assistance, development, and infrastructure investment. While Yoon's audacious plan may be the most generous, tangible, and wide-ranging offer yet proposed by South Korea in exchange for North Korea's complete denuclearization, there are at least three reasons why the North Koreans are likely to reject it out of hand.
First, Yoon's initiative adds to a long list of failed offers involving South Korean promises to provide economic benefits to North Korea in exchange for security concessions. These were the same assumptions that were behind a succession of failed efforts to jump-start denuclearization talks, most recently including efforts by both the Lee Myung-bak and Donald Trump administrations. But Kim Jong-un's military modernization goals laid out in the January 2021 Eighth Party Congress clearly underscores that Kim has shifted from an approach that prioritized simultaneous economic and military development to one that sees military development as a necessity for preserving the North Korean system under Kim's rule. Kim cannot build a credible record of domestic accomplishments toward the goal of economic development on the back of South Korean largesse; instead, Kim has prioritized military development at the expense of economic prosperity as an essential prerequisite for maintaining regime survival.
Second, the North Koreans are likely to read Yoon's initiative as an effort to achieve South Korea's economic absorption of North Korea rather than as a process built on inter-Korean economic integration. Given Kim's distrust of external parties, he must be carefully attuned to any externally led efforts to induce North Korea's economic dependency. In this respect, the more audacious the South Korean plan, the less likely it is to fly with North Korea. The same was true of North Korea's attitude toward the Moon administration's vision for a unified Korean economy. The acuteness of North Korea's economic vulnerability will make the leadership all the more resistant toward South Korean-proposed infrastructure projects, as was demonstrated by the restrictions the North Koreans imposed on the Gaesong Industrial Zone projects almost a decade ago.
Third, the North Koreans have already rejected the premises under which Yoon's plan has been developed and put forward. Kim clearly envisions his survival and that of North Korea as premised on the country's nuclear status, not tradeable for North Korea's economic integration with either South Korea or the global economy. Moreover, North Korea has consistently failed to honor the principle of reciprocity in implementing negotiations by pocketing the concessions of others without responding with concessions of its own. Yoon's audacious plan appears to envision a trust-building approach between the two Koreas that would enable both sides to proceed with step-by-step measures. But if the establishment of reciprocity-based mutual trust was not realized under the Moon administration, which bent over backwards to send gestures of respect and goodwill toward North Korea, it will be even harder for Kim to trust a Yoon administration deeply ensconced in the very values of freedom and human rights that North Korea denies.
If North Korea is likely to reject Yoon's initiative and Yoon indeed is trying to make Kim an offer that he cannot refuse, what would make the initiative so audacious? By presenting Kim with an offer so sweet that many judge it cannot be refused, the true audacity of the Yoon initiative may be that it seeks to strengthen its moral high ground in the face of North Korean nuclear intransigence, further bolster domestic support for deterrence in light of North Korea's refusal to engage in diplomacy, and show how far South Korea might be willing to go to preserve peace in the face of the North's increasing military threat.