Why States Need an AI Education Agenda–Now!
The United States needs to invest more in AI education. States should make AI education a priority, expand general AI education in elementary school, and request federal resources to supplement their educational offerings.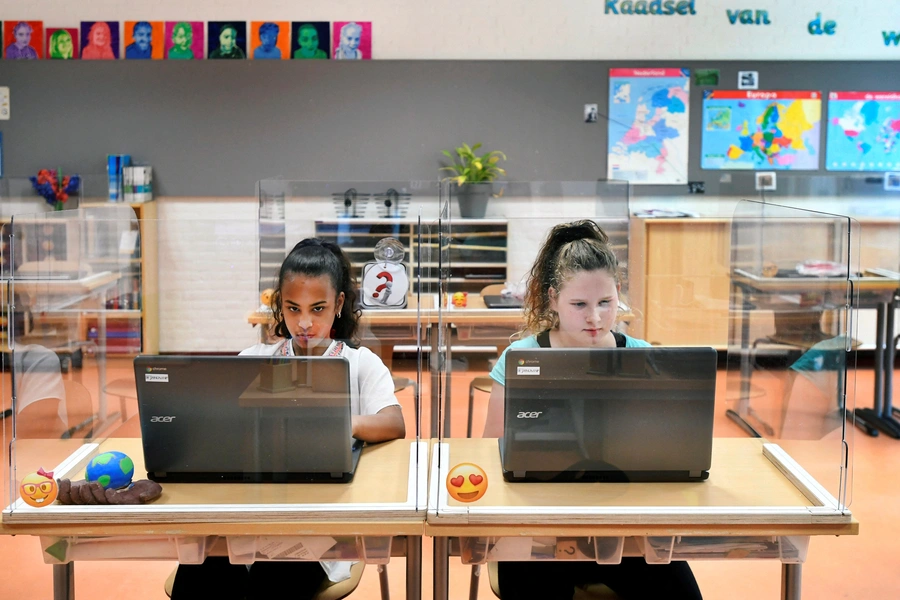 It is no secret that demand is hot for technical talent, but tomorrow's artificial intelligence (AI) workforce will include a range of people, not just those with technical skills. In a world characterized by widespread AI adoption, everyone will need a basic AI education to compete and succeed. Yet states have largely avoided making AI education a priority, putting U.S. leadership in this vital field at risk. Three steps can help all states bridge this gap.
Harnessing the potential of the country's future domestic AI workforce requires engaging all students early and routinely. States should immediately work to provide students with an AI education before high school, when they make career and educational decisions. It means opening up new interest areas and opportunities to those who can appreciate the contextualization and relevance of AI in their daily lives, but do not fit into the predefined box of four-year colleges. It means equipping all people with the tools they need to succeed in a global workforce. 
At first glance this may seem like wishful thinking. With so many competing priorities, insufficient resourcing, and––what is "AI education" anyway?––some readers may politely suggest this set of ideas be added to the list of things that won't see the light of day. 
Not only is this subject too important to dismiss, it does not need to be. The good news is that states can create an AI education agenda in three practical, feasible steps.
First, make AI education an explicit state priority. Establish a state-level AI education committee and publish an agenda dedicated to advancing AI education across the state. Connect the agenda to adjacent ones firmly rooted, such as for computer science (CS), that create synergy and leverage opportunities. For the states that have a "CS education supervisor" (over thirty six do), add AI to this function. Without buy-in, any effort to prioritize AI education will go nowhere fast. 
Currently, the idea of "AI education" remains nebulous at best. Many state education leaders and local school districts understandably do not know what it means, how it differs from science, technology, engineering, and mathematics (STEM) or CS education, or how it applies to the classroom. The Center for Security and Emerging Technology (CSET) has argued that AI education is distinct. AI education includes a technical component that is aligned with computer and data science, but also a foundational non-technical component everyone should have. This includes concepts such as potential bias, data privacy, and responsible use that are integrated in our daily lives.
Second, states should focus agendas on offering general AI education in elementary and middle school. This would require an initial time and resource emphasis on integrating foundational AI concepts into existing kindergarten through 8th grade (K-8) core curricula, and later expanding technical AI education alongside CS education in high school. States should make AI literacy a supplemental course learning objective for core courses, design materials to integrate basic AI concepts and principles, provide professional development for all K-8 instructors, and measure and evaluate progress.
A major benefit of this approach is that AI literacy encompasses many of the competing educational priorities being asked of schools. For example, schools are being asked to provide digital literacy, data literacy, climate literacy, computational thinking, and––a topic still only covered by law in 23 states––financial literacy. There simply is not enough time in the school day to address these as separate areas of instruction. However, AI education can bridge these topics. With some intentional course design, using these topics as applications of AI, all of these topics could be integrated into core curricula as supplemental learning objectives.
Third, states should request federal resources to address funding shortfalls in implementing their AI education agendas. A modification to existing AI education grant programs, along with a creation of a short application, could enable federal financial support to states and to school districts directly through the U.S. Department of Education and the National Science Foundation. Previous CSET research recommended funding grants for the provision of AI education and teacher professional development in kindergarten through 12th grade education, in partnership with industry non-profit organizations in the community. CSET has also proposed that Congress direct funds to the National Institute of Standards and Technology, or another federal entity, to create a framework for AI work roles and competencies that can be used to create AI education and training materials. 
The challenges states face in building an AI education agenda are not insurmountable. In fact, some states are leading the way. For example, Georgia is set to open the country's first public AI high school in Gwinnett County this August. Florida school districts are working with the University of Florida to develop an AI career and technical education pathway. Maryland is training teachers to pilot AI education curricula in select middle schools. 
Such recent developments are encouraging, but far more needs to be done. The United States will not meet the demand for tomorrow's AI talent without serious investment in AI education today. It is essential that all states adopt an AI education agenda now that prepares all Americans for AI or AI-enabled jobs, or risk falling ever behind.
Diana Gehlhaus is a research fellow at Georgetown University's Center for Security and Emerging Technology (CSET).