Will Thailand Actually Hold an Election?
As Thai political parties register to compete in early 2019, the ruling junta may yet again delay promised elections.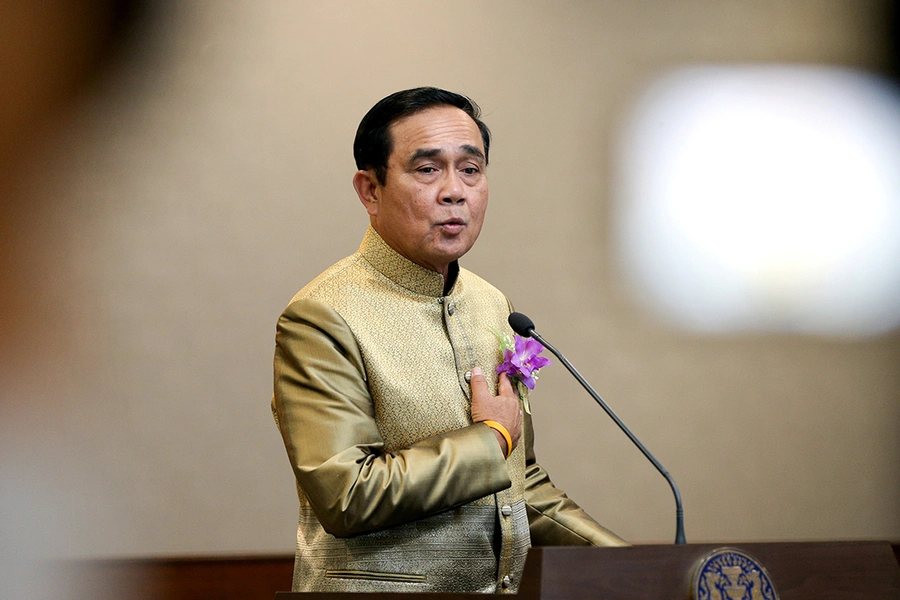 In two previous blog posts (here and here), I examined the surge of new parties that have registered to run in Thailand's elections, which the ruling junta has vowed to hold early next year. Although the parties are not allowed to formally release campaign platforms, there has been considerable excitement, at least in the media, about the Future Forward Party, a new party led by auto parts tycoon Thanathorn Juangroongruangkit, who had not previously been a politician. Thanathorn has publicly positioned his party as advocating a kind of new politics, one that theoretically would move the kingdom beyond its seventeen-year old divide between the military and its conservative/royalist supporters and the backers of Puea Thai.
For its part, Puea Thai seems to be gearing up for the election as well, even though the junta has eviscerated much of its first team of politicians, and though leaders Thaksin and Yingluck Shinawatra live in exile. Party leaders reportedly met with Yingluck and Thaksin last month in Hong Kong and Singapore, and Puea Thai leaders also still believe that their party, with its grass roots network and its ability to capitalize on a continuing lack of broad-base growth in Thailand, would be poised for a strong showing in any election. The party might be poised for a strong showing even with a new Thai constitution written in a way to make it harder for any one party to win a legislative majority, and with the military likely to pull out the stops to hinder Puea Thai's campaigning.
But amidst the flurry of party registrations this month and the coverage of Future Forward and other parties, a simpler question still needs to be asked. Is the junta actually going to hold an election in early 2019, as it has promised? It is far from a certainty. In fact, there remains a significant chance the military will delay the election again. For one, the military has, since the May 2014 coup, repeatedly promised that it will hold elections, only to delay them time and again. The armed forces appear to be delaying elections until military leaders feel comfortable that Peua Thai will not win a majority. They also possibly hope to create a situation that would allow junta leader Prayuth Chan-ocha to become prime minister, chosen by a deadlocked and factionalized parliament that then turns to him to keep running the country.
Yet if the armed forces go forward with their plan to hold an election in early 2019, they may not be able to engineer Prayuth's ascendance amidst a deadlocked lower house. The military's popularity is difficult to gauge in such a repressive environment, but the rash of scandals surrounding junta number two Prawit Wongsuwan does not help, and the lack of a clear economic plan that would help people in the north and northeast also creates an opening for Peua Thai and other parties.
There remains a possibility that Puea Thai could win an outright majority of seats in the lower house, which could give Puea Thai powerful legitimacy and the possibility of striking back at the military. There also remains the possibility that some of the new parties, like Future Forward, presented with a scenario in which forming an alliance with Puea Thai is the only way to prevent a political deadlock and Prayuth still in power, would work to block the army leader. Even the Democrat Party, the other big party along with Puea Thai, has grown alienated from the junta. There remains some possibility that, if no one party won a majority of the lower house, the Democrats could even ally with Puea Thai and other parties on a compromise prime minister to create democratic stability—but not on Prayuth as the compromise choice.
In addition, the armed forces seem, behind the scenes, to still be wrestling with the demands and whims of the new king, Rama X, who has repeatedly shown a willingness to insert himself into politics in a more open manner than his father. The junta may want to delay the election until after Rama X's formal coronation, and until Prayuth and other military leaders have firmed up their alliance with the king and their understanding of how he will manage his role in Thai politics going forward.