Women and Terrorism: "Jihadi Girl Power" Masks Reality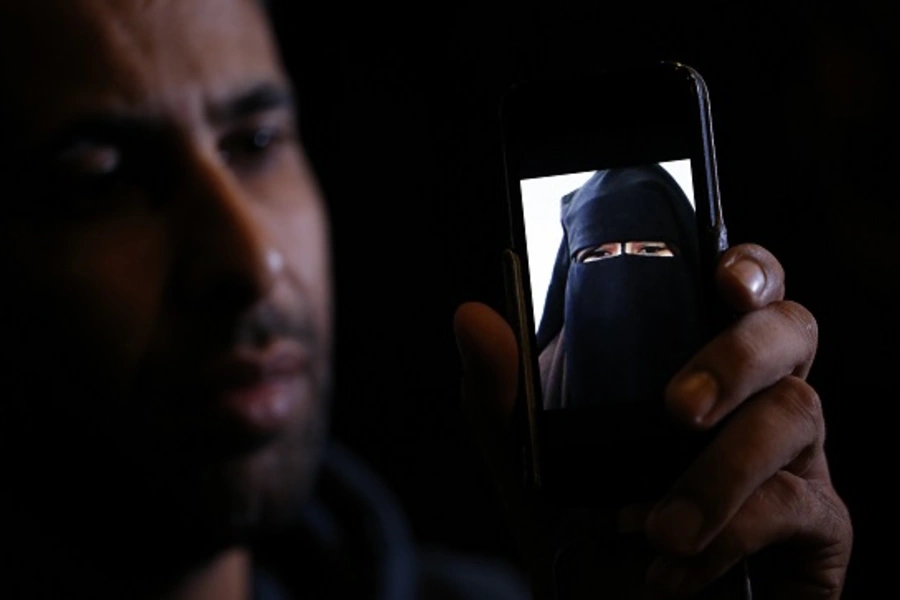 Far from demonstrating a new face of empowerment, so-called "jihadi girl power" wildly overstates the power of women and girls living under the control of the self-proclaimed Islamic State. The image of women and girls joining jihad has emerged based on recent reports of a small group of Syrian women who have joined an all-female regiment of the Islamic State, as well as news coverage of dozens of European girls living under control of extremist groups in Syria—an aspect of the conflict that is starting to alarm European governments previously more focused on the flow of young men joining the ranks of the Islamic state.
Notwithstanding recent reports of women pledging allegiance to the terror group in the West, the reality of women and girls living under the self-proclaimed Islamic State in Syria illustrates the stark realities of negotiating survival in territory under the group's control. Elsewhere, I've discussed the plight of the Yazidi women abducted by Islamic State fighters. The experience of Syrian women in the al-Khansaa Brigade, the Islamic State's all-female regiment, also demonstrates the terror network's severe treatment of women, particularly those who do not conform to the extremist group's strict ideology.
In Raqqa, Syria—the Islamic State's de facto capital—the al-Khansaa Brigade reportedly enforces the Islamic State's harsh restrictions on women, including their dress and movement in public, and punishes violators. A report in the New York Times details how three "fairly typical young women of Raqqa" agreed to marry Islamic State fighters "to assuage the Organization and keep their families in favor" and ultimately became members of the al-Khansaa Brigade to survive. As members of the brigade, these women became collaborators and "enforcers" of the Islamic State's harsh rules by turning in their former friends and neighbors for "violating" a strict code that penalizes women with arrests and beatings for actions such as wearing makeup, failing to fully cover in public, or going out without a male chaperone. Cynically, the Islamic State claims it is devoutly religious, even though its fighters use rape (including gang rape and rape of children), sex slavery, forced contraception, and forced marriage of women and girls as weapons of war. The three women who joined this so-called morality brigade eventually fled to Turkey, unable to bear the forced marriages to "martyrs" whose suicide deaths would leave them widowed and subject to repeated cycles of forced marriages, as the Islamic State demanded that widows remarry far sooner than is customary under Islamic law.
Yet more broadly, the Islamic State has a certain appeal for some women, particularly young women. The Islamic State uses social media, including Twitter and Facebook, to recruit and radicalize women and girls, some of whom themselves play critical roles in propaganda, dissemination, and recruitment of other women and girls through online platforms. In its online messaging, the extremist group offers an opportunity for girls to serve a cause larger than themselves, a sense of belonging, and sometimes even the promise of romance or marriage to a fighter, particularly to attract young women from Europe to join the group in both Syria and Iraq.
As Sasha Havlicek, founder of the London-based Institute for Strategic Dialogue, noted in testimony before the U.S. Congress last year, "A jihadi girl-power subculture has emerged on social media networks, clearly rooted in western culture while simultaneously rejecting it[,]" for example, where the Islamic State has appropriated a well-know cosmetics slogan on social media, but twisted it with a photo of a completely veiled woman accompanied by a caption reading, "'COVERed GIRL… because I'm worth it.'" In fact, Mia Bloom—a Georgia State University professor and author of Bombshell: Women and Terrorism—goes so far as to compare the recruitment efforts by the Islamic State fighters of women to online grooming by sexual predators.
The experience of women living under the Islamic State demonstrates the questionable role of agency for women living under such coercive circumstances. These women—particularly those already living in Syria or Iraq—experience a Hobson's choice: show loyalty to the terror group or suffer the consequences. To what extent is the decision to support the Islamic State a choice if the risk of not doing so is brutal punishment? If someone puts a gun to your head and tells you to rob a bank, are you truly guilty of bank robbery? So much for "girl power." The troublesome "choices" women are left with living under the Islamic State illustrate the complexity of gender and terrorism, where women can be victims, perpetrators, or agents in combating extremism (as I'll discuss at greater length in a follow-on post on Women Around the World).