Women This Week: 2019 Year in Review
Welcome to "Women Around the World: This Week". This week's post highlights the top news stories of 2019 and was compiled by Rebecca Turkington and Alexandra Bro.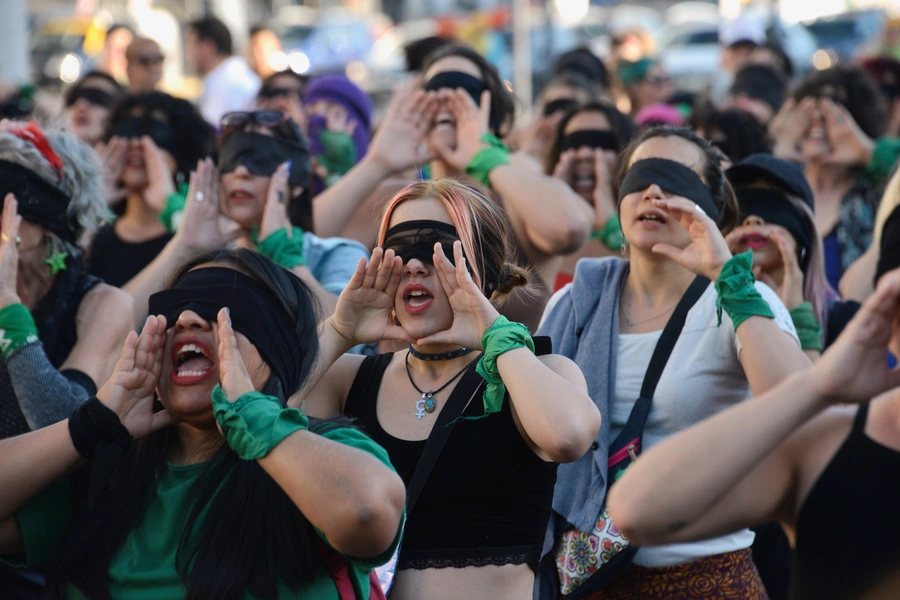 Welcome to a special edition of "Women Around the World: This Week," a series that highlights noteworthy news related to women and U.S. foreign policy. This week's post, highlighting 2019's most significant stories on the status of women and girls globally, was compiled by Rebecca Turkington and Alexandra Bro. 
1. Feminist Foreign Policy Spreads
Following in the footsteps of Sweden and Canada, three new countries announced the development of a feminist foreign policy in 2019. On International Women's Day, France pledged to further a "genuine feminist foreign policy" by pledging 120 million euros to support gender equality. France also used its 2019 presidency of the G-7 to convene a parallel gathering of high-level advisors on gender equality, known as the Women 7. Luxembourg's coalition government stipulated that the country will implement a feminist foreign policy, which the Foreign Minister elaborated in a speech to Parliament in March. In September, Mexico announced it would launch a feminist foreign policy in 2020, and did so the second week of January.
2. #MeToo Movement Sees Global Victories
In June, the International Labor Organization adopted a new treaty against violence and harassment in the workplace—codifying the #MeToo movement's aims into international law for the first time. The convention provides leverage for local activists advocating for domestic policy changes by building international consensus that all people have the "right to a world of work free from violence and harassment." Alongside victory at the international level, the #MeToo movement continued to gain traction in new countries over the course of 2019, with rising activism around the world, from Nigeria to Tunisia. And saw legal victories in others, such as a new law in Chile making public sexual harassment a punishable crime.
3. Women Candidates Step Up
A rising tide of women running for elected office swept across the world in 2019. This past year alone, national elections in India, Japan, and Switzerland featured more female candidates than ever before. The increase in female candidates has also produced more gender-balanced legislatures; voters in countries ranging from Canada to Malawi to the United Kingdom all elected record numbers of women to their parliaments this year. But as more women run for political office, the violent opposition they face is increasing as well. Abuse and harassment targeting female political participants is often sexual or gender-specific, and has, in some instances, been lethal. Earlier this year, Colombian mayoral candidate Karina García—campaigning to be the first female mayor of Suárez—was shot in her car.
4. Legal Reforms Help Level the Playing Field
Numerous reforms in 2019 continued to chip away at legal inequalities between men and women. In May, the Iranian Parliament approved an amendment to the citizenship law that would allow women to pass on their nationality to their children. In July, Cote d'Ivoire passed a bill reforming its marriage law that would provide equal property rights to men and women, protecting the inheritance rights of widows. And in August, Saudi Arabia eased its guardianship laws, allowing women to obtain passports and travel abroad without being accompanied by a male relative, as well as register a marriage, divorce, or birth. Research shows that legal barriers often keep women from full participation in the workforce, hampering economic development.
5. Women Lead Protest Movements Globally
Women were at the forefront of protest movements across the world in 2019. The year began with a 385-mile chain of up to five million women demanding equality in Kerala, India—one of the largest mass actions for women's rights in history—and ended with a viral feminist flash mob that originated in Chile and spread across Latin America, Europe, Asia, and beyond. Women have also been leaders of nationwide demonstrations in Sudan—which ousted dictator Omar al-Bashir—and ongoing protests in Hong Kong, Lebanon, Iraq, Chile, and Bolivia. Many have faced violent backlash from security forces, but continue on the front lines.
6. Abortion Laws Liberalized
Amid ongoing debate over the procedure in the United States, globally, abortion laws continue to be liberalized. In April, the Supreme Court of South Korea ruled its law criminalizing abortion "an unconstitutional restriction," and directed Parliament to revise it in 2020. After Ireland legalized abortion in a 2018 referendum, the UK Parliament voted to extend its own 1967 Abortion Act—which grants doctors the authority to perform abortions—to Northern Ireland as well. And states in Mexico and Australia voted to decriminalize abortion this fall. CFR's Global Abortion Law tracker shows these follow a pattern of liberalization. Since 2000, twenty-nine countries have changed their abortion laws, and all but one—Nicaragua—expanded the legal grounds on which women can access abortion services.
7. U.S. Promises Women's Participation in Peace Processes
In June, the White House launched the United States Strategy on Women, Peace, and Security, a core requirement of the bi-partisan Women, Peace, and Security Act of 2017 that lays out a strategic framework for U.S. efforts to advance women's participation in peace processes, and protect women and girls from violence. The strategy was launched amid ongoing peace negotiations in Afghanistan, in which women fear their hard-won rights may be traded away. In twenty-three rounds of talks between 2005 and 2014, Afghan women were at the negotiating table on only two occasions, and remain largely excluded from closed-door negotiations between the United States and the Taliban this year in Qatar.
8. Record Viewership for Women's Soccer
The 2019 FIFA Women's World Cup drew the highest viewership in the tournament's history, with more than 1.12 billion viewers tuning in around the world. In Germany, Scotland, Brazil, France, the United Kingdom and beyond, the cup broke domestic records for women's sports. The cup also made history in other ways; Brazil's star player Marta became the highest World Cup goal scorer—male or female—in FIFA history. The United States' victory drew attention to an ongoing class action lawsuit filed by members of the U.S. women's national team to demand equal pay.
9. More Gender-Balanced Cabinets
Two new countries appointed gender-balanced cabinets in 2019, bring the global total to 14 countries with more than 50 percent female ministers. In May, South Africa's President Ramaphosa announced a new cabinet in which half the ministers are women, for the first time in the country's history. And in June, Finland appointed a majority-female cabinet, with eleven women ministers of 19 total. However, not every country saw progress. In Brazil and Nigeria women's representation in the cabinet dropped after 2019 elections. At the multilateral level, women also made history in executive leadership at the UN—in addition to comprising half of the Secretary General's leadership team, for the first time women head all five of the UN's regional commissions.  
10. New Female Heads of State Elected
During 2019, six women became their countries' leaders: in Austria, Belgium, Bolivia, Denmark, Finland, Moldova, and Slovakia. Twenty-two countries around the world currently have a female head of state or head of government, including Ethiopia, Georgia, New Zealand, and Singapore. The world's newest female head of government is Finland's Sanna Marin, who became the world's youngest prime minister in December. Marin leads a coalition government of five political parties, all of which are headed by women (of which four are younger than thirty-five), and a cabinet where twelve of nineteen members are women.