Women This Week: Fund for Female Peacekeepers
Welcome to "Women Around the World: This Week," a series that highlights noteworthy news related to women and U.S. foreign policy. This week's post, covering September 26 to October 1, was compiled with support from Rebecca Turkington and Ao Yin.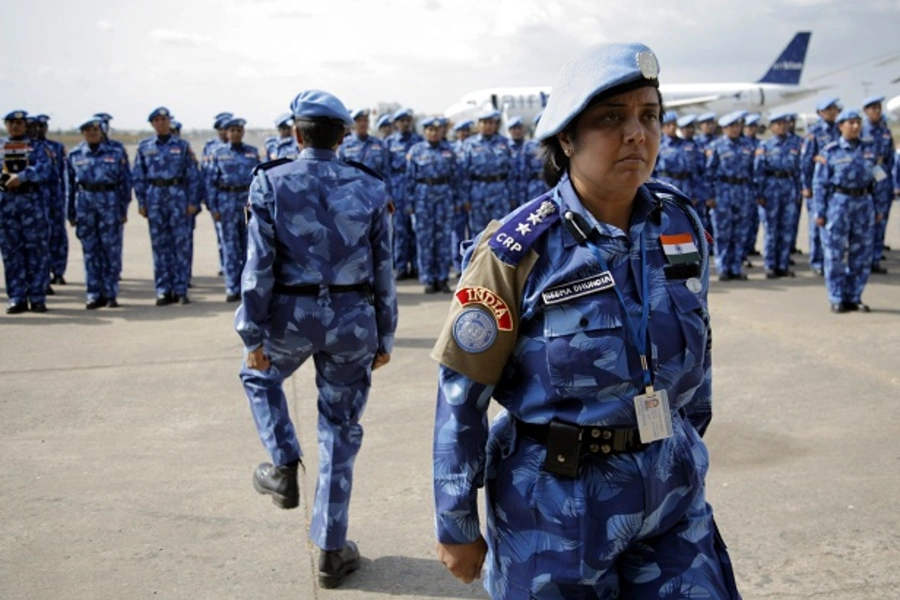 New UN Fund to Increase Women's Participation in Peacekeeping Missions
During the United Nations General Assembly week in New York, Canadian Foreign Minister Chrystia Freeland announced a new multi-partner fund to accelerate the deployment of women to UN peacekeeping operations. The fund is part of the Elsie Initiative for Women in Peace Operations, named for Elsie MacGill, a pioneering aeronautical engineer. Through the Initiative, Canada will also establish bilateral technical assistance partnerships with Ghana and Zambia to provide training for uniformed women. In 2017, women comprised just 4 percent of military peacekeepers and 10 percent of police personnel in UN peacekeeping missions—far short of the UN targets of 15 percent and 20 percent, respectively. A new CFR policy memorandum demonstrates that women's participation has been shown to improve mission effectiveness and advance stability.
Female Lawyers on the Rise in Saudi Arabia
The Saudi Ministry of Justice announced that the number of female lawyers registered in 2018 increased by 77 percent since last year, to over 200 today, compared to only 83 women in 2017. Recently, the Saudi Judicial Training Center organized a number of courses to help candidates to obtain a legal license, and the Ministry noted that almost half the participants were women. The surge in female lawyers reflects the government's current economic growth strategy, known as Saudi Vision 2030, which is focused on increasing women's workforce participation and has opened new job opportunities for women: just last week, Weam Al Dakheel became the first Saudi woman broadcaster to deliver the nightly news on television.
First Prosecution under French Anti-Harassment Law
In the first case invoking a new law against verbal sexual harassment, a French court has fined a man 300 euros for making lewd and insulting comments to a woman aboard a bus in a Paris suburb. When the anti-harassment law passed in August, critics said to would be impossible to enforce, but Gender Equality Minister Marlene Schiappa claims it will serve as a deterrent and embolden more women to speak out about harassment. A 2015 survey conducted by the French Institute for Demographic Studies found that over a span of a year, 20 percent of the female respondents reported experiencing harassment and 8 percent reported being insulted in a public place. The new legislation imposes on-the-spot fines for "sexual or sexist comments and degrading, intimidating or hostile behavior."