The World's Fastest-Growing Humanitarian Crisis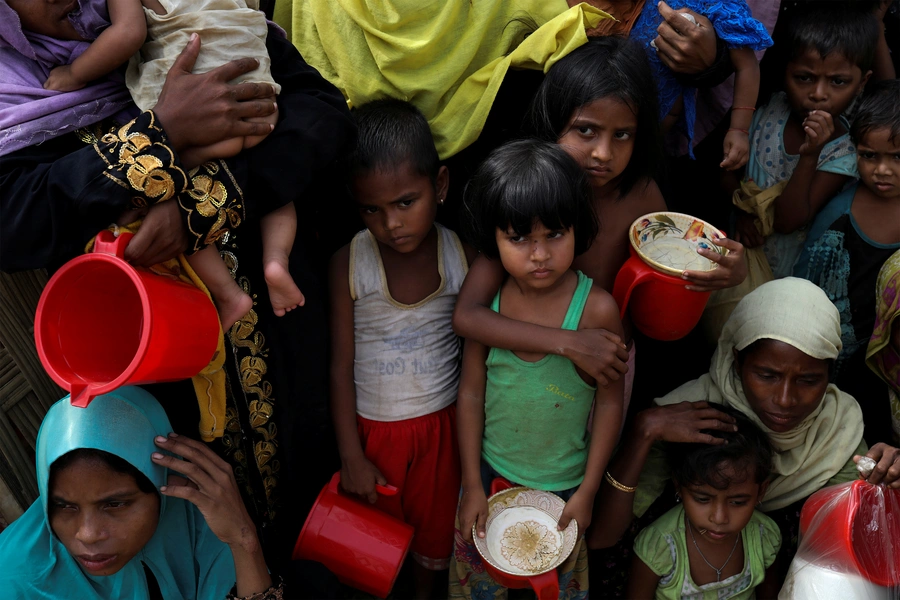 By now the ongoing humanitarian crisis in Myanmar's Rakhine State has resulted in more than 625,000 Rohingya refugees fleeing into Bangladesh just since August 25. Last week, I wrote about Pope Francis's visit to Bangladesh, and his public interaction with eighteen Rohingya refugees, which helped focus attention on their plight, if briefly.
This week I want to provide a sense of how challenging the state of affairs is for the Rohingya refugees. Bangladesh has opened its border to them, and they at least have a literal place of refuge. But the scale of the influx in such a compressed period of time has overwhelmed relief agencies.
As of December 3, the Inter Sector Coordination Group reports that with the new influx of refugees since August, the total number of Rohingya refugees now in Bangladesh is more than 838,000. Crowding and poor sanitation create the perfect storm for waterborne disease outbreaks. Reuters reported contamination of 60 percent of the camps' water supply. The head of the International Federation of Red Cross and Red Crescent Societies told Agence France-Presse in November that the risk of cholera was a "ticking bomb."
To prevent the worst, the World Health Organization (WHO) and UN Children's Fund (UNICEF) began a mass cholera immunization drive in October, targeting some 900,000 people. The UNICEF representative in Bangladesh called it the "second largest largest oral vaccination campaign in the world after Haiti in 2016." The WHO indicates that the available oral cholera vaccines can provide around 65 percent protection—clearly helpful, but not an impenetrable shield.
Just three weeks back, the World Food Program warned of "high malnutrition rates among Rohingya refugees." Its news release stated that "one in four Rohingya children" are malnourished.
The International Rescue Committee (IRC), in a November call to action, expressed concern that another influx of Rohingya "new arrivals" could be coming, which would push the total to more than 1 million refugees in Bangladesh. (This is already one of the most densely populated countries in the world, with more than 160 million people packed into an area roughly the size of Iowa.) The IRC termed the present situation an "unimaginable humanitarian crisis."
On top of all this, the refugees, who fled Rakhine State to escape brutal violence, remain vulnerable in the refugee camps. The International Organization for Migration has warned of "human trafficking, labor exploitation, and sexual abuse." Children separated from their families are particularly at risk. Reports of child labor and forced child marriages are emerging. So are reports of sex trafficking and sexual slavery.
Against this backdrop of human suffering, the funds needed to continue providing nutrition, better sanitation and housing, and continued health care and vigilance against infectious disease—not to mention ongoing protection and education for children—remain utterly inadequate. To date, the fundraising appeal remains just under 35 percent of its goal of $434 million. 
No wonder the IRC called this the "world's fastest growing humanitarian crisis." 
My book about India's rise on the world stage, Our Time Has Come: How India is Making Its Place in the World, will be out in January. Follow me on Twitter: @AyresAlyssa. Or like me on Facebook (fb.me/ayresalyssa) or Instagram (instagr.am/ayresalyssa).