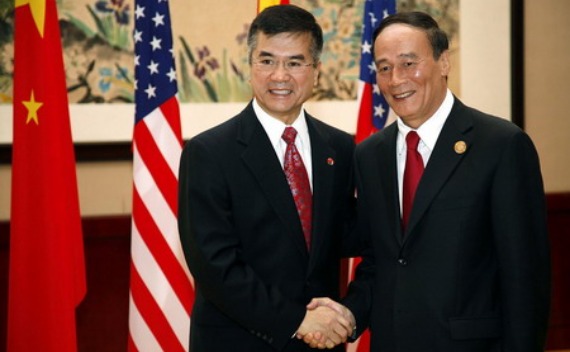 The two-day meeting of the U.S.-China Joint Commission on Commerce and Trade ended with the Chinese promising to crack down on software piracy and prevent other violations of intellectual property rights.  I hope they do, but I'll believe it when I see it.
The good news.  The Chinese government will spend more on legal software and it will try to track the use of software in state-owned enterprises.  Vice Premier Wang Qishan is said to have agreed to personally oversee a public campaign against intellectual property rights theft.  In addition, Chinese officials once again tried to reassure their American counterparts that earlier policy documents suggesting that the government would only buy products patented or trademarked in China were just drafts and that new rules would be more flexible.
The New York Times points to Wang's involvement as a hopeful sign.  Wang is the Vice Premier in charge of economic affairs, and the article suggests that "difficult changes are sometimes made only when a senior official publicly takes responsibility for them."  While this is true in the larger bureaucratic sense, it has not been the case with the difficult issue of intellectual property rights.  I go into some of the history in Advantage, but this is not the first time a Vice Premier has been tasked with cracking the problem.  In 2003, Beijing created the Leading Group on intellectual property rights, a high-level group to coordinate enforcement under the direction of Vice Premier Wu Yi. The appointment of Wu Yi, a woman dubbed the "iron lady" by the media and widely respected for her ability to get things done in the Chinese bureaucracy, signaled the importance the central leadership attached to the issue.  Seven years ago.  In 2008, Wang himself wrote an op-ed for the Wall Street Journal entitled: "No More Chinese Knock-Offs."
Tasking Wang is necessary but not sufficient since the problem is systemic as well as bureaucratic.  As Anne Stevenson Yang and Ken DeWoskin argued about five years ago in the Far Eastern Economic Review, the failure to protect IPR is the result of the government's continued control of the economy and the drive for indigenous innovation. State funds are given to companies and scientists to develop already proven technologies. In essence, companies are paid by the government to copy.
None of this has changed, and in fact has possibly gotten worse.  So while I am happy to hear Chinese Vice Premiers say they are ready to tackle the problem, I am going to hold off making any final judgments until I see some change on the ground.
Photo Courtesy of AFP