Yamini Aiyar: Why Think Tanks Are Critical to Indian Policymaking
By serving as convening hubs for diverse stakeholders to come together and discuss pressing policy concerns, Indian think tanks help U.S. policymakers understand local viewpoints.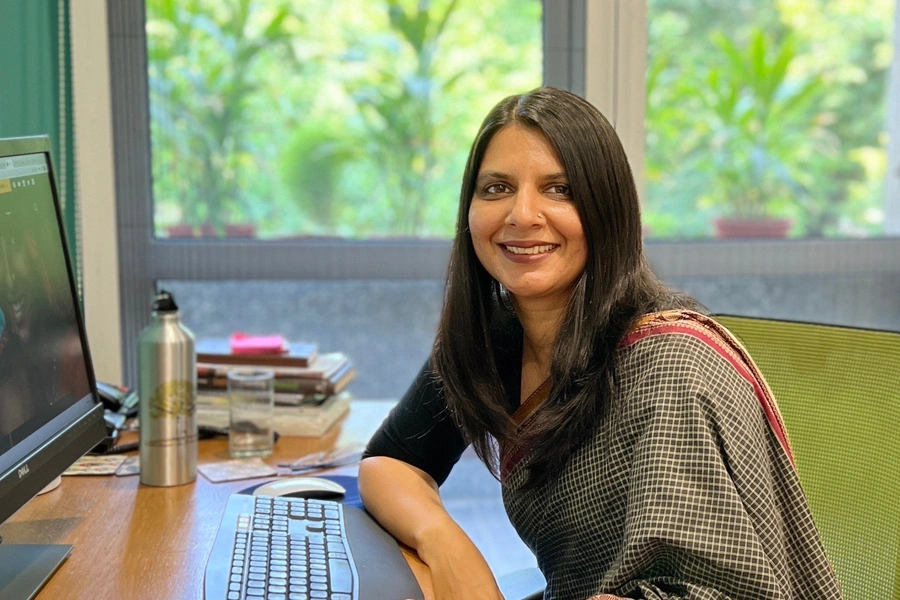 This interview with Yamini Aiyar is part of the Asia program's Women's Voices From the Indo-Pacific Project, produced by Senior Fellow Manjari Chatterjee Miller and Research Associate Clare Harris, featuring influential women in India's political, economic, technological, and social fields whose work matters for the U.S.-India bilateral relationship and India's relationship with the world. 
Yamini Aiyar is the president and chief executive of the Centre for Policy Research (CPR). In 2008, she founded the Accountability Initiative at CPR, which is credited with pioneering one of India's largest expenditure tracking surveys for elementary education.
Ms. Aiyar's research interests span the fields of public finance, social policy, state capacity, federalism, governance, and the study of contemporary politics in India. She has published widely in academic publications and the popular press. She serves on a number of government and international policy committees, as well as boards of nonprofits and think tanks. Ms. Aiyar believes think tanks play an essential role in promoting public dialogue about policymaking.
What do audiences in the United States commonly misunderstand about public policy, think tanks, and the expert community in India?
Think tanks have existed in India since the 1950s. Because Indian universities, unlike those in the United States, did not and do not have policy-focused research centers, think tanks served to fill a gap by offering a platform for both academics and practitioners to actively collaborate, spur research, and impact policy. The American idea that a think tank's function is, in addition to research, also to facilitate formal interactions between technocratic experts and government was less prevalent in India until the late 2000s. Today, besides conducting research, Indian think tanks, both old and new, are a part of the policy ecosystem at the central and state government levels.[1]
There are further differences between U.S. and Indian think tanks. India does not have a "revolving door" between government and think tanks. When Indian political parties form a government, they work through the permanent civil service bureaucracy, which is not structured to open doors for lateral entry and exit from government to think tanks. As a result, think tank policy engagement with the government comes through providing research, advising government through participation as external stakeholders in government committees, conducting training sessions, and serving as an expert platform for both formal events and informal interactions.
Furthermore, public policy schools in India are still nascent, so much of the training and mentoring for young practitioners takes place primarily through think tanks.  Finally, for the most part, the Indian think tank community is independent and non-partisan. A few, explicitly party-affiliated think tanks have begun to emerge, but this is a relatively new phenomenon.
What are the most consequential factors in your work—heading a prominent intellectual institution and researching domestic political institutions—that you think will play a role in India's relationship with the United States or the world over the next three to five years?
Well, you know, the U.S.-India relationship has a long, checkered history. However, increasingly, both countries are committed to finding ways to make it work and recognize that working together is in both of our national interests.
Opportunity lies in the fact that the nature of the relationship is expanding to new arenas of global public goods, such as climate change, higher education, and research and development (R&D). India and the United States both recognize that there is a crucial role the United States can play in enabling India's green transition in terms of technology transfers, and even more critically in climate financing and supporting an agenda of greater equity.
Think tanks are the vital glue in interpreting these new arenas and this emerging relationship. By serving as convening hubs and safe spaces for policymakers and stakeholders of different kinds—whether they are from the private sector, business community, civil society, research, or academia—to come together and exchange ideas, think tanks will enable the relationship to grow and move from one which, at the current moment, is filled with possibility and promise but not yet action, into a relationship that is all genuine action and understanding. Our democracies are also significantly changing, and we need to have local interlocutors that are interpreting these changes for each other. If we don't truly understand each other as countries and the possibilities and obstacles in this relationship, we will always find ourselves somewhat burdened.
Can you speak to the status of women in the work that you do?
Three of India's most prominent think tanks are today headed by women, including the Centre for Policy Research (CPR), the National Council of Applied Economic Research, and the National Institute of Public Finance Policy.[2] At one level, you could say this is a very "gender sensitive" profession. Women have indeed broken the glass ceiling. Strong female leadership will no doubt inspire a new generation of think tank leaders. But, on the other hand, certain policy areas are saturated with men, and a lot more needs to be done to engender more diverse stakeholders to have a seat at the high table.
Let me explain what I mean. CPR scholars were amongst the earliest think tank experts to push the climate change agenda in India around 2008. Mostly women applied to and joined the climate team, so the team was female with just one male senior researcher. Climate discourse was yet to become a matter of hard diplomacy, finance, and serious power play. Rather, it was seen as a "warm and fuzzy" concern of the environmental activist, best kept at the margins of the mainstream agenda, and not a serious career choice for men.
Cut to 2022, when climate change is a matter of global significance, and now arguably more men than women are involved, especially in the debates on topics such as energy transitions and carbon markets.  The same is true for other big issue areas like macroeconomics, infrastructure, and international relations. My point is that women are often kept out of key policy areas that are seen as serious issues, despite long having both the expertise and interest to be involved.
Our role as women leaders is not just to break glass ceilings and become presidents, but also to ensure that policy discourse is genuinely inclusive and responsive.
What inspired you to pursue your career path in public policy? How does your personal background inform your work?
A lot had to do with the particular moment I became an adult in India. When I was starting my undergraduate degree, India was at the cusp of an economic boom.  We were the first generation to dream of a life that an economy growing at seven to eight percent had to offer, and one in which the previous government's dominant development framework gave way to the promise of the free market.  We once stood in a line for four hours to taste our first McDonald's burger when it first opened in Delhi in the late 1990s!
I decided to be a part of this change at the grassroots level, and began working with a nonprofit. As I travelled through the dusty roads of rural India, I saw a different world to the one I knew in Delhi. This world was waiting, indeed yearning, for the government to build schools, roads, and health centers, and to provide better education, jobs, and health care. It became clear to me that if the Indian economy was to grow in a manner that was legitimately inclusive and to create genuine opportunity for all Indians, India needed to build the government's capacity in a manner that was transparent and accountable, and policy research needed to figure out how to do this. I began studying the dynamics of citizen-government relationships, participatory governance, and government capacity. These themes led me to CPR in 2008, where I set up an Accountability Initiative. Today, I am proud to be heading CPR as president.
When you look at the state of public policy, think tanks, and the expert consultative process in India, what concerns you most or brings you hope? What are the most pressing priorities for you and your colleagues?
India's development trajectory is changing. We have to grow the economy equitably and sustainably, provide jobs at a time when technology is replacing people, and respond to geopolitical disruptions. Making good, inclusive policy and charting new responsive pathways needs sustained, deep engagement with technical experts. Think tanks recognize this, and are asking and answering the difficult question of whether the policy choices we are making today are the right kinds of choices. There is a lot more opportunity for public dialogue. Technical experts talk not just to each other, but to a wider community.
At the same time, discourse has become black and white in India. There is very little space for nuance, for rigor, for sobriety, or for constructive critique. This is dangerous for democracy. We close off many possibilities if we don't listen to ideas that do not conform to mainstream policy or the political thinking of the moment. The job of think tanks is very much to hold a mirror up to the government. Sometimes the mirror shows you what you want to see. However, there are always times when the mirror will show you what you do not want to see, but what you should see, regardless. Otherwise, policy will not reflect reality on the ground. Even though the urgency of getting a multiplicity of voices and expert opinions into policymaking is palpable, and the opportunities exist to do so, many of our policymaking processes are under stress. For example, parliament barely deliberates legislation, and our world-famous statistical systems are today in crisis.[3] Solving policy challenges requires openness to evidence, and I fear that space for openness is slowly closing in India.
Clare Harris is the research associate for India, Pakistan, and South Asia at the Council on Foreign Relations.