Yoon's Unilateral Statesmanship Will Fail Without Reciprocation From Japan
Both South Korea and Japan have a stake in stabilizing their bilateral relationship. The sustainability of efforts to do so is at risk in the absence of acts of statesmanship by both President Yoon and Prime Minister Kishida.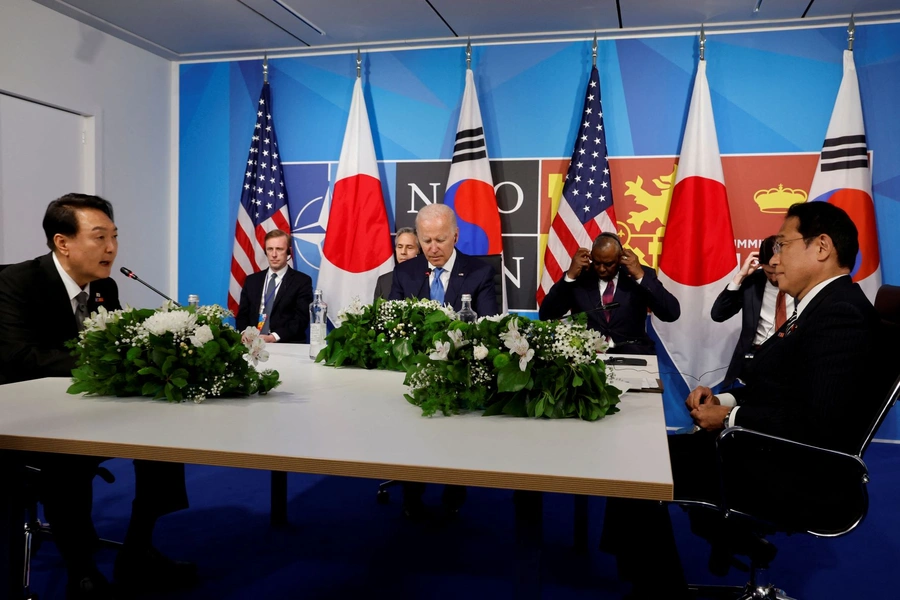 By announcing the establishment of a voluntary private fund rather than honoring the South Korean Supreme Court judgment requiring Japanese firms to compensate victims of World War II-era forced conscription, South Korean President Yoon Suk-yeol has won praise from the Joe Biden administration for a bold act of statesmanship intended to normalize relations with Japan. But a Gallup poll following the announcement shows that 59 percent of South Koreans oppose Yoon's unilateral gesture of goodwill, which suggests that his act of statesmanship is at risk of failure in the absence of reciprocation when Yoon visits Japanese Prime Minister Fumio Kishida this week in Tokyo.
Yoon's effort remains at risk despite steps by his administration to learn the lessons of the 2015 comfort women agreement between then South Korean President Park Geun-hye and Japanese Prime Minister Abe Shinzo. The 2015 agreement pledged a "final and irreversible" settlement of World War II-era South Korean claims through the establishment of a Japanese government-funded and Korean-administered foundation to provide compensation to the comfort women and their families. But the agreement foundered due to opposition by victims, who claimed they had been blindsided by the settlement. 
The breakdown of the comfort women agreement, the 2018 South Korean Supreme Court judgment in favor of the victims of forced labor, and the Japanese government's distrust of the progressive Moon Jae-in administration all contributed to the most serious negative spiral in Japan-South Korea relations since normalization in 1965. In 2019, the Abe administration imposed export controls on South Korea for precursor chemicals necessary to produce semiconductors, the Japanese and South Korean militaries issued conflicting narratives around a near-conflict in the waters between South Korea and Japan, and the Moon administration threatened to withdraw from GSOMIA, a bilateral intelligence-sharing agreement.
In attempting to restore and stabilize South Korea's relationship with Japan, the Yoon administration applied lessons from the failed 2015 comfort women agreement. It conducted private consultations with victims followed by the rollout of a public consultative process with relevant stakeholders, including representatives of involuntary conscripts of forced labor, to float the idea to establish a private fund. The South Korean government shared with Japanese counterparts views of the South Korean public and stakeholders that a voluntary fund composed solely of South Korean contributions would not pass muster. 
But the government of Japan appears to have taken different lessons from the experience of the 2015 comfort women agreement. The Abe administration viewed the Moon administration's failure to uphold the bilateral settlement as "final and irreversible" as evidence of bad faith and malicious intent to undermine the 1965 diplomatic normalization treaty and claims agreement by reopening compensation issues regarded as settled between the two governments, despite South Korean judicial rulings and deepening political polarization around these issues in South Korea.
From this perspective, acknowledgments or political gestures that might assist South Korean counterparts in paving the way for an improvement in relations have carried their own domestic political costs in Japan, where Prime Minister Kishida continues to struggle with low popularity ratings. The result is that Japan's strictly legalistic approach to the relationship, while safe from a Japanese domestic political perspective, runs the risk of deepening political polarization inside South Korea rather than assisting in compartmentalizing the relationship with Japan from South Korean domestic politics.
Both Yoon and Kishida recognize that the worsening geopolitical environment has created an imperative for Japan and South Korea to work more closely with each other. Both Japan and South Korea have embraced trilateral security cooperation with the United States to an unprecedented degree, as represented in a trilateral joint statement in Phnom Penh addressing the sharpening challenges from both North Korea and China and the negative impact of the Russian invasion of Ukraine. This means that both Japan and South Korea have a stake in stabilizing their relationship with each other more than ever before. But the sustainability of such efforts will be subject to future reversals in the absence of acts of statesmanship by both Yoon and Kishida to build a lasting consensus capable of insulating the relationship from domestic political influence in both countries.