"Report of the Defense Science Board: Task Force on Contractor Logistics in Support of Contingency Operations," U.S. Department of Defense, June 2014, p. 10.
---
Department of Defense Press Briefing by Secretary Hagel and General Dempsey in the Pentagon Briefing Room, U.S. Department of Defense, August 21, 2014.
Secretary of Defense Chuck Hagel: They [ISIS] are an imminent threat to every interest we have, whether it's in Iraq or anywhere else…This is beyond anything that we've seen. So we must prepare for everything. And the only way you do that is that you take a cold, steely, hard look at it and get ready.
---
"Report of the independent international commission on inquiry on the Syrian Arab Republic," United Nations General Assembly, August 13, 2014.
The findings presented in the present report, based on 480 interviews and evidence collected between 20 January and 15 July 2014, establish that the conduct of the warring parties in the Syrian Arab Republic has caused civilians immeasurable suffering.
Government forces continued to perpetrate massacres and conduct widespread attacks on civilians, systematically committing murder, torture, rape and enforced disappearance amounting to crimes against humanity. Government forces have committed gross violations of human rights and the war crimes of murder, hostage-taking, torture, rape and sexual violence, recruiting and using children in hostilities and targeting civilians. Government forces disregarded the special protection accorded to hospitals and medical and humanitarian personnel. Indiscriminate and disproportionate aerial bombardment and shelling led to mass civilian casualties and spread terror. Government forces used chlorine gas, an illegal weapon.
Non-State armed groups, named in the report, committed massacres and war crimes, including murder, execution without due process, torture, hostage-taking, violations of international humanitarian law tantamount to enforced disappearance, rape and sexual violence, recruiting and using children in hostilities and attacking protected objects. Medical and religious personnel and journalists were targeted. Armed groups besieged and indiscriminately shelled civilian neighbourhoods, in some instances spreading terror among civilians through the use of car bombings in civilian areas. Members of the Islamic State of Iraq and Al-Sham (ISIS) committed torture, murder, acts tantamount to enforced disappearance, and forcible displacement as part of an attack on the civilian population in Aleppo and Ar Raqqah governorates, amounting to crimes against humanity.
(3PA: At a mere twenty-three pages, this is the single best and most-balanced summary of the conflict dynamics and war crimes in Syria that you can read.)
---
Remarks by Secretary Hagel at a Troop Event, San Diego, California, U.S. Department of Defense, August 12, 2014.
Great powers can't pick and choose which challenges and threats they're going to deal with. There is no power on Earth like the United States of America.
And not only do the people of this country have confidence and must have confidence and rely on you, me, all of us for their security, and security is not just making sure nobody attacks exactly the homeland every day. It's making sure that nobody gets close to threatening our country, but also continuing to work with partners and help our partners. No country is great enough, powerful enough to deal with all these threats and challenges alone in the world today. They're too big, too complex. The world is too complicated.
Whether they're cyber threats, which are relatively new, but are just as real and deadly and lethal as anything we've ever dealt with.
(3PA: In 2013, 37,992 people died in armed conflicts. Once again, zero died from cyber attacks.)
---
Lotta Themner and Peter Wallensteen, "Armed conflicts, 1946-2013," Journal of Peace Research 51(4), 2014, pp. 541-554.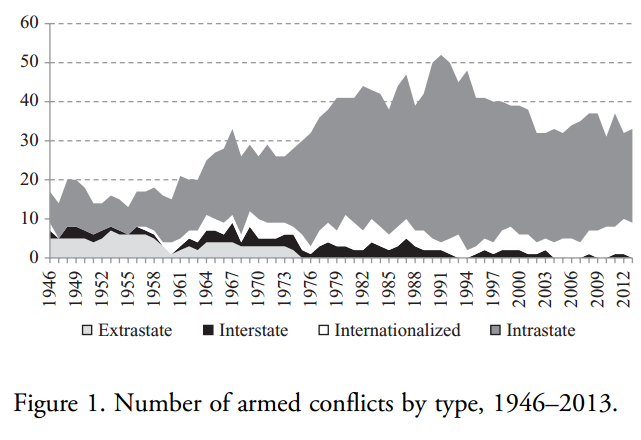 All conflicts active in 2013 were fought within states, but nine of them – or 27% – were internationalized in the sense that one or more states contributed troops to one or both sides. These conflicts were Afghanistan, Central African Republic, DR Congo, Mali, Nigeria, Sudan, Uganda, USA (the conflict between the government and Al-Qaeda) and Yemen.