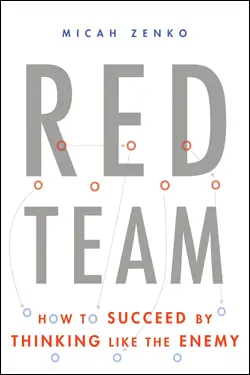 Red Team
How to Succeed By Thinking Like the Enemy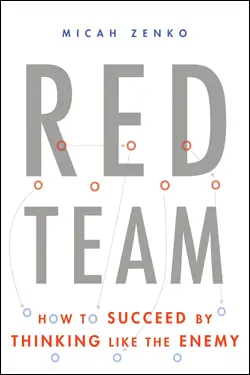 Book

Foreign policy analyses written by CFR fellows and published by the trade presses, academic presses, or the Council on Foreign Relations Press.
Red teaming is a practice as old as the role of the Devil's Advocate, the eleventh-century Vatican official charged with discrediting candidates for sainthood. Today, red teams—comprised primarily of fearless skeptics and those assuming the role of saboteurs who seek to better understand the interests, intentions, and capabilities of institutions or potential competitors—are used widely in both the public and private sector. Red teaming, including simulations, vulnerability probes, and alternative analyses, helps institutions in competitive environments identify weaknesses, challenge assumptions, and anticipate potential threats ahead of the next special operations raid, malicious cyberattack, or corporate merger. But not all red teams are created equal; indeed, some cause more damage than they prevent.
In Red Team, CFR Senior Fellow Micah Zenko provides an in-depth investigation into the work of red teams, revealing the best practices, most common pitfalls, and most effective applications of these modern-day devil's advocates. The best practices of red teaming can be applied to the Central Intelligence Agency, New York Police Department, or a pharmaceutical company, and executed correctly they can yield impressive results: red teams give businesses an edge over their competition, poke holes in vital intelligence estimates, and troubleshoot dangerous military missions long before boots are on the ground. But red teams are only as good as leaders allow them to be, and Zenko shows not only how to create and empower red teams, but also what to do with the information they produce.
Essential reading for business leaders and policymakers alike, Red Team will revolutionize the way organizations think about, exploit, compensate for, and correct their institutional strengths and weaknesses. Drawing on little-known case studies and unprecedented access to elite red teamers in the United States and abroad, Zenko shows how any group—from military units to friendly hackers—can win by thinking like the enemy.
A Council on Foreign Relations Book
Educators: Access Teaching Notes for Red Team.
Reviews and Endorsements
In today's complex world, decision makers need smart, sophisticated, and insightful options. Red Team shows policymakers and CEOs alike that the way to make the best use of your organizational talent is to break down your organization.
Complacency, groupthink, inertia, tunnel vision. These are the most common after-the-fact explanations of big failures in politics, government, war, and business. In these pages Micah Zenko offers a lucid analysis backed by many fun-to-read examples of common mistakes as well as a useful compendium of best practices. Red Team is must-read for decision makers everywhere.

Moises Naim, Distinguished Fellow, Carnegie Endowment; Author, The End of Power
This is the book the red teaming community has long required to grow and reach a new generation of red teamers. It captures the domain's founding experiences and stories, previously available only anecdotally to a small network of insiders. By writing this book, Micah Zenko has done a great service to both the current and future red teaming community.

Mark Mateski, Director of the Watermark Institute and Vice President, Red Teaming and Strategic Analysis
Everyone has heard the clichés about 'playing devil's advocate' or 'avoiding groupthink.' Red Team is an impressively clear, convincing, and practical-minded study of how organizations can put in-house contrarians to the most valuable use.

James Fallows, Correspondent, Atlantic
Zenko, a security expert and fellow at the Council on Foreign Relations, explains, in absorbing detail, the value of red teams, groups formed to act as devil's advocates...Zenko shows just how these practices can help companies improve performance and identify failings...Armed with case studies ranging from the discovery of vulnerabilities in the Verizon network to the hunt for Osama bin Laden, Zenko offers readers much to consider and an effective way to take action.

Publishers Weekly
Overall, this is an excellent book for members of the national security community, even if you think you are familiar with the concept of red teaming. Additionally, I enthusiastically recommend it for the business community, as relevant techniques like red teaming and war games are increasingly being used in the commercial world. In fact, there are few business or government officials who could not derive some insights from the wide breadth of examples Zenko exploits so effectively. His ideas about the future of red teaming, including a formal assessment of U.S. government lessons and experiences, should be followed up on. Ultimately, in the business of strategy, as Winston Churchill said many years ago, one has to take the enemy into consideration. The techniques, best practices, and advice Red Team offers allow tomorrow's leaders to do just that.

Frank Hoffman, War on the Rocks
Overall, this was an enlightening and warming book to read, as it codified many of the theories and beliefs red teamers have but have never put into any formal canon….Ultimately, this was an enjoyable and educational book, both from the perspective of a professional penetration tester and the perspective of a CEO. Finally, I'd like to reiterate that Micah's six best red team practices are pretty spot on…

LockBoxx Blog
Grimly well-timed book...Zenko offers a compelling argument for forcing ourselves to think differently, which is ultimately the main purpose of a red team. Even if we won't know exactly what to expect, we might be better equipped to respond when the unexpected strikes.

Carlos Lozada, Washington Post
Micah Zenko captures perfectly and eloquently the enormous value of red teams. The best practices Zenko describes are far cheaper and far more effective than any amount of after-the-fact recrimination and retribution. If you're a strategist or decision-maker, you need this book. If you're a citizen, you want this book so you can know how your government can get things better... and might even be getting things right.

Mark Chussil
The truth is, I'm only partially through reading this book, but it is so good that I need to share this with you now to remove the mental Blogging tic and be totally free to absorb its goodness...This is a super and thoroughly enjoyable read, it's not dry and academic, but immensely informative, vibrant, alive and most importantly – real. Zenko's passion, knowledge and enthusiasm for Red Teaming positively vibrates from the pages and is delightfully infectious.This book came at just the right time for me and I'd encourage you to grab a copy.

Stuart Winter-Tear, Information Security Researcher
A gripping, deeply informed overview of red teaming…Red Teamis filled with harrowing stories of red-team failures but also successes in the domains of both national security and the private sector, where companies, for example, red team against hackers. These stories reinforce the crucially important strategies (e.g., red teams should inform, not decide) and best practices (e.g., red teams should be semi-independent but sensitive to the constraints of the organization) proposed by Zenko to help the world avoid another catastrophe such as 9/11.

Soundview Executive Book Summaries
The time, intellectual effort, and monies allocated to the project were well spent, for the work is likely to become a significant milestone for the discipline....The publication ofRed Teamby Dr. Micah Zenko is an impressive accomplishment. It has allowed for a glimpse of the entire red teaming universe to be provided to the reader in one work. As a reviewer, and someone who knows something about this discipline, I admittedly found myself learning quite a bit about red teaming applications with which I have not been associated in the past. What Dr. Peter Perla's bookThe Art of Wargamingdid 25 years ago to help mainstream an understanding of military wargaming, we can only hope Dr. Zenko's new work will now do for the red teaming community.

Robert J. Bunker, Red Team Journal
For anyone interested in using a Red Team, developing one for their organization or have been tasked to participate on a Red Team this book is a must read.

James King, Small Wars Journal
I teach red teaming and I would recommend this book to my students. The purpose of the class is not to teach students to be red teamers, but to teach them how to use war games and red teams when they become senior leaders.

Gary Anderson, Washington Times
His valuable analysis and advice will be of particular interest to executives, and anyone charged with strategic planning.

General H.R. McMaster, Survival: Global Politics and Strategy