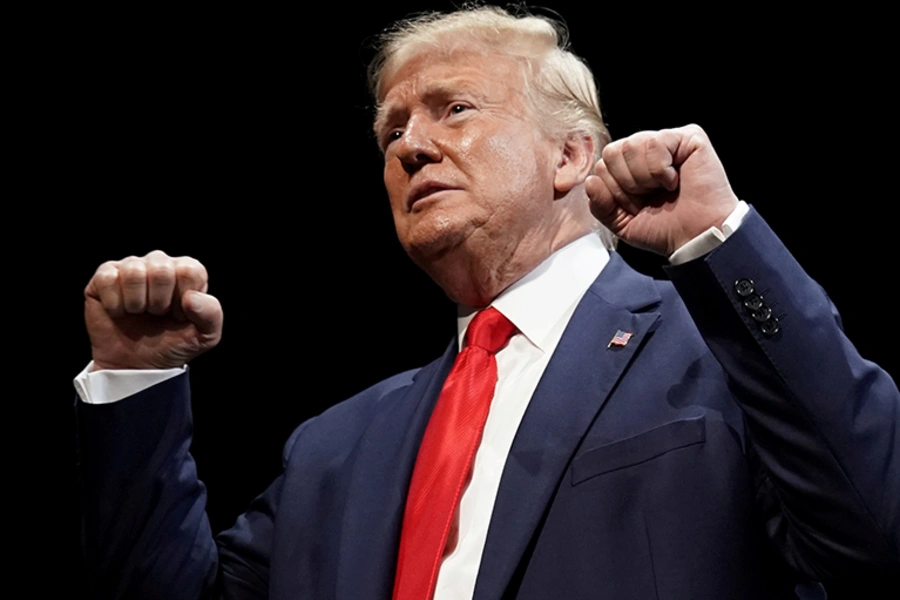 Candidates
Donald
J.
Trump
President of the United States
President Donald J. Trump, 74, in his first term has pursued a foreign policy that reflects his campaign pledge to place America first in his administration's dealings abroad. A skeptic of international institutions, he has withdrawn from UN bodies governing health and human rights, major multinational agreements on climate, arms control, and Iran while renegotiating U.S. trade deals, feuding with U.S. allies, imposing new immigration restrictions, and launching a tariff battle with China.
Born and raised in Queens, New York, he ran the Trump Organization, a global real estate development business, for more than four decades and hosted the reality television show The Apprentice from 2003 to 2015.
Trump has sought to confront China over what he says is a suite of economic abuses: intellectual property theft, currency manipulation, export subsidies, and economic espionage. He says aggressive action is required to protect American workers and to reduce the United States' large bilateral trade deficit, and that the coronavirus crisis demonstrates the need to hold China accountable.
Trump has repeatedly questioned the science of climate change, expressing doubts about whether human activity is responsible. He has advocated for expanded domestic fossil fuel production and has sought to accelerate his rollback of environmental regulations implemented by his predecessors.
Trump has repeatedly downplayed the threat of the novel coronavirus disease, COVID-19, and resisted directing a strong federal effort to defeat it. He initially said the spread of the virus was under control in the United States, despite receiving warnings of an impending pandemic from intelligence agencies and health officials beginning in January 2020. Since March, Trump has overseen a patchwork national response, with some crucial measures delegated to state governors. This has included economic shutdowns, travel restrictions, unprecedented vaccine development efforts, and backing trillions of dollars in economic stimulus. Yet experts say the administration has refused to consistently promote necessary public health measures, as Trump has feuded with national health authorities and pressured states and cities to accelerate reopening timelines. By summer, the United States was the worst-performing developed country, with renewed outbreaks nationwide again threatening to overwhelm local health systems.
Trump has called for an approach that combines increased domestic surveillance, expanded use of drone strikes in Africa and the Middle East, and tighter limits on immigration and refugee admissions.
Trump has feuded with a number of large U.S. technology companies, arguing that they are conspiring to defeat him in the 2020 election. Although he has often brushed aside concerns about Russian interference in U.S. elections, his administration has imposed sanctions and other measures against the Russian intelligence assets deemed responsible.
Trump has championed the military, pushing for increases to defense spending, major new weapons programs, and a new branch focused on space. He has also promised to wind down U.S. troop commitments in Afghanistan and the Middle East while focusing on "great-power competition" with China and others.
Trump has withdrawn the United States from international agreements and commitments that he feels are a drain on U.S. resources, has feuded with longtime allies on issues from defense to trade, and has criticized global institutions that he says force the United States to "surrender sovereignty." His budget proposals have sought to slash foreign aid and make it more conditional on support for U.S. policies.
Trump has emphasized tax cutting and deregulatory economic policies, which he says have spurred growth, innovation, and employment. The coronavirus pandemic cast the country into recession in 2020, while the budget deficit and national debt have risen amid unprecedented coronavirus-related spending.
Immigration is a signature issue for Trump and a major flash point between his administration and its Democratic challengers. Campaigning on a platform of sharply reducing both legal and illegal immigration, he has taken executive action to reshape asylum, deportation, and visa policy.  
Trump's approach to the Middle East has been defined by strong support for Israel, Saudi Arabia, and Egypt, and a more confrontational stance toward Iran. He promises to bring what he calls the "endless wars" in the region to a close and withdraw U.S. troops.
Trump has devoted significant attention to North Korea, launching unprecedented direct negotiations with the country's leader, Kim Jong-un, in an attempt to persuade him to end his nuclear program.
Trump has cultivated cordial relations with Russian President Vladimir Putin and dismissed accusations that his campaign cooperated with Moscow's interference in the 2016 U.S. election. He has argued for closer cooperation with Russia while also bending to congressional pressure to extend sanctions on Moscow, expanding military aid to Ukraine, and withdrawing from a major U.S.-Russia arms control treaty.
Throughout his presidency, Trump has taken aim at a global trading system that he argues is rigged against U.S. interests and responsible for large trade deficits, declining U.S. manufacturing, and the offshoring of American jobs.
Trump calls the Nicolas Maduro regime in Venezuela a "dictatorship" and recognizes opposition leader Juan Guaido as the country's head. He decries "corrupt communist and socialist regimes" in the region, especially Cuba, Nicaragua, and Venezuela.