What to Watch at the Climate Conference in Marrakech
At climate talks in Morocco, negotiators will try to move forward on issues left unresolved by the 2015 Paris Agreement. However, developed and developing countries still remain far apart on major issues, write CFR's Varun Sivaram and Sagatom Saha.
November 2, 2016 2:01 pm (EST)
Expert Brief

CFR scholars provide expert analysis and commentary on international issues.
Global climate diplomacy has advanced swiftly over the past year. In December 2015, 195 countries signed the Paris Agreement on climate change, and for the first time, nearly every single country in the world announced a plan to reduce greenhouse gas emissions. Now that countries accounting for a majority of the world's emissions have ratified it, the Paris agreement is set to become international law on November 4, which would make it one of the fastest entries into force of any global agreement. Diplomats scored a third success in October, agreeing to amend the Montreal Protocol to phase out hydrofluorocarbons, greenhouse gases commonly used in air conditioners and refrigerators, over the next decade.
Negotiators will now try to extend their momentum in Marrakech, Morocco, the site of the twenty-second Conference of the Parties (COP22) to the UN Framework Convention on Climate Change. The stakes for the November conference are high: negotiators in Marrakech will need to build on the broad vision established in Paris by hashing out the unresolved nitty gritty. That could prove difficult. Negotiators in Paris forged consensus around the abstract idea of each country doing its best to reduce its greenhouse gas emissions. As countries try to turn abstract principles into concrete steps in Marrakech, old tensions between developed and developing countries could reemerge.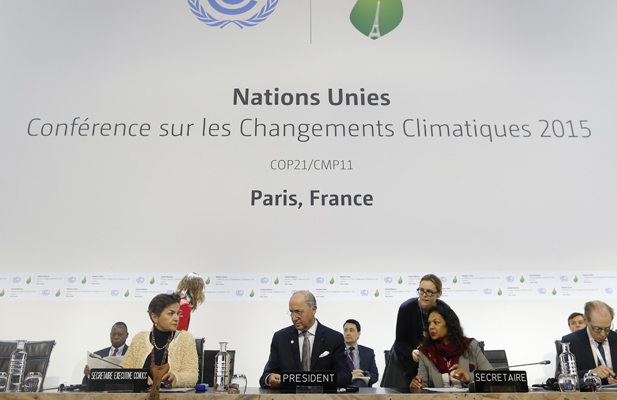 French Foreign Minister Laurent Fabius presides over the December 2015 UN climate change conference in Paris, France. (Photo: Stephane Mahe/Reuters)
Negotiators will likely clash over how to implement two particular goals set by the Paris Agreement. First, although in Paris developed countries reaffirmed a previous pledge to set up a fund of at least $100 billion a year to help developing countries reduce their emissions and adapt to climate change, countries still disagree over where the climate finance should come from and how it should be counted. Second, there are major differences over how to ensure that countries live up to, and ultimately exceed, their pledges in Paris to curb emissions. Developed countries want a strict system of standardized procedures for reporting and verifying emissions reductions, as well as rigorous periodic reviews in which every country sets ever more ambitious goals. Developing countries prefer a less standardized framework based on the principle of differentiated responsibility.
The best outcome for the climate would be for developing countries to prevail on the first issue—by securing tangible financial commitments from the rest of the world—while conceding to a standardized process that ensures that countries meet and exceed their emissions targets. But barring a diplomatic breakthrough, such an outcome is unlikely.
Still, whatever the substance of the Marrakech talks, countries are likely to claim success, as they did in Paris. And they wouldn't necessarily be wrong. Outside of formal negotiations, conventions like Marrakech also advance climate action by facilitating informal diplomacy and convening nongovernmental actors. This feeds the groundswell of popular concern over climate change and makes it more likely that governments will make increasingly ambitious investments in confronting climate change.
From Top-Down to Bottom-Up
Diplomats in Paris broke through longstanding gridlock by abandoning the traditional top-down approach in international climate negotiations. Previous talks had focused on how to fairly divide the burden of reducing emissions among countries. But with countries unable to agree on an equitable way to share responsibilities, this approach doomed the 1997 Kyoto Protocol and the overhyped 2009 Copenhagen summit. Developing countries like China and India insisted that they were neither historically responsible for climate change nor capable of deploying expensive clean energy sources without slowing their economic development. Conversely, developed countries like the United States balked at shouldering the entire burden alone.
Recognizing that no top-down allocation of responsibility would break the logjam, negotiators in Paris adopted a bottom-up approach. In the run-up to the summit, countries submitted voluntary plans to curb emissions known as "intended nationally determined contributions," or INDCs. At the summit, all negotiators had to do was conclude an agreement enjoining countries to accomplish the targets they had already pledged. Yet the voluntary nature of the process resulted in INDCs that, taken together, will not limit global warming to the 2 degrees Celsius threshold enshrined in the Paris Agreement. The hope is that the first round of INDCs set a precedent for countries to periodically ratchet up their ambitions so that the bottom-up approach eventually yields commitments in line with what the top-down approach had hoped to achieve.
"As countries try to turn abstract principles into concrete steps in Marrakech, old tensions between developed and developing countries could reemerge."
The bottom-up approach made it much easier to forge consensus. A group of countries calling themselves the High-Ambition Coalition—developed countries including Canada, Norway, and the United States, as well as some developing countries in the Caribbean, sub-Saharan Africa, Latin America, and the Pacific—brought the historically separate camps of developed and developing countries closer together. And even though the world's largest emitter, China, was unsympathetic to the coalition's rhetoric, it played a crucial role in brokering the Paris Agreement: its joint pledge with the United States in 2014 broke the tradition of developing countries refusing to commit to their own emissions reductions.
Still, the historical friction between developed and developing countries has not dissolved completely. Throughout the Paris summit, countries including China and India pushed to include references in the final agreement to "common but differentiated responsibility" between the two camps, sometimes successfully. Meanwhile, some disagreements were only resolved by resorting to ambiguous language, which negotiators in Marrakech will need to turn into concrete rules.
The $100 Billion Question
One agenda item is agreeing on the details of a provision in the Paris Agreement for developed countries to mobilize at least $100 billion per year in climate finance for developing countries by 2020. What exactly that means is far from clear. Developed countries first promised to mobilize "climate finance to help developing countries tackle climate change" to jumpstart the floundering 2009 summit in Copenhagen and later codified it in the Paris Agreement. Negotiators in Marrakech will have to grapple with disagreements over who should pay into these funds, how to tally them, and how they should be used.
The United States and European Union contend that the distinction between developed and developing countries has blurred since climate negotiations began decades ago. In particular, U.S. and EU negotiators have called for rapidly developing countries like Brazil, China, and India to contribute more to climate finance, in line with their growing prosperity. While some of these countries, most notably China, have made pledges, most in the group believe that they should not be obligated to provide climate finance.
The two camps must also reach a consensus on how to count the funds. Developed countries were careful to insist that the provision refer to "mobilizing climate finance from a wide variety of sources, instruments, and channels" so that they could count private-sector financing, such as loans made by an American company to develop a solar project in India, toward the $100 billion total. Using this methodology, Australia and the United Kingdom last month released a report projecting that the developed world is broadly on track to meet that $100 billion target.
Developing countries counter that the target should primarily be met with government grants and other development assistance. They argue that it would be difficult to ascertain whether market-rate loans would still flow without public sector support. Under the developing countries' accounting method, the developed world is only on track to achieve 15 percent of its 2020 goal. If it misses that goal, all bets are off, because many developing countries made their INDCs contingent on receiving climate finance.
"At $10 billion, the [Green Climate Fund] only accounts for a small fraction of the climate finance flows."
Finally, countries are likely to contest the proper use of these funds. Developing countries would prefer financial assistance to flow through the Green Climate Fund (GCF), an organization set up in 2010 to disburse climate finance, because of its commitment to equal financing for adaptation and mitigation efforts. (Mitigation refers to steps to avoid or reduce climate change; adaptation refers to preparations for withstanding the potential effects of climate change.) The developing countries that are most vulnerable to the immediate effects of climate change criticize the lack of funding for adaptation projects like the construction of storm-resistant infrastructure. However, developed countries have committed mostly to financing mitigation—most often the deployment of clean energy to displace fossil fuels and reduce emissions—because such projects are easier for the private sector to finance and more effective, per dollar, at reducing the fallout from climate change. Though developed countries have contributed $10 billion to the GCF, the fund only accounts for a small fraction of climate finance flows.
It is unlikely that negotiators in Marrakech will close the gap between these positions, so expect developing countries to decry the developed world for failing to pony up public cash to make good on its climate finance pledge.
The Paris Agreement in Review
Whereas financial flows are the issue that will most animate developing countries, a bevy of arcane details about the review processes written into the agreement will preoccupy negotiators from developed countries. These include measures for reporting emissions, "global stocktaking" of climate plans, and compliance oversight. Unsurprisingly, the specifics will expose another gulf between the two camps.
First, developed countries want all countries to report their emissions each year in a standardized and detailed format that is available for the world to see. To ensure that these reports are accurate, countries like the United States prefer to entrust a third-party watchdog agency with verifying that all countries are making good on their INDC pledges. Moreover, transparent emissions reporting would allow a variety of third-party groups to evaluate a country's progress. By contrast, developing countries, concerned about their technical and financial limitations, prefer to be subject to less stringent reporting requirements and want no external reviewers double-checking their reports.
Second, countries will differ over the particulars of the global "stocktake" process, in which countries conduct a comprehensive review of their climate action plan every five years and determine whether they ought to raise the ambition of their individual INDC. Developing countries contend that they may not have the technical capacity to conduct rigorous emissions reviews every five years to identify opportunities to do even more. Developed countries insist that ratcheting up efforts to curb emissions every five years is the only way to close the gap between today's insufficient INDCs and the strong ones that will be needed to limit climate change. Though developing countries are comfortable with the current voluntary framework of INDCs, they may chafe at future pressure from developed countries to offer increasingly ambitious plans.
An 'Unmitigated' Success
Even if negotiators at Marrakech make limited progress hashing out the details of the Paris Agreement, the summit could succeed in other ways. Summits like these offer informal venues for countries to make bilateral agreements, like the China-U.S. climate announcement made on the sidelines of the 2014 Asia-Pacific Economic Cooperation summit. They also bring together civil society and the private sector from around the world, energizing them to return home and galvanize popular support for climate action.
That means that so long as countries keep coming to the table to negotiate, it will become increasingly difficult for leaders to pass the buck on climate action. A remarkable outcome from last year's Paris summit was the emergence of a new international norm that every country should participate in the climate process. In Marrakech, countries will try to maintain the momentum generated in Paris. As a result, they're likely to report back a mission accomplished, leaving the door open for more tangible breakthroughs at future summits.