U.S. Confrontations With Iran and China Among Top Potential Conflicts in 2019, According to CFR Survey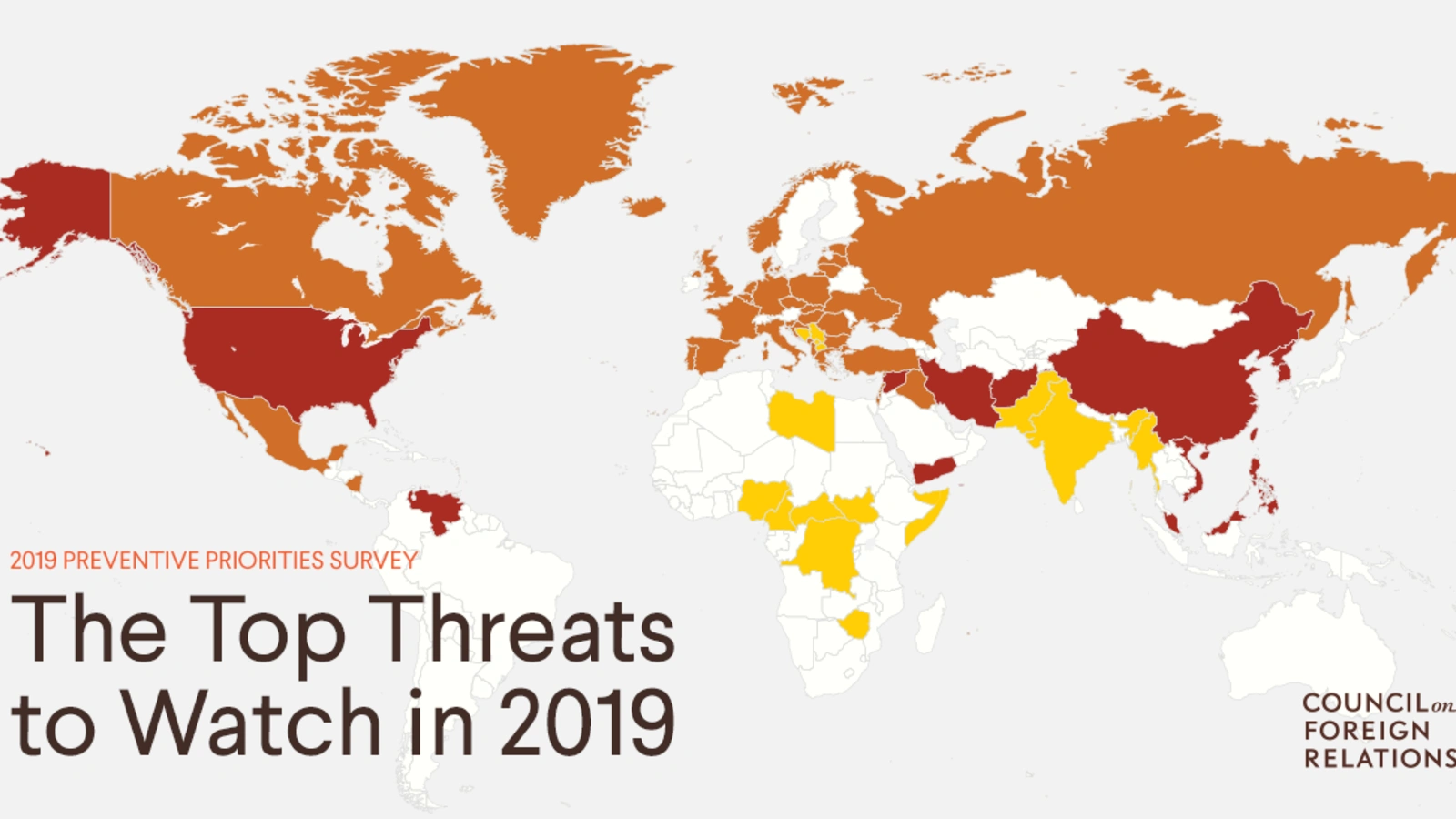 December 17, 2018 2:45 pm (EST)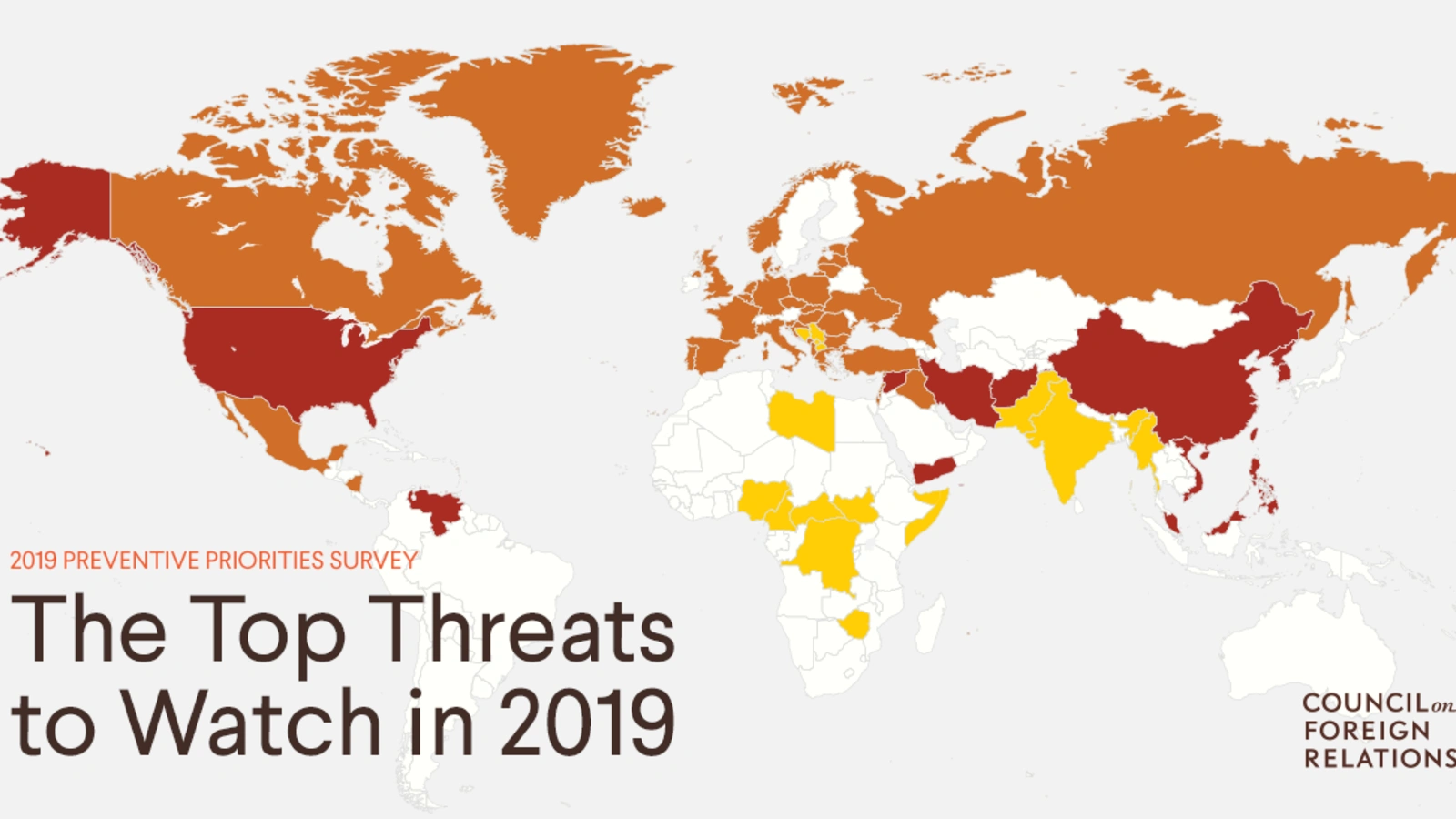 News Releases
December 17, 2018—The possibility of conflict between the United States and Iran as well as between the United States and China constitute two of the greatest threats to peace in 2019 and warrant heightened focus from policymakers, according to the Council on Foreign Relations' (CFR) eleventh annual Preventive Priorities Survey, which identifies nine top conflict prevention priorities for the United States in the year ahead. The worsening humanitarian situations in Venezuela and Yemen are also major concerns that call for greater effort so that they do not deteriorate further.
The survey, conducted by CFR's Center for Preventive Action (CPA), asked foreign policy experts to rank thirty ongoing or potential conflicts based on their likelihood of occurring or escalating in the next year and their potential impact on U.S. national interests.
This year, nine conflicts were considered "top tier" risks:
Impact: High; Likelihood: Moderate
A highly disruptive cyberattack on U.S. critical infrastructure and networks 
Renewed tensions on the Korean Peninsula following a collapse of the denuclearization negotiations
An armed confrontation between Iran and the United States or one of its allies over Iran's involvement in regional conflicts and support of militant proxy groups 
An armed confrontation over disputed maritime areas in the South China Sea between China and one or more Southeast Asian claimants (Brunei, Malaysia, Philippines, Taiwan, and Vietnam) 
A mass casualty terrorist attack on the U.S. homeland or a treaty ally by either (a) foreign or homegrown terrorist(s)
Impact: Moderate; Likelihood: High
Continued violent reimposition of government control in Syria leading to further civilian casualties and heightened tensions among external parties to the conflict
Deepening economic crisis and political instability in Venezuela leading to violent civil unrest and increased refugee outflows
Worsening of the humanitarian crisis in Yemen, exacerbated by ongoing foreign intervention in the civil war
Increased violence and instability in Afghanistan resulting from the Taliban insurgency and potential government collapse
"The annual Preventive Priorities Survey is unique in providing a regular forward-looking assessment of conflict and instability around the world in a way that helps policymakers focus attention on the most important risks," explains Paul B. Stares, General John W. Vessey senior fellow for conflict prevention, CPA director, and author of the book Preventive Engagement: How America Can Avoid War, Stay Strong, and Keep the Peace.
Major takeaways from this year's survey results include the following:
The threat of a highly disruptive cyberattack on U.S. critical infrastructure and networks was the top-ranked homeland security–related contingency for 2019, though the possibility of a mass casualty terrorist attack remains a persistent concern.
Despite increasing apprehension over the growing geopolitical rivalry and potential for conflict between the United States and China, only one contingency in the region—an armed confrontation in the South China Sea—was considered a top tier priority. 
Anxiety over a possible U.S.-Russia confrontation did not increase in this year's survey. 
Potential crises in the Middle East and North Africa generated more concern than those in any other region. 
For the first time since the survey began, three contingencies in Central and South America were assessed, and the ongoing crisis in Venezuela was ranked a top tier concern.
View the full results and prior surveys at www.cfr.org/pps.
CPA's Global Conflict Tracker plots ongoing conflicts on an interactive map paired with background information, CFR analysis, and news updates.
To learn more or to request an interview, please contact the Global Communications and Media Relations team at 212.434.9888 or [email protected].
The Preventive Priorities Survey was made possible by a generous grant from Carnegie Corporation of New York.
CFR's Center for Preventive Action seeks to help prevent, defuse, or resolve deadly conflicts around the world and to expand the body of knowledge on conflict prevention. Follow CPA on Twitter @CFR_CPA. Follow Stares on Twitter @PaulBStares.