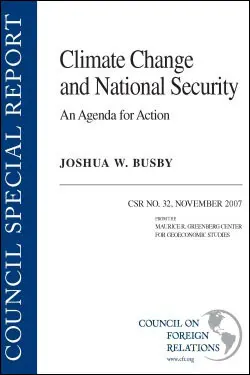 Climate Change and National Security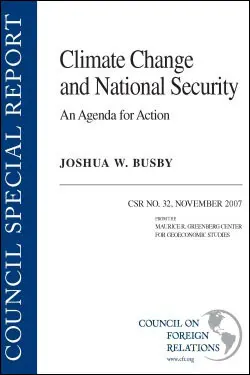 Council Special Report

Concise policy briefs that provide timely responses to developing crises or contributions to current policy dilemmas.
Overview
Climate change presents a serious threat to the security and prosperity of the United States and other countries.
Recent actions and statements by members of Congress, members of the UN Security Council, and retired U.S. military officers have drawn attention to the consequences of climate change, including the destabilizing effects of storms, droughts, and floods. Domestically, the effects of climate change could overwhelm disaster-response capabilities. Internationally, climate change may cause humanitarian disasters, contribute to political violence, and undermine weak governments.
In this Council Special Report, Joshua W. Busby moves beyond diagnosis of the threat to recommendations for action. Recognizing that some climate change is inevitable, he proposes a portfolio of feasible and affordable policy options to reduce the vulnerability of the United States and other countries to the predictable effects of climate change. He also draws attention to the strategic dimensions of reducing greenhouse gas emissions, arguing that sharp reductions in the long run are essential to avoid unmanageable security problems. He goes on to argue that participation in reducing emissions can help integrate China and India into the global rules–based order, as well as help stabilize important countries such as Indonesia. And he suggests bureaucratic reforms that would increase the likelihood that the U.S. government will formulate effective domestic and foreign policies in this increasingly important realm.
The result is an authoritative, well-written, and practical paper that merits careful consideration by members of Congress, the administration, and other interested parties in the United States and internationally.
Download the Chinese translation of this report [PDF].