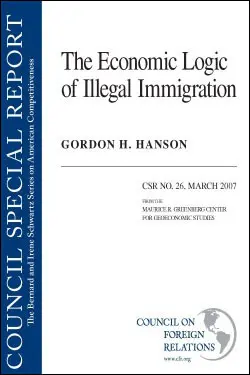 The Economic Logic of Illegal Immigration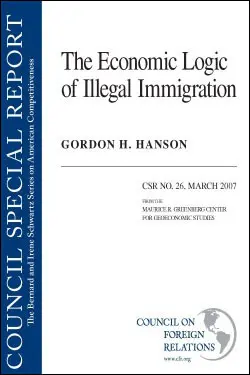 Council Special Report

Concise policy briefs that provide timely responses to developing crises or contributions to current policy dilemmas.
Overview
Immigration reform is one of the most divisive issues confronting U.S. policymakers.
The rise in the number of illegal immigrants in the United States over the past ten years—from five to twelve million—has led to concerns about the effects of illegal immigration on wages and public finances, as well as the potential security threats posed by unauthorized entry into the country. In the past year alone, the governors of New Mexico and Arizona have declared a "state of emergency" over illegal immigration, and President Bush signed into law the Secure Fence Act, which authorizes the spending of $1.2 billion for the construction of a seven-hundred-mile fence along the U.S.-Mexico border.
In this Council Special Report, Professor Gordon H. Hanson of the University of California, San Diego approaches immigration through the lens of economics. The results are surprising. By focusing on the economic costs and benefits of legal and illegal immigration, Professor Hanson concludes that stemming illegal immigration would likely lead to a net drain on the U.S. economy—a finding that calls into question many of the proposals to increase funding for border protection. Moreover, Hanson argues that guest worker programs now being considered by Congress fail to account for the economic incentives that drive illegal immigration, which benefits both the undocumented workers who desire to work and live in the United States and employers who want flexible, low-cost labor. Hanson makes the case that unless policymakers design a system of legal immigration that reflects the economic advantages of illegal labor, such programs will not significantly reduce illegal immigration. He concludes with guidelines crucial to any such redesign of U.S. laws and policy. In short, Professor Hanson has written a report that will challenge much of the wisdom (conventional and otherwise) on the economics behind a critical and controversial issue.
Part of the Bernard and Irene Schwartz Series on American Competitiveness.