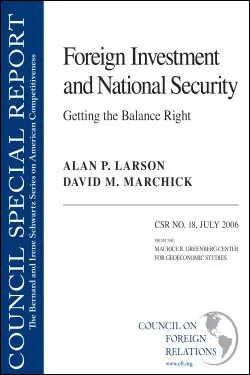 Foreign Investment and National Security
Getting the Balance Right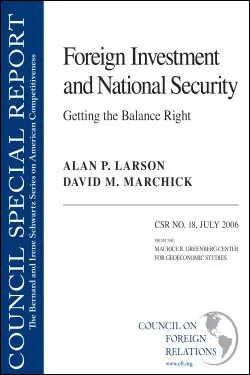 Council Special Report

Concise policy briefs that provide timely responses to developing crises or contributions to current policy dilemmas.
Overview
The Dubai Ports World controversy has shed light on the tensions between Congress and the executive branch over the appropriate balance between foreign investment and national security.
In the past few months, members of Congress have met with international companies, homeland security experts, and administration officials to better understand the process of reviewing security concerns associated with foreign investment in the United States. Congress is intent on changing the process and becoming more involved; the challenge ahead is to reform the process in order to minimize the security risks raised by foreign investment without chilling future investment.
In this Council Special Report, Alan P. Larson and David M. Marchick discuss the benefits of foreign direct investment in the United States and the security risks posed by foreign ownership of certain U.S. assets. They examine the inner workings of the committee that conducts security reviews—the Committee on Foreign Investment in the United States (CFIUS)—and recommend what policymakers should and should not consider in reforming it. The authors acknowledge that a lack of transparency in the process mixed with a new security environment, in which foreign ownership is seen as more sensitive, has cast doubt over the nature and effectiveness of the process, and they offer suggestions on how best to address congressional concerns. At the same time, they argue that CFIUS has been more effective than is commonly assumed and warn against alleged cures that promise to be far worse than any "disease" that currently exists.
Part of the Bernard and Irene Schwartz Series on American Competitiveness.