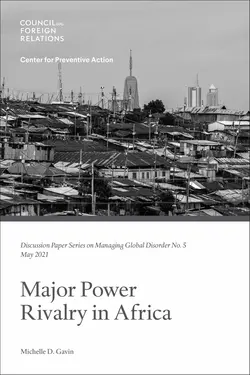 Major Power Rivalry in Africa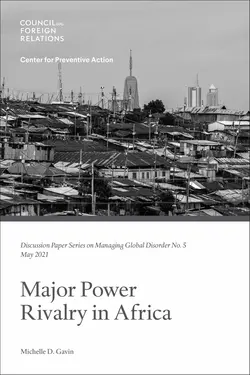 Major power rivalry on the African continent cannot be ignored, but it should not dominate U.S.-Africa relations. The United States should pursue close, strategic partnerships with African states.
Report
Competition for influence on the African continent is an undeniable geopolitical reality. The Donald Trump administration's emphasis on countering China and Russia on the continent raised concerns about unwelcome echoes of the Cold War era, when the United States often treated African states as pawns or prizes rather than partners. But a desire to avoid the mistakes of the past does not negate the need to grapple with the motivations and consequences of other powers' Africa agendas.
The Joe Biden administration, and all major powers, face the same facts: by 2050, a quarter of the world's population will be African and the continent's youthful and growing labor force—the largest in the world by that point—will stand in stark contrast to the aging populations of other regions. That human capital will increasingly become the most important feature of Africa's global profile, although Africa's natural resources, including cobalt and other rare earth metals critical to humanity's technology-driven future, will also remain relevant. No entity aiming to influence global affairs in the decades to come can afford a passive Africa strategy.
These facts do not have to lead to what the Economist called a "new scramble for Africa." They speak to the continent's greater integration into the global economy, the promise and the peril of Africa's demographic transformation, and the power of Africa's voice and vote when most of the region's fifty-four countries are united in global forums. At a moment when the norms and expectations of international relations are in transition, countries taking stock of the future see the wisdom in deepening ties with Africa. But the nature of that interaction varies widely, as do the motivations and ambitions that underlie major powers' Africa agendas.
Although major power competition is a reality, giving it an outsized role in policymaking would be a mistake. Rather, U.S. policy should be dictated by a farsighted understanding of its goals in regard to peace and security, prosperity and development, and institutions and norms in Africa. The United States benefits when African states are able to provide for their own security and address transnational threats emanating from within their borders; when African economic growth provides opportunity to African citizens and to those abroad who trade, invest, and co-create with them; when Africa is a rule-governed region that bolsters respect for universal rights and the rule of law; and when Africa is invested and active in international institutions that mitigate global crises. To help realize this vision, the United States should capitalize on what makes it a compelling partner to African states, work more closely and strategically with like-minded partners, create more space for African agendas in its vision for future global governance, and work to build lasting affinities.
This is the fifth Discussion Paper in the Managing Global Disorder series, which explores how to promote a stable and mutually beneficial relationship among the major powers that can in turn provide the essential foundation for greater cooperation on pressing global and regional challenges.
This Discussion Paper was made possible by a grant from Carnegie Corporation of New York. The statements made and views expressed are solely the responsibility of the author.
Read this report in Chinese / 阅读本报告的中文版
Read this report in Russian / Читать этот отчет на русском языке
Professors: To request an exam copy, contact [email protected]. Please include your university and course name.
Bookstores: To order bulk copies, please contact Ingram. Visit https://ipage.ingramcontent.com, call 800.937.8200, or email [email protected]. Include ISBN 978-0-87-609387-0.