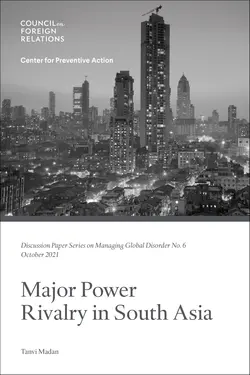 Major Power Rivalry in South Asia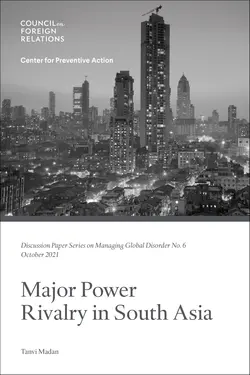 South Asia will be both the venue for and the source of intensifying U.S.-China and China-India rivalries. The United States should prepare to manage these rivalries by collaborating with allies and partners, competing with rivals to protect U.S. interests, and grappling with the risk of conflict.
Report
Unlike in the Cold War, South Asia and the Indian Ocean region will be a significant arena of major power competition. Today, the region is the primary site of intensifying major power competition between China and India. Another crucial global competition expected to define the coming era—U.S.-China rivalry—involves a country abutting South Asia.
With Beijing increasing its presence and influence in almost every South Asian country and the Indian Ocean region, the China-India and U.S.-China rivalries are likely to have the biggest effect on the region, both in terms of risks and opportunities.
The China-India rivalry will help determine the balance of power in the region. But it could also influence the extent to which those countries choose to cooperate or compete with each other—and whether they collaborate with other major powers—regionally and globally, including in international institutions or interest-based coalitions.
Other major powers, which have existing strategic or economic equities in the region—or, in some cases, their own concerns about China's rising influence and behavior—will also play a role. These include Japan, Russia, and the European Union (as well as particular European countries, such as France and the United Kingdom). The larger powers will seek to protect their interests while managing their rivalries. Smaller states in the region will hope to exercise agency and take advantage of major power rivalries while insulating themselves from any fallout. Together, these two dynamics will shape the geopolitical landscape of the region.
The outcome of these rivalries will have implications beyond South Asia and the Indian Ocean—for regional stability and security in the Indo-Pacific and for the global balance of power. That makes this region worthy of the Joe Biden administration's interest and attention. It will require collaborating with allies and partners, competing with rivals to protect U.S. interests, grappling with the risk of conflict, and, if possible, exploring cooperation with China.
This is the sixth Discussion Paper in the Managing Global Disorder series, which explores how to promote a stable and mutually beneficial relationship among the major powers that can in turn provide the essential foundation for greater cooperation on pressing global and regional challenges.
This Discussion Paper was made possible by a grant from Carnegie Corporation of New York. The statements made and views expressed are solely the responsibility of the author.
Read this report in Chinese / 阅读本报告的中文版
Read this report in Russian / Читать этот отчет на русском языке
Professors: To request an exam copy, contact [email protected]. Please include your university and course name.
Bookstores: To order bulk copies, please contact Ingram. Visit https://ipage.ingramcontent.com, call 800.937.8200, or email [email protected]. Include ISBN 978-0-87609-391-7.