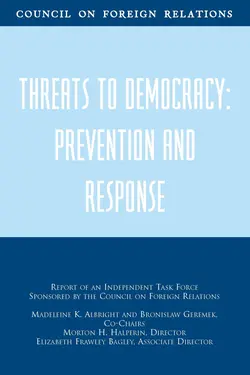 Threats to Democracy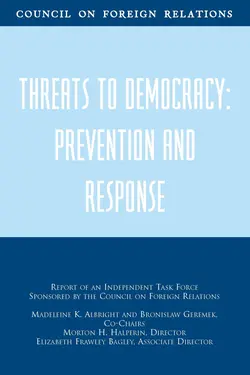 Task Force Report

Analysis and policy prescriptions of major foreign policy issues facing the United States, developed through private deliberations among a diverse and distinguished group of experts.
Democratic governments, international organizations, and nongovernmental organizations have responded poorly and often at cross purposes when democracies are threatened by coups or erosions of the democratic process, concludes an independent Task Force led by two of the world's leading pro-democracy advocates, former Secretary of State Madeleine K. Albright and former Foreign Minister of Poland Bronislaw Geremek. Yet support for democracy is consistent not only with the ideals of the world's democracies but also with their interests and security. Democratic states are "less likely to breed terrorists or to be state sponsors of terrorism," the report concludes, and more likely to be "active participants in the global economy."
The report says key international actors are paying more attention to the plight of new democracies but have yet to take necessary steps to turn their good intentions into a viable plan of action that can marshal the resources and political clout of the world's democratic community. Asserting that an individual's right to democracy and to participate in the government of his or her own state is a "fundamental international human right," the Task Force offers a series of recommendations for more effective action to deter or respond to unconstitutional interruptions of the democratic process and the erosion of democracy and democratic institutions.
The Task Force called on democratic states to implement a number of  recommendations when there is a threat to the survival of democracy in another country:  increasing development assistance to new democracies, especially where there is popular frustration about the lack of economic benefits deriving from the establishment of a democracy; developing "democracy erosion" indicators for international financial and trade institutions to target their assistance and stem the erosion; encouraging new democracies to adopt strong domestic laws guaranteeing free elections, human rights, and the independence of the judiciary and to take other measures to promote civil society; spurring regional organizations to adopt "democracy clauses" that would bar the membership of governments that have come to power through unconstitutional means; and exploring the possibility of making the interruption of democracy a crime under international law.