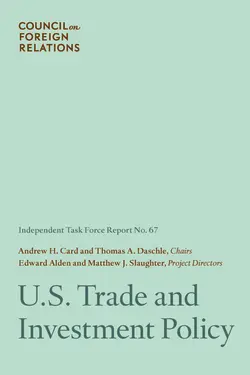 U.S. Trade and Investment Policy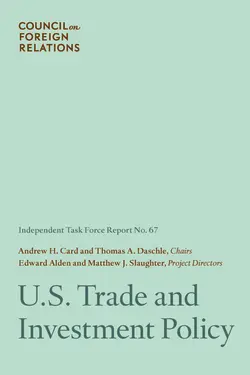 Task Force Report

Analysis and policy prescriptions of major foreign policy issues facing the United States, developed through private deliberations among a diverse and distinguished group of experts.
One of the most effective ways to create good new jobs and reverse the income decline of the past decade is for the United States to "become a thriving trading nation," concludes a new high-level Council on Foreign Relations (CFR)-sponsored Independent Task Force report on U.S. Trade and Investment Policy.

The report calls for the Obama administration and Congress to "adopt a pro-America trade policy that brings to more Americans more of the benefits of global engagement, within the framework of a strengthened, rules-based trading system."
The growth of global trade and investment has brought significant benefits to the United States and to the rest of the world. But U.S. leadership on international trade has waned in recent years because of deep domestic political divisions over trade policy that arise largely from the very real economic difficulties too many Americans face, acknowledges the Task Force.
The Task Force warns that the political stalemate "has already harmed U.S. interests and will do more if it remains unresolved." "Unless the United States develops and sustains a trade policy that yields greater benefits for Americans in job and wage growth, it will be difficult to build the political consensus needed to move forward," says the report.
The blue-ribbon group is chaired by former chief of staff during the George W. Bush administration and former secretary of transportation Andrew H. Card and former Senate majority leader Thomas A. Daschle, and is directed by CFR Bernard L. Schwartz Senior Fellow Edward Alden and Adjunct Senior Fellow for Business and Globalization Matthew J. Slaughter.
The Task Force represents a consensus among what have historically been divergent views. Twenty-two high-level political, business, and labor leaders make up the Task Force, including former congressman Harold E. Ford Jr.; United Steel Workers leader Leo W. Gerard*; former secretary of agriculture and congressman Daniel R. Glickman; former Senate majority leader Trent Lott; former Caterpillar CEO James W. Owen; former Service Employees International Union leader Andrew L. Stern; former congressman William M. Thomas; and former chair of the Council of Economic Advisers Laura D'Andrea Tyson.
The Task Force calls for a new trade and investment strategy based on seven pillars:
A trade-negotiations agenda that opens markets for the most competitive U.S.-produced goods and services
A National Investment Initiative that would coordinate investment policies to create more high-wage, high-productivity jobs in the United States
A robust and strategic trade enforcement effort that ensures U.S. companies and workers are not harmed by trade agreement violations
A greater push to promote U.S. exports through more competitive export financing and a more active U.S. government role in supporting American overseas sales
An expanded use of trade to foster development in the world's poorest countries
A comprehensive worker adjustment and retraining policy
A new deal with Congress to give the president a mandate to negotiate trade-opening agreements with an assurance of timely congressional action
The Task Force recommends that "the administration start by pushing harder for ratification of the three free trade agreements—with South Korea, Colombia, and Panama—still awaiting passage in the Congress." These delays have already caused the United States to lose its edge in the competition for trade with these countries.
"The United States still has many economic strengths, and a new set of trade and investment policies built on those strengths will pay enormous dividends," says the report. Yet, even as the United States works to implement these measures "its competitors will not be standing still" the Task Force cautions.
*Gerard participated as a member of the Task Force but did not endorse the general thrust of the final report.