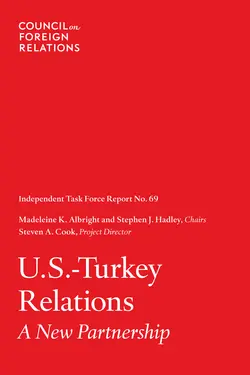 U.S.-Turkey Relations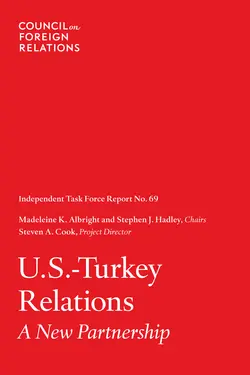 Task Force Report

Analysis and policy prescriptions of major foreign policy issues facing the United States, developed through private deliberations among a diverse and distinguished group of experts.
Turkey is a rising regional and global power facing, as is the United States, the challenges of political transitions in the Middle East, bloodshed in Syria, and Iran's pursuit of nuclear weapons. As a result, it is incumbent upon the leaders of the United States and Turkey to define a new partnership "in order to make a strategic relationship a reality," says a new Council on Foreign Relations (CFR)–sponsored Independent Task Force.
The bipartisan Task Force is chaired by former secretary of state Madeleine K. Albright and former national security adviser Stephen J. Hadley, and is directed by Steven A. Cook, CFR's Hasib J. Sabbagh senior fellow for Middle Eastern studies. The Task Force includes twenty-three prominent experts who represent a variety of perspectives and backgrounds.
"Turkey may not yet have the status of one of Washington's traditional European allies," the report explains, "but there is good strategic reason for the bilateral relationship to grow and mature into a mutually beneficial partnership that can manage a complex set of security, economic, humanitarian, and environmental problems."
The relationship should reflect "not only common American-Turkish interests, but also Turkey's new stature as an economically and politically successful country with a new role to play in a changing Middle East," argues the Task Force in the report, U.S.-Turkey Relations: A New Partnership.
Turkey is more democratic, prosperous, and politically influential than ever before. Still there are worrying domestic developments that raise questions about Turkey's democratic practices. According to the Task Force, these concerns include: "the prosecution and detention of journalists, the seemingly open-ended and at times questionable pursuit of military officers and other establishment figures for alleged conspiracy against the government, the apparent illiberal impulses of some Turkish leaders, the still-unresolved Kurdish issue, and the lack of progress on a new constitution."
The Task Force finds that overall, Turkey is not well understood in the United States. The Task Force "seeks to promote a better understanding of the new Turkey—its strengths, vulnerabilities, and ambitions—in order to assess its regional and global role and make recommendations for a new partnership of improved and deepened U.S.-Turkey ties."
To make the vision for a new U.S.-Turkey partnership a reality, Ankara and Washington should observe the following principles:
equality and mutual respect for each other's interests;
confidentiality and trust;
close and intensive consultations to identify common goals and strategies on issues of critical importance;
avoidance of foreign policy surprises; and
recognition and management of inevitable differences between Washington and Ankara.