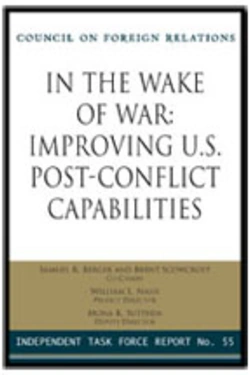 In the Wake of War
Improving U.S. Post-Conflict Capabilities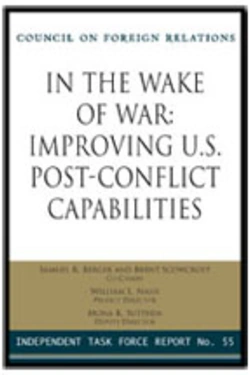 Task Force Report

Analysis and policy prescriptions of major foreign policy issues facing the United States, developed through private deliberations among a diverse and distinguished group of experts.
This Council-sponsored, independent Task Force points out that nation-building is not just a humanitarian concern, but a critical national security priority that should be on par with war-fighting and urges the United States to equalize the importance of the two. The report argues that the United States must acknowledge that "war-fighting has two important dimensions: winning the war and winning the peace."
The Task Force, cochaired by former national security advisers Samuel R. Berger and Brent Scowcroft and directed by retired Army Major General William L. Nash, finds that "to succeed, initial military combat operations require advance planning and a substantial commitment of money and manpower. The same is true for the subsequent phase of conflict, commonly called nation-building, and known inside the Pentagon as 'stabilization and reconstruction.' The failure to take this phase of conflict as seriously as initial combat operations has had serious consequences for the United States, not just in Iraq but, more broadly, for international efforts to stabilize and rebuild nations after conflict."
The U.S. government is currently poorly organized for the task of nation-building. "The higher priority now accorded to nation-building has yet to be matched by a comprehensive policy or institutional capacity within the U.S. government to engage successfully in stabilization and reconstruction missions," the report says.
The Task Force calls on the president to make it clear that building America's capability to conduct stabilization and reconstruction operations will be a top foreign policy priority. The report recommends concrete ways for the Bush administration to reorganize to take on these challenges, including giving greater authority to the State Department.