Empowering Women in Developing Economies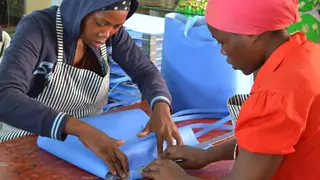 Voices from the Field features contributions from scholars and practitioners highlighting new research, thinking, and approaches to development challenges. This article is authored by Melanne Verveer, executive director of the Georgetown Institute for Women, Peace and Security, and Mathilde Mukantabana, ambassador of the Republic of Rwanda to the United States of America.
July 27, 2017 4:26 pm (EST)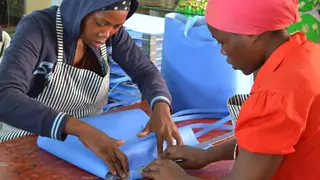 Article

Current political and economic issues succinctly explained.
Economic opportunity is vital to strengthening peace and stability, especially in fragile states and post conflict societies. Developing sustainable employment entails a strong partnership between the private and public sectors, as well as multilateral organizations. Kate Spade & Company's social enterprise investment in Rwanda—which enables women to be part of its supply chain—is an innovative example of that partnership.
Rwanda suffered one of the worst genocides in history in 1994. The Genocide against the Tutsi in Rwanda claimed more than one million lives and left in its wake a near total collapse of political and socio-economic institutions. The leadership of Rwanda and its people embarked on an arduous journey to mend the fabric of their society, and out of the ashes of destruction rose a new and prosperous nation.
Today, Rwanda is one of the fastest growing economies in Africa. There are several reasons for Rwanda's economic and social progress. A growing body of research demonstrates that women's economic participation is essential for economic progress—and for post conflict reconstruction and recovery. Women entrepreneurs drive GDP and create jobs, and the way women spend their income has a multiplier effect, as they invest it in education, nutrition, and other needs; this in turn improves the well-being of families and grows the standard of living. Rwanda's leadership in gender equality has fostered a positive environment for women's political participation and entrepreneurship.  Women comprise over 60 percent of the Parliament—the highest in the world. Inheritance and land rights have been advanced, and there have been significant improvements on a range of indicators from education and literacy to health care.
We have observed the impact that the private sector can have on women's economic empowerment in Masoro, a village of twenty thousand people roughly twelve kilometers away from Rwanda's capital, Kigali. Like many rural communities, Masoro suffered from higher unemployment and lower earnings than the national average. On the positive, local artisans were skilled in embroidery and sewing.
Officials from Kate Spade & Company decided to make a social enterprise investment in this small community to test if this investment could produce economic and social returns. The company recruited 150 of the village's most talented and committed female artisans in 2013, and helped them set up their own worker-owned, for-profit social enterprise: Abahizi Dushyigikirane, Ltd. or "ADC." Kate Spade & Company has worked to build the capacity of the workers and has been using them as a supplier for its related brands. In that way, the women and their families can prosper and Kate Spade & Company can have a dependable supplier.
According to a recently released study by Georgetown's McDonough School of Business, in partnership with the Georgetown Institute for Women, Peace & Security, Kate Spade & Company's initiative has already contributed to the empowerment of the women in Masoro. They are flourishing economically and socially. The women have improved their spending on necessities and are investing in the future. They are earning a decent and steady wage and receiving opportunities for training and development from ADC. The average woman working on the initiative has also reported higher levels of decision-making within her family related to personal finances.
This is evidenced by Appolinaire, a team leader in ADC's beading department. Appolinaire first applied to be a temporary worker at ADC in order to supplement her household's income. To her surprise, she positively adjusted to the position right away, and especially enjoyed the camaraderie with other women. ADC offered Appolinaire an opportunity to take the sewing test required for a permanent position, which she passed.
With her new income from the factory, Appolinaire and her husband have been able to invest in a new kitchen, and they are gradually replacing their mud brick walls and dirt floor with bricks. Appolinarie says her voice is heard on all of the important household decisions. She no longer tends the land or cares for the cows. As she progressed at ADC and her salary increased, a young man was hired to do those chores. Clearly, she is becoming economically empowered.
On the business investment, the Georgetown study found that Kate Spade & Company has created a financially viable business model in Rwanda. The Masoro supplier will become more competitive as production increases. The increases are set to occur over the course of 2017 with the acquisition of another client. Kate Spade & Company is actively assisting in the search for a second client and potential investors to support their growth trajectory.
This innovative social enterprise investment offers a model approach for creating economic opportunity that is sustainable in marginalized communities.  Other companies can also contribute to their bottom line and help to transform fragile and war-torn societies. It's a win-win approach: one that is good for business and good for society.