Yemen's Spiraling Crisis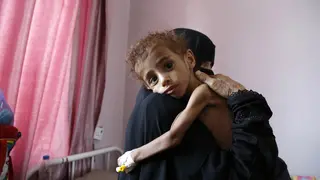 UN officials warn that deteriorating conditions threaten disaster for Yemenis on a scale few have ever witnessed. Ending the civil war is essential, and the United States could prod the peace process.
October 31, 2018 1:16 pm (EST)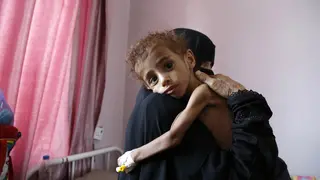 Article

Current political and economic issues succinctly explained.
Relief officials say the crisis in Yemen could soon be the worst they have seen. "There is now a clear and present danger of an imminent and great big famine," UN humanitarian official Mark Lowcock told the Security Council last week. He said fourteen million people—half of Yemen's population—could rely entirely on aid for their survival.
The United Nations has conservatively estimated that 6,660 civilians have been killed in the three-and-a-half-year civil war pitting forces loyal to President Abd Rabbu Mansour Hadi, alongside Saudi Arabia and the United Arab Emirates, against Houthi rebels, who are supported by Iran. While relief experts have yet to declare a famine, the number of people who have already died from malnourishment and related disease is likely many times higher than the number of those killed in fighting.
Unnatural Disaster
The crisis has been mounting since the start of the Saudi-led intervention in March 2015. Claiming that Iran was smuggling weapons to Houthi rebels, Saudi Arabia imposed a partial blockade of Hodeidah port—the gateway to northern and central Yemen—and has since tightened it, restricting the supply of staples such as wheat, rice, and cooking and fuel oil.
Combat has worsened the crisis. Aerial bombardment by the Saudi-led coalition has destroyed markets, food production facilities, roads, and bridges across the country. Armed clashes and Houthi landmines have taken a further toll.
Many families can no longer afford food, as a depreciating currency has driven up prices. The central bank has left public employees long unpaid, and it has issued new rules hindering commodity imports. The decimated health system is ill-equipped to treat the more than one million suspected cholera cases.
Peace Process Progress?
U.S. Defense Secretary Jim Mattis called on October 30 for a cease-fire and a resumption of the peace process led by UN Special Envoy Martin Griffiths. A Houthi delegation declined to attend talks in Geneva last month, saying the coalition would not guarantee its safe passage. Mattis said Saudi Arabia and the United Arab Emirates are ready to negotiate in the coming month in Sweden. Yet, even if the process between Houthis and the coalition-backed Yemeni government yields progress, other cleavages would remain.
Meanwhile, a UN Human Rights Council panel has documented rights violations by both sides. It found that coalition air strikes and the blockade likely amount to war crimes.
The United Nations is also coordinating a massive relief effort, but it points out that no humanitarian response can compensate for the collapse of public institutions or commercial markets. 
Can Congress Move the Needle?
U.S. support for the Saudi-led coalition, which includes targeting intelligence, aerial refueling, and military equipment, began under the Obama administration. It has picked up under the Trump administration, which sees the war as a means to roll back Iran.
American lawmakers from both parties have been critical of Saudi Arabia's prosecution of the war, all the more so amid concerns that Crown Prince Mohammed bin Salman has been reckless, fomenting crises in Lebanon and Qatar. The assassination of journalist Jamal Khashoggi, a critic of the crown prince, appears to be a boiling point.
Whether the Trump administration prods its allies to end the fighting remains unclear. In the meantime, Congress has three main levers to press the Trump administration:
Reporting requirements. The latest defense appropriations bill requires Secretary of State Mike Pompeo to periodically certify that the coalition is taking measures to protect civilians and end the war. A bipartisan group of seven senators has since expressed skepticism [PDF] about Pompeo's certification.
Arms sales. A vote of disapproval on the sale of precision-guided missiles narrowly failed in the Senate last year; another could soon come up. But a two-thirds majority would be needed if the president were to issue a veto.
War powers. Resolutions invoking the 1973 War Powers Act would, if successful, require the Trump administration to cease its participation in the war absent a congressional declaration of war or authorization of force.
Signals that the United States might limit its support for the coalition could upend a status quo that has only dragged out Yemen's immiseration.