China in Africa
China has become Africa's largest trade partner and has greatly expanded its economic ties to the continent, but its growing activities there have raised questions about its noninterference policy.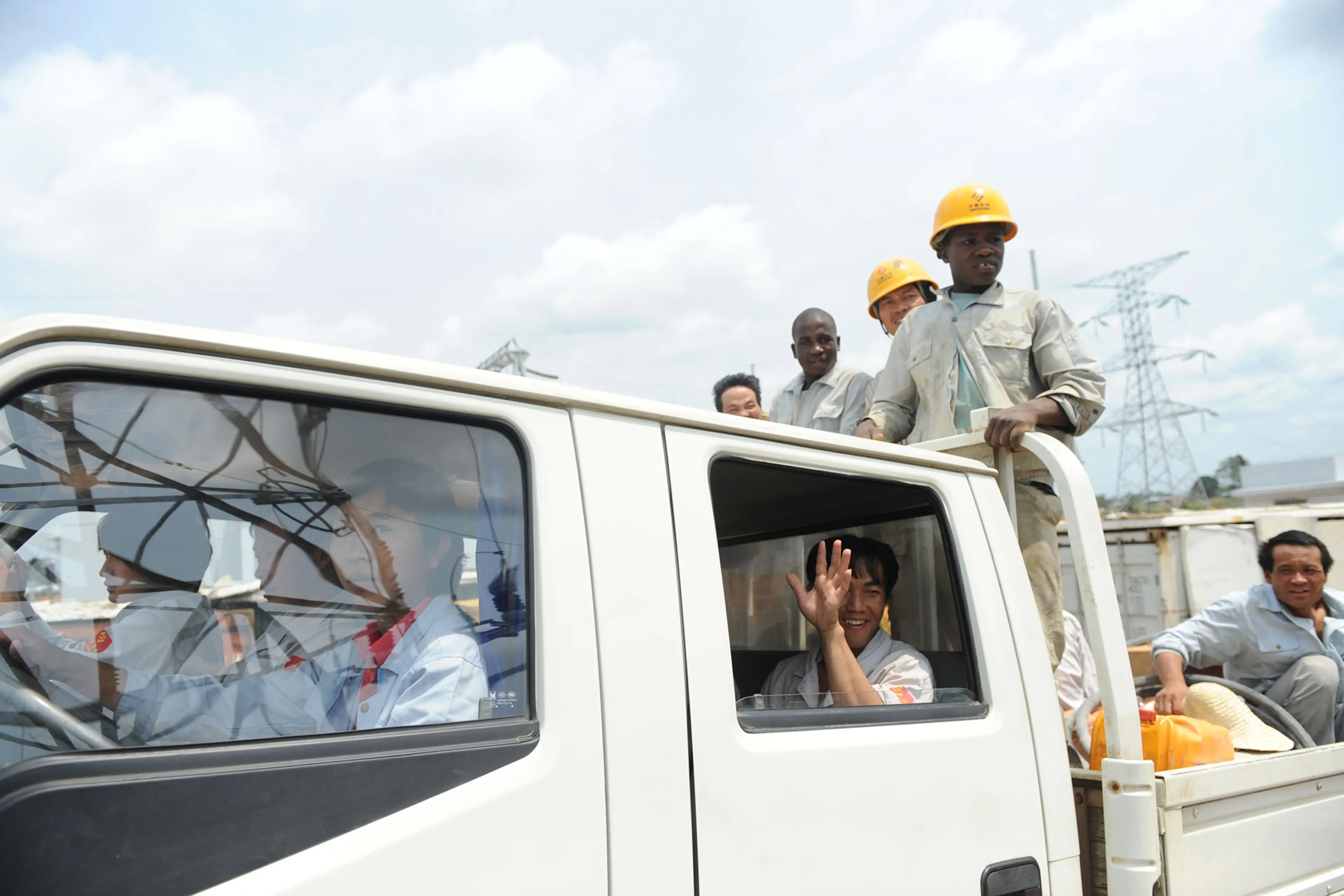 Summary
China is the African continent's largest trading partner and source of foreign direct investment. Its investment has helped spur infrastructure development and economic growth.

China's need for oil and other resources and a market to sell its products has driven its investment in Africa.

While many in Africa view China's investment favorably, some political leaders and workers have criticized Beijing for ignoring environmental standards, violating local laws, and other exploitative behaviors.
Introduction
Over the past few decades, China's rapid economic growth and expanding middle class have fueled an unprecedented need for resources. The economic powerhouse has focused on securing the long-term energy supplies needed to sustain its industrialization, searching for secure access to oil supplies and other raw materials around the globe. As part of this effort, China has turned to Africa. Through significant investment in a continent known for political and security risks, China has boosted African oil and mining sectors in exchange for advantageous trade deals. Chinese companies are also diversifying their business pursuits in Africa, in infrastructure, manufacturing, telecommunications, and agricultural sectors.
However, China's activity in Africa has faced criticism from Western and African civil society over its controversial business practices, as well as its failure to promote good governance and human rights. Yet a number of African governments appear to be content with China's policy. At the same time, Beijing's complex relationship with the continent has challenged its policy of noninterference in the affairs of African governments.
China's Energy Needs
China's economy, which had averaged an annual growth rate of 10 percent for three decades until 2010, requires substantial levels of energy to sustain its momentum. It has become the world's largest energy consumer and producer [PDF] in the world. Though China relies on coal for much of its energy needs, its oil consumption is second worldwide. Once the largest oil exporter in Asia, China became a net importer in 1993 and has surpassed the United States as the world's largest importer of oil in recent years. The International Energy Agency's World Energy Outlook 2014 [PDF] projected that China will become the world's largest consumer of oil by the early 2030s.
China's second-largest source of crude imports after the Middle East is Africa, from which it receives 1.4 million barrels per day, or 22 percent [PDF]. Angola was China's third-largest oil supplier in 2016. Other African oil suppliers include the Republic of Congo and South Sudan.
In its quest to secure resources, China engages in a form of commercial diplomacy that most other countries cannot match, Michael Levi and CFR's Elizabeth C. Economy argue in their 2014 book, By All Means Necessary. Beijing pitches vast trade, assistance, and investment deals on frequent trips to resource-rich countries, and retains an almost unparalleled ability to provide low-cost financing and cheap labor for infrastructure projects, Economy explains.
Though China's growth dropped to 6.7 percent in 2016 and is expected to moderate further, the country will remain an important area of growth for energy demand globally. 
Sino-African Trade
Economic ties between China and the African continent have deepened as China's economy has thrived. China surpassed the United States as Africa's largest trade partner in 2009. China is a destination for 15 to 16 percent of sub-Saharan Africa's exports and the source of 14 to 21 percent of the region's imports, according to estimates from Thomson Reuters and the World Bank. While the majority of Africa's exports to China are comprised of mineral fuels, lubricants, and related materials, it also exports iron ore, metals, and other commodities, as well as small amounts of food and agricultural products. China exports a range of machinery, transportation, communications equipment, as well as manufactured goods to African countries.
China has taken a multi-pronged approach in its economic relations with Africa, according to Deborah Brautigam who directs the China-Africa Research Initiative (SAIS-CARI) at the Johns Hopkins School of Advanced and International Studies. China is a significant source of foreign direct investment in Africa; offers development loans to resource-rich nations, like Angola; invests in agriculture; and develops special trade and economic cooperation zones in several states, including Ethiopia, Nigeria, and Zambia. "Chinese banks and companies are offering finance that allows them to secure a greater share of the business deals [PDF] in Africa as part of their move to 'go global.' This brings with it risks for African borrowers—but also opportunities," write Brautigam and Jyhjong Hwang of SAIS-CARI.
Chinese financing comes often in the form of loans and credits provided by the People's Bank of China, the China Development Bank, the Export-Import Bank of China, and the China-Africa Development Fund. Between 2000 and 2014, Chinese banks, contractors, and the government loaned more than $86 billion to Africa, according to SAIS-CARI. Angola, the Democratic Republic of Congo (DRC), Ethiopia, Kenya, and Sudan were the top recipients. However, these large loans are beginning to raise questions about debt loads in African countries, showing indications of a potential debt crisis.
Beijing has steadily diversified its business interests in Africa. China has participated in energy, mining, and telecommunications industries and financed the construction of roads, railways, ports, airports, hospitals, schools, and stadiums. Investment from a mixture of state and private funds has also set up tobacco, rubber, sugar, and sisal plantations. Domestic economic conditions drove Chinese firms to break into new markets for its consumer goods and excess industrial capacity as part of China's "going out" or "going global" strategy. Chinese investment in Africa also fits into Chinese President Xi Jinping's development framework, "One Belt, One Road," which joins a continental economic belt and a maritime road to promote cooperation and interconnectivity from Eurasia to Africa.
Perceptions in Africa
Opinion surveys have shown that the majority of respondents in African countries view China favorably, both in terms of its influence as well as its contributions to the continent's development. On average, 63 percent [PDF] of Africans view China's economic and political influence as somewhat or very positive, according to a 2016 poll conducted in thirty-six countries by Afrobarometer, a Pan-African research network. Many African leaders have lauded the benefits of Chinese investment to support growth in their countries. "China, which has fought its own battles to modernise, has a much greater sense of the personal urgency of development in Africa than many western nations," wrote former Senegalese President Abdoulaye Wade in a 2008 op-ed. 
Still, China's presence in Africa has not been without controversy. Some countries have pushed back against China's development activities. Grievances range from poor compliance with safety and environmental standards to unfair business practices and violations of local laws.
The impression that China has exploited resources without building up local economies has triggered fierce criticism from some leaders. In 2011, Michael Sata won Zambia's presidency in part by tapping into anti-Chinese sentiment after Chinese managers shot protesters at a large coal mine in southern Zambia. In 2013, Sanusi Lamido Sanusi, then-governor of Nigeria's Central Bank, wrote "we must see China for what it is: a competitor." He added: "Africa must recognise that China—like the U.S., Russia, Britain, Brazil and the rest—is in Africa not for African interests but its own."
African workers have also begun to fault Chinese companies for unfair labor practices, including disputes over wages and working conditions. Beijing has "less and less" ability to control these companies, says Ian Taylor, a professor at Scotland's University of St. Andrews, thus undermining China's official stance promoting Chinese investment in Africa as "win-win." Zambia, in particular, has experienced civil strife in response to an influx of Chinese companies; in 2012, the country witnessed protests and even deaths of Chinese mine managers.
Environmental concerns have been raised by international and local non-governmental organizations. They point to a lack of resource transparency and limited efforts to ensure animal and environmental protection. However, a number of regional experts say the perception of China's environmental performance in Africa is more negative than the reality, though improvements can be made.   
Still, governance systems in African countries are often ill-equipped or too weak to protect against potential environmental damage. "Many African countries are worse off than China as they attach low priority [PDF] to environmental protection, have understaffed environmental bureaucracies, and even worse records for countering corruption," writes George Washington University's David H. Shinn, who is also a former U.S. ambassador to Burkina Faso and Ethiopia. A small number of Africa's fifty-four nations has ratified the African Union's 2003 revised African Convention on the Conservation of Nature and Natural Resources. While opinion polls indicate that many surveyed in sub-Saharan Africa see climate change as a serious problem, another Pew Research study found that pollution and the environment ranked as the least important among the greatest dangers in the world in eight out of the nine African countries surveyed (after religious and ethnic hatred, inequality, AIDS and other diseases, and nuclear weapons).
Noninterference and Security
China's ties to the continent trace back to the early postcolonial history of many states. Beijing forged relationships with African countries as they first gained independence and used diplomatic recognition of the People's Republic of China over Taiwan as a bargaining tool, rewarding countries who sided with Beijing instead of Taipei. Since the mid-1990s, Beijing has recalibrated its approach by focusing on economic relationships and heralding a policy of noninterference in African governmental affairs. China's noninterference policy and respect for sovereignty allow assistance to be allotted with few to no strings attached, providing repressive governments in countries like Sudan and Zimbabwe with much-needed financing.
This noninterference has been tested, given shifting geopolitics on the continent. Experts say that while the central government continues to talk up the merits of noninterference, it has become clear that Beijing is gradually abandoning this stance. This shift is notably visible in Sudan, a major oil exporter to China, where conflict there and subsequently in South Sudan spurred changes in China's policy. Beijing has also increased its commitment to UN and African Union peace missions and established its first overseas military outpost in Djibouti.
By March 2017, more than 2,500 Chinese troops, police, and military experts had been dispatched to six UN peacekeeping missions in Africa, four of which are in Darfur, DRC, Mali, and South Sudan; there are also smaller contingents in the Ivory Coast and Western Sahara. Xi pledged $100 million in military aid to the African Union in 2015 and China supports African countries' capacity building in areas like defense and counterterrorism.
The killing of Chinese peacekeepers in Mali and South Sudan, the kidnapping of Chinese workers in Cameroon, and the spread of the self-proclaimed Islamic State in Africa have contributed to a growing Chinese security presence. Since 2008, China has supported counterpiracy operations in the Gulf of Aden, off the northeastern coast of Africa. Djibouti, already home to other foreign military bases, is the site of China's first permanent naval installation overseas; Chinese troops set sail for Djibouti in July 2017 to set up the base.
Assessing Sino-African Ties
Chinese investment in Africa has helped spur economic growth. However, China's economic slowdown and the drop in commodity prices have squeezed growth rates. While GDP in sub-Saharan Africa grew by 5 percent in 2011, growth was set to drop to its lowest level in more than twenty years at 1.4 percent in 2016 [PDF], according to the International Monetary Fund's Regional Economic Outlook
Some analysts say China's activities in Africa—from building infrastructure to providing medical support—are goodwill for later investment opportunities or an effort to stockpile international support for contentious political issues. Experts from Aid Data, a research lab at the College of William & Mary, found a link [PDF] between Chinese assistance and the alignment of recipient countries with Beijing's UN voting and its One China principle.  
Accusations of exploitative behavior by China in Africa have prompted questions about the future of the relationship. However, experts suggest that while China's economic footprint in Africa is growing, it represents only a fraction of China's economic activity around the world. "Considering the low priority of Africa in China's overall foreign strategic mapping, a disproportionate level of international attention, publicity, and scrutiny is paid to China's Africa engagement," writes the Brookings Institution's Yun Sun.
Christopher Alessi and Beina Xu contributed to this report.