Competition in the Indian Ocean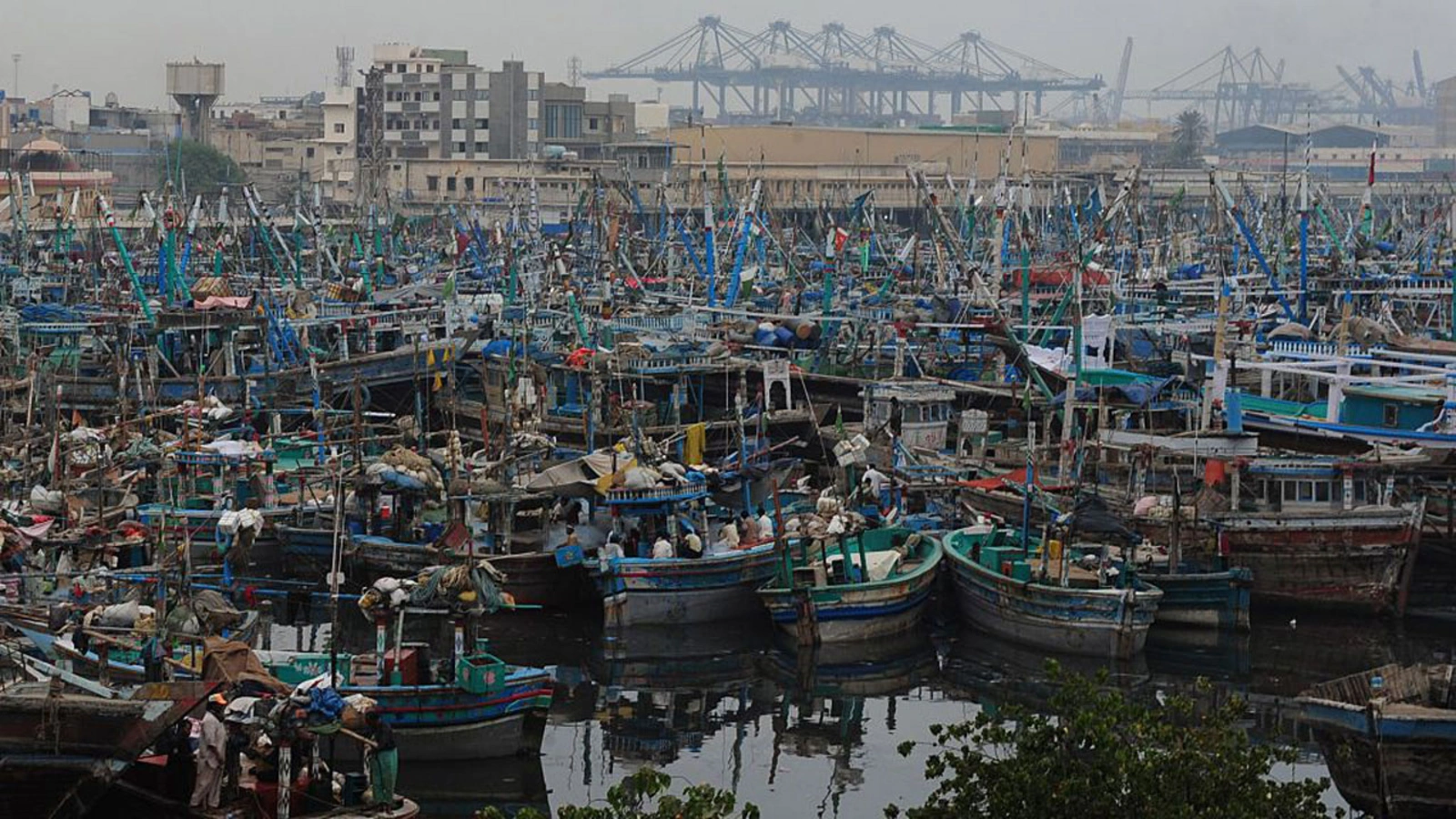 China and India increasingly vie for strategic advantage in the Indian Ocean, while also cooperating on some transnational security issues.
Last updated May 19, 2016 8:00 am (EST)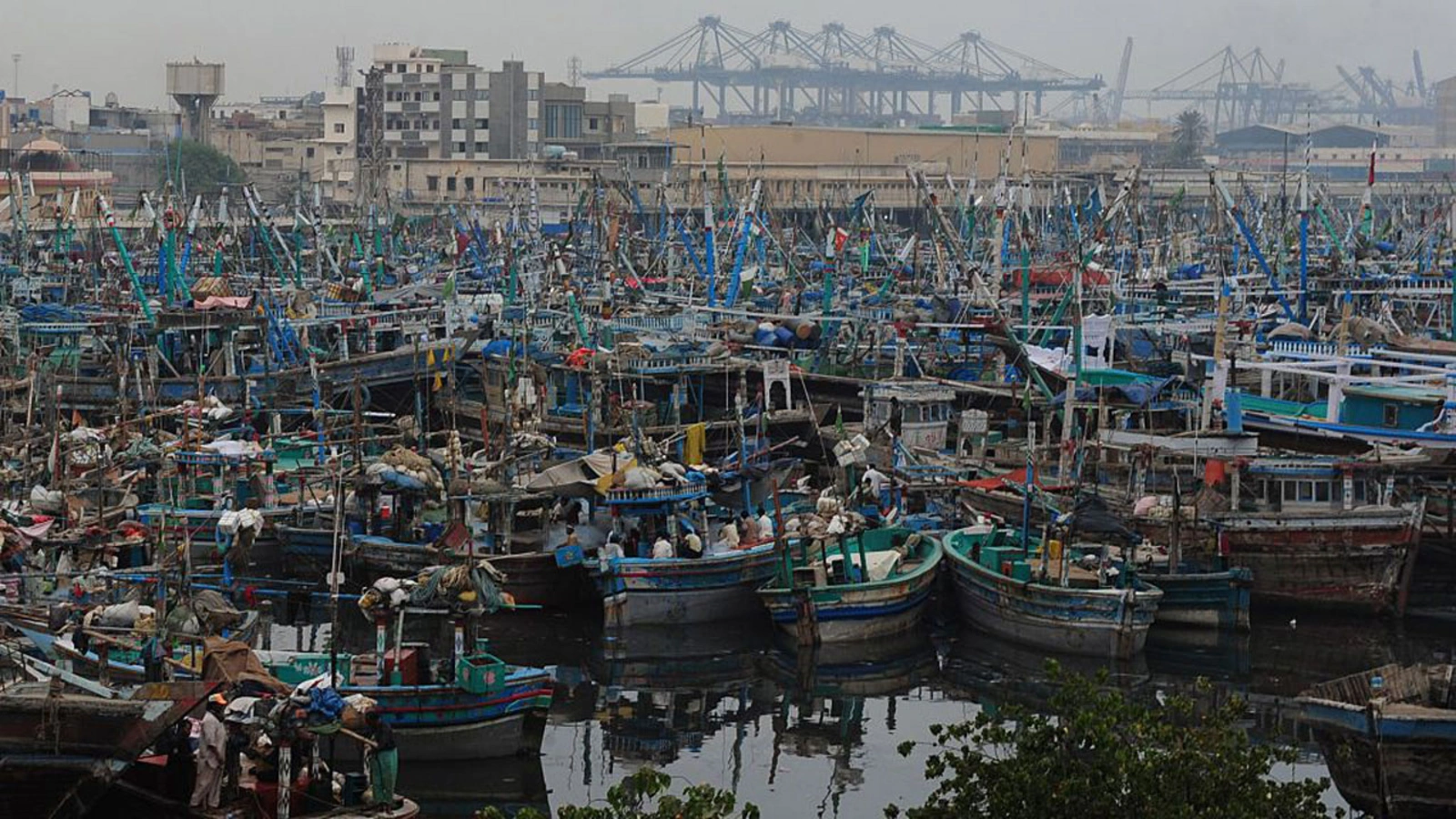 Backgrounder

Current political and economic issues succinctly explained.
Introduction
The Indian Ocean is the world's third-largest body of water and has become a growing area of competition between China and India. The two regional powers' moves to exert influence in the ocean include deep-water port development in littoral states and military patrols. Though experts say the probability of military conflict between China and India remains low, escalated activities (such as port development and military exercises) and rhetoric could endanger stability in a critical region for global trade flows. But the diverse nontraditional security challenges in the Indian Ocean Region (IOR) also offer areas of potential collaboration for China and India, as well as other regional actors.
What is the importance of the Indian Ocean?
The Indian Ocean covers at least one fifth of the world's total ocean area and is bounded by Africa and the Arabian Peninsula (known as the western Indian Ocean), India's coastal waters (the central Indian Ocean), and the Bay of Bengal near Myanmar and Indonesia (the eastern Indian Ocean). It provides critical sea trade routes that connect the Middle East, Africa, and South Asia with the broader Asian continent to the east and Europe to the west. A number of the world's most important strategic chokepoints, including the Straits of Hormuz and Malacca through which 32.2 millions of barrels of crude oil and petroleum are transported per day—more than 50 percent of the world's maritime oil trade—are found in the Indian Ocean Region, which itself is believed to be rich with energy reserves. Nearly 40 percent [PDF] of the world's offshore petroleum is produced in the Indian Ocean, coastal beach sands and offshore waters host heavy mineral deposits, and fisheries are increasingly important for both exports and domestic consumption.
Why is the Indian Ocean a source of competition?
China and India are dependent on energy resources transported via the secure sealanes in the Indian Ocean to fuel their economies. India imports nearly 80 percent of its energy, mostly oil from the Middle East, and is due to overtake Japan as the world's third-largest energy consumer (behind China and the United States). According to a U.S. Department of Defense report, 84 percent [PDF] of China's imported energy resources passed through Strait of Malacca from the Indian Ocean in 2012. As Beijing and New Delhi press to maintain economic growth, their dependency on the safe transport of resources will likely intensify. China's growing global influence and India's rapid economic rise have heightened the ocean's strategic value. Meanwhile, the United States' rebalance to Asia—shifting from a foreign policy dominated by the Middle East to one more centered on Asia—has also been a contributing factor elevating concern over Indian Ocean security. Diverse security challenges affect the region ranging from natural disasters to concerns over energy security, piracy, and military posturing. 
How are China and India competing in the Indian Ocean?
Both countries have developed initiatives to bolster infrastructure and other connections in the region, which the World Bank describes as among the "least economically integrated." Competition between Beijing and New Delhi is not necessarily overt, but each country is seeking to strengthen ties with smaller regional states to secure their respective security and economic interests.
Beijing's regional vision, backed by $40 billion of pledged investment, outlines its One Belt, One Road plan—combining the revitalization of ancient land-based trade routes, the Silk Road Economic Belt, with a Maritime Silk Road. China's ties with regional states have deepened, including the influx of Chinese capital into construction projects in Bangladesh, Myanmar, Pakistan, and Sri Lanka. Since launching counterpiracy operations in 2009, Beijing has become increasingly active in the region. China has also undertaken efforts to modernize its military, particularly its naval deployment capabilities to protect overseas interests like personnel, property, and investments. Experts also argue that Beijing's forays into what is at times described as India's neighborhood are driven by China's excess capacity challenges—incentivizing Chinese firms out of domestic markets to compete in and open new markets abroad.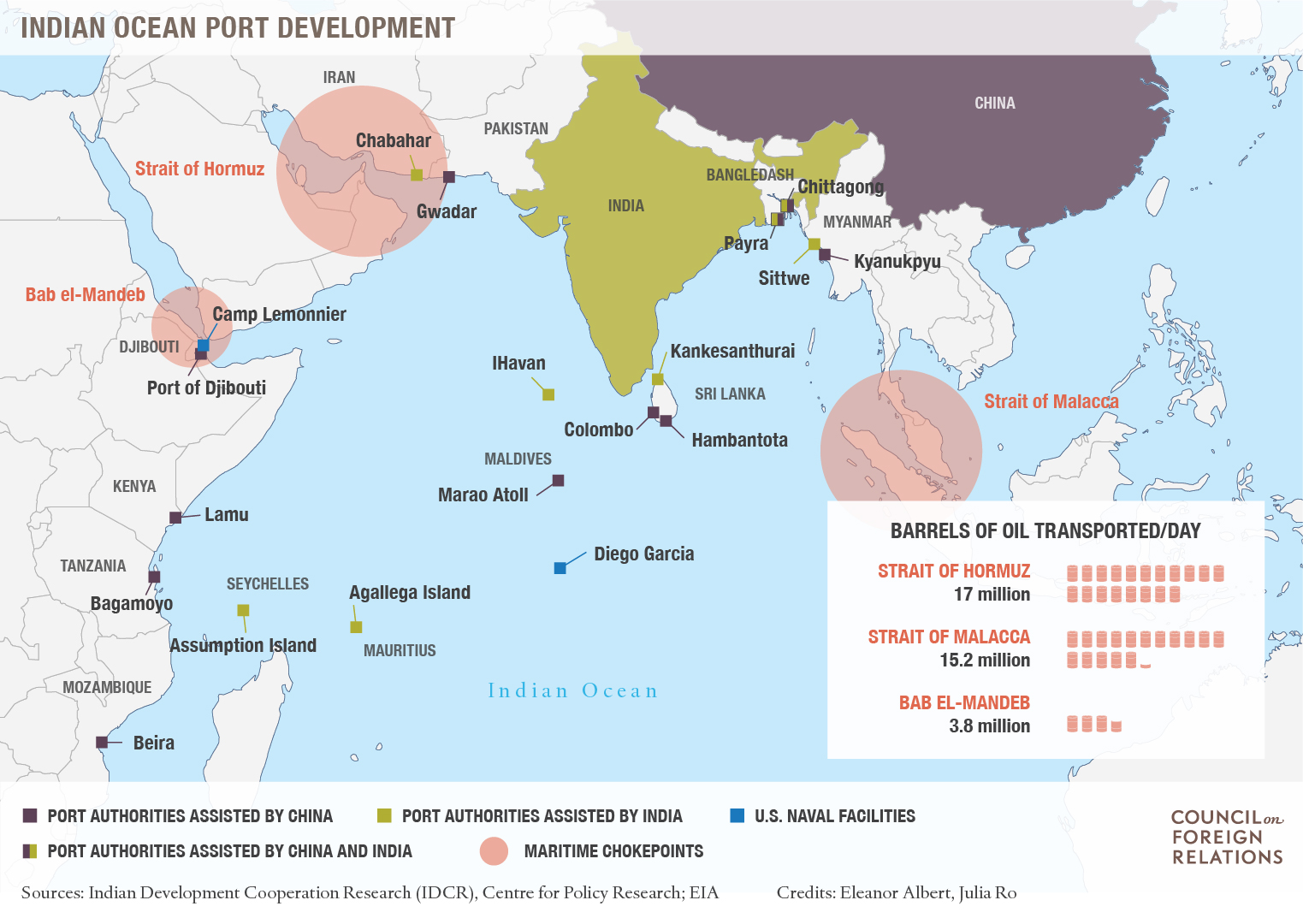 For its part, India sees itself as the natural preeminent regional power. Prime Minister Narendra Modi has doubled-down on fostering stronger diplomatic, economic, and security ties with IOR maritime states as a means to strengthen India's economy, establish its role a driver of regional growth , and simultaneously diminish China's growing appeal, writes CFR's Alyssa Ayres.
"It is India's neighbourhood that holds the key [PDF] to its emergence as a regional and global power," writes former Indian foreign secretary Shyam Saran. Though Beijing deflects claims of hegemonic aspirations, it identifies security in the IOR as a primary concern for Chinese "core interests." In 2015, a white paper charting China's military strategy indicated a shift of People's Liberation Army Navy to focus on both offshore water defense and open seas protection. Chinese behavior suggests that Beijing seeks to establish a persistent regional maritime presence. It now boasts a semipermanent naval presence through its counterpiracy activities in the Indian Ocean and has more aggressively asserted itself in the Pacific with extensive patrols and land reclamation projects in disputed waters.
China's ambitions in the region have been described by many scholars by the "string of pearls" metaphor, which holds that China is taking on economic and investment projects with Indian Ocean states to secure ports or places where its military forces could set up naval facilities or at the very least, refueling and repair stations. Chinese experts dismiss this, claiming that China seeks access, not bases, for economic gain. C. Raja Mohan, director of Carnegie India, a regional center of the U.S.-based Carnegie Endowment think tank, argues that as rising powers, China and India's pursuit of partnerships with smaller regional states is inevitable. "Everyone is playing this game," he says. "Bases is going to be the name of the game in the Indian Ocean, and that game is going to be pretty attractive in the coming years."
Still, "maritime competition between China and India is still nascent and should not be overblown," cautions CFR's Daniel S. Markey in a Contingency Planning Memorandum. Still, he writes that a "tit-for-tat politico-military escalation" is possible in the larger Indo-Pacific, a region spanning both the Indian and Pacific oceans.
What fuels China-India tensions?
China-India relations are fraught, colored by historical disputes and the perceived threat to India of China's rise. Tensions have persisted despite overtures by Chinese President Xi Jinping and Indian Prime Minister Narendra Modi. Much of the friction stems from a longstanding dispute along a 2,400-mile border in India's Arunachal Pradesh and China's Tibet and the legacy of the 1962 Sino-Indian War along the Himalayan border.
The expansion of a Chinese presence in the Indian Ocean has heightened India's concerns. Beijing says its activities are commercially motivated and intended to better protect its interests and people abroad. However, Brahma Chellaney of the Center for Policy Research (CPR), an independent Indian think tank, argues a ramped up Chinese presence in the Indian Ocean and elsewhere is consistent with Xi Jinping's intention of making maritime power central to achieving Chinese dominance in Asia.
While China's aims are disputed, both sides continue to ramp up military capabilities in the ocean region. China continues to deploy greater numbers of naval forces to support counterpiracy operations in the western Indian Ocean, and invests and sells arms, including tanks, frigates, missiles, and radar, to India's neighbors. Beijing is currently restructuring its military: Xi Jinping announced in September 2015 that the People's Liberation Army would cut 300,000 of its troops to redistribute resources to sea and air capabilities. As China adapts its military force to meet its global ambitions, its posturing has grown bolder. In October 2015, China finalized the sale of eight submarines to Pakistan, and in recent years, Chinese submarines have docked at the Sri Lankan port of Colombo and the Pakistani port of Karachi. More still, Beijing's land reclamation efforts and assertive behavior in the Pacific could bleed into the region, suggest the U.S. Naval War College's Andrew Erickson and Kevin Bond.
India is also reinforcing its regional maritime presence. "Activating partnerships and expanding capabilities in the Indian Ocean has been central to our quest for security," said Indian Foreign Secretary Subrahmanyam Jaishankar at the launch of Carnegie India in April 2016. The country has vowed to spend billions to build up its navy, including anti-submarine capabilities, has sent vessels to visit the South China Sea, and called for freedom of navigation and the peaceful resolution of territorial disputes as part of its Act East policy. The construction of military bases, modernized equipment and fleets, new maritime assets, and the expansion of security ties are all part of New Delhi's push to assert itself as the region's leader. Modi initiated the first bilateral India-Australia exercises and India participated in multilateral naval games in the Bay of Bengal with the United States, Australia, and Japan. David Brewster of Australian National University says there is little doubt that despite India's traditional principle of nonalignment, outreach to the United States, Australia, and Japan are calculated moves that could play a significant role in counterbalancing China.
What other countries have strategic interests in the IOR?
Small regional states, such as Bangladesh, Maldives, Myanmar, Seychelles and Sri Lanka, are recipients of both Chinese and Indian aid and investment, primarily for transport and infrastructure development. The majority of their foreign policy ties are determined by what deals can be made to help them meet their national development goals, says Nilanthi Samaranayake of Virginia-based CNA, a nonprofit research and analysis organization.
Global powers from outside of the region also have an interest in maintaining the ocean's security. The United States operates a naval support facility—Diego Garcia—on UK-leased territory in the central Indian Ocean, while France maintains a presence in the region from Reunion, its Indian Ocean island outpost. Australia has a modern naval force operating in the ocean, and the IOR is increasingly featured [PDF] in defense, national security, and maritime strategies developed in Canberra.
What are transnational concerns in the ocean?
Despite the rise in competition, multilateral cooperation involving China, India, and other states, takes place on issues including piracy, disaster relief, and drug smuggling. The following areas show potential for expanded cooperation:
Counterpiracy. Piracy has been costly to ocean-faring traders but global and regional responses have shown success. Oceans Beyond Piracy, a Colorado-based non-profit, estimates that the economic cost of piracy off the Somali Coast amounted to $2.3 billion in 2014, a drop from the estimated $5.7–$6.1 billion loss [PDF] two years prior.
Source: UNITAR-UNOSAT
Counterpiracy efforts near the Gulf of Aden have been the most successful manifestation of regional cooperation. More than eighty countries, organizations, and industry groups participate in operations in the IOR under the auspices of the ad hoc, voluntary Contact Group on Piracy off the Coast of Somalia (CGPCS), created in January 2009 in response to UN Security Council Resolution 1851 [PDF] on Somali piracy and armed robbery at sea. Since military cooperation began, the volume of attacks has shrunk. Yet experts warn that pirates have turned to more sophisticated equipment [PDF] and if naval pressure in the western Indian Ocean is reduced, pirate activity would rise again.  
China and India carry out anti-piracy activities independently, deploying naval vessels to escort merchant ships, provide protection, conduct rescue operations, and confiscate contraband. In April, China dispatched its twentieth naval escort task force to the Gulf of Aden. Meanwhile, India has prevented forty piracy attempts and developed an online registration service for merchants to request Indian naval escorts.
Search and Rescue. Another recent example of cooperation was the search effort for the Malaysia Airlines Flight 370, which disappeared en route from Kuala Lumpur to Beijing in March 2014. At the height of operations, twenty-six countries, including China and India, contributed to the search mission. Wreckage believed to be from the flight was discovered in July 2015.
Disaster Relief. There is room for growth on humanitarian aid and disaster relief cooperation. After the 2004 Indian Ocean Tsunami, governments, including Australia, France, India, Japan, Malaysia, New Zealand, Pakistan, the UK, and the United States, participated in extensive relief and rehabilitation efforts [PDF]. Separately, China disbursed [PDF] more than $62.2 million in aid, shipped supplies, and dispatched medical and rescue teams. More than a decade later, the IOR's vulnerability to natural disasters and the subsequent effects of climate change could provide impetus for more extensive collaboration.
Fisheries. Consumers in Indo-Pacific countries on average obtain 20 to 50 percent [PDF] of their animal protein from fish, and industrial fishing is an important export for smaller countries in the IOR. Regional players identify overfishing and environmental degradation as serious risks to sustainable economic development and food security, but mechanisms to establish sustainable fisheries have not been effective. The Stimson Center's David Michel blames [PDF] challenges to cooperation on the region's existing security architecture: the majority of institutions, such as the Indian Ocean Tuna Commission, only operate at a sub-regional level or focus on specific species.
What are the prospects for improved regional governance?
Experts say there is a growing need for an effective regional security architecture, similar to extant mechanisms among major powers in the East and South China seas, to address the IOR's diverse challenges. Regional multilateral organizations, such as the Indian Ocean Naval Symposium (IONS), which facilitates the exchange of military views to enhance communication and transparency across the region's naval forces, do exist. However, experts say IOR members must undergo an extensive region-building project for countries to be willing to act together more effectively.
China and India have expressed eagerness to assume greater responsibility [PDF] in policing maritime global commons and to be recognized as major powers. China's activities are likely to expand in conjunction with its One Belt, One Road initiative, but this does not have to come at India's expense, say some experts. "India is going to have to come to terms with China's entry into the Indian Ocean," states CNA's Samaranayake. New Delhi could also benefit from partnering with Beijing to integrate the region. Broader initiatives like the BRICS Development Bank and the Asian Infrastructure Investment Bank (AIIB) are also pulling India into to a larger leadership role alongside China.
The biggest challenge to creating coordinated effective action across the Indian Ocean is the lack of institutions of governance that cover the whole space, says CFR's Alyssa Ayres. "It may sound mundane, but institutionalized organizations with a regular diplomatic calendar and senior officials meeting to work on an agenda drive processes of consultation and action."
This Backgrounder is part of a CFR project on the New Geopolitics of China, India, and Pakistan, supported in part by a generous grant from the MacArthur Foundation.