Arrests of Tanzanian Opposition Underline Need for Constitutional Reform
The arrest of opposition figures in Tanzania, ostensibly for meeting to discuss constitutional reform, has only served to underline the country's need for a new constitution.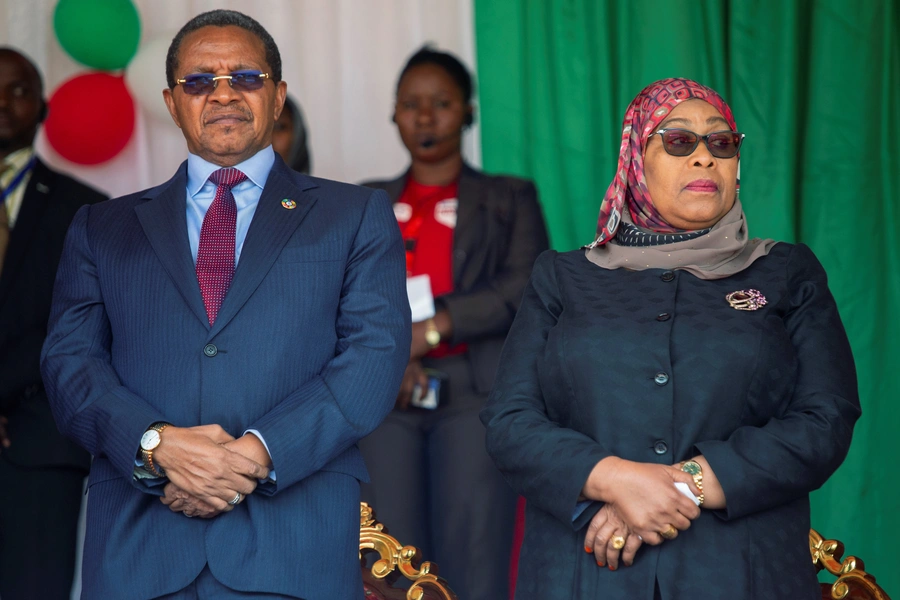 On July 21, Freeman Mbowe, chairman of Tanzania's main opposition party, Chama cha Demokrasia na Maendeleo (the Party for Democracy and Progress, CHADEMA), and ten other party members were arrested in Mwanza, apparently for violating a ban on "unnecessary gatherings." The ban, enacted the day prior, was officially billed as a measure to curb the spread of COVID-19. Yet its timing, coming just before a conference on discussing constitutional reform, and the charges levelled against Mbowe—the party leader is accused, without evidence, of funding terrorist activities aimed at assassinating government leaders—suggest the true intent is to suppress calls for much-needed constitutional reform.
Tanzania's constitution, ratified in 1977, is among the oldest remaining in force in sub-Saharan Africa. Written at the height of one-party rule [PDF], the constitution codified CCM's supremacy in a one-party state and created a highly centralized presidency. (Julius Nyerere, Tanzania's first president and the architect of its constitution, once quipped "I have sufficient powers under the constitution to be a dictator.") Multiparty politics were reintroduced in 1992, but the change came through a constitutional amendment rather than a new document, leaving the "imperial presidency" in place.
Political stability allowed CCM to remain entrenched, winning elections—which have never been truly free or fair—without inciting widespread calls for a new constitution. Then, after CHADEMA nearly quintupled its share of the national vote in the 2010 election (which it still lost) campaigning on a platform of constitutional reform, President Jakaya Kikwete in 2012 appointed a Constitutional Review Commission; current President Samia Suluhu Hassan then served as the deputy chairperson of the Constituent Assembly tasked with preparing the proposed constitution. However, the reform process stalled, in part due to opposition from Kikwete's own party members, meaning John Magufuli in 2015 entered Tanzania's highest office without any changes to the constitution.
For Magufuli, a new constitution was not a priority. And he showed little restraint in exercising the enormous powers of the presidency. The level of violence and intimidation during Magufuli's reign was unprecedented, and as president he reversed Tanzania's gradual trend towards competitive multipartyism as he consolidated his role as a strongman authoritarian. Magufuli's untimely demise—likely from COVID-19, a disease he consistently downplayed—cemented his legacy: polarizing a country long known, at least on the mainland, for its strong sense of national unity.
Hopes were high that President Hassan, upon taking office after Magufuli's death, would seek to unify the country, breaking with her predecessor—on COVID-19, tolerance of opposition, and openness to foreign trade and investment—and champion [PDF] a push for a new constitution. The president initially made some promising moves: in addition to facing reality on COVID-19, she ordered the release of political prisoners and the reopening of some media outlets targeted by Magufuli. (On the reopening of media, this was clarified as only applying to online television outlets.) But on the question of a new constitution, the new president has changed little. In late June, Hassan stated she would prioritize fixing the economy before reviving discussions on constitutional reform.
President Hassan has indeed made moves to improve the business environment in Tanzania by going out of her way to repair ties with investors, neighboring Kenya, and international financial institutions. But the sudden, heavy-handed crackdown on the opposition cannot be separated from the business outlook as the president seemingly wishes to believe. Opposition arrests are likely to unnerve potential investors who were expecting a more predictable policy environment post-Magufuli. Contrary to the president's view, a new constitution can contribute to Tanzania's economic revitalization. Some of Tanzania's largest industries, such as minerals and agriculture, and sectors with high growth potential, such as energy and infrastructure, require substantial upfront investment. But confidence in the future is difficult in a political system so dependent on the whim of the executive, evidenced by the 43 percent drop in foreign direct investment in the year after Magufuli took office. Greater separation of powers in a new constitution could unlock long-dated investments that underpin sustained growth.
A new constitution is also needed to protect against human rights abuses, which appear to be growing more common in Tanzania. CCM, like other African liberation parties, has over the years lost its ideological trappings and become more singularly focused on maintaining control; it worries that a new constitution would end its hegemony by giving greater legal protections to the opposition and creating an independent electoral commission. The arrest of Mbowe and his CHADEMA colleagues illustrates the  government's message—that it "will not accept any kind of conversation around any kind of reforms," according to Maria Sarungi Tsehai, founder of Change Tanzania. After the arrests, Tanzania's Office of the Inspector General accused those clamoring for reform of seeking to stir up unrest akin to that seen in South Africa following Jacob Zuma's arrest and warned against any form of protest or "unofficial gathering." Together with President Hassan's recent signal that the press, too, should expect legal ramifications for reporting critically on the government, it becomes clear that Magufuli was not a one-off. Rather, CCM is returning to its tactics of repression honed during the period of official one-party rule.
CCM's institutional rot makes it unlikely that political change can come from within the party. And with political opposition essentially outlawed—rallies are still not allowed and elections are rigged—the outlook is bleak. At the current impasse, external pressure is needed to encourage Hassan and her CCM colleagues to exhibit restraint and respect political freedoms, which could provide an opening for discussing constitutional reform. From a U.S. policy perspective, visa restrictions leveled against "officials responsible for or complicit in undermining" last year's elections were a good start. In the past, CCM has responded to external pressure to abandon its socialist experiment (which even avowedly socialist Jacobin admits was a failure), and Hassan, less isolationist than Magufuli, could budge if foreign investment or development assistance is at stake. Tanzania's political quagmire has no easy solutions, but tacitly encouraging the current pattern of repression will do nothing to spur the open dialogue the country so desperately needs.
Nolan Quinn is a research associate for the Council on Foreign Relations' Africa Program.
This publication is part of the Diamonstein-Spielvogel Project on the Future of Democracy.