Aung San Suu Kyi's Major Speech on Rakhine State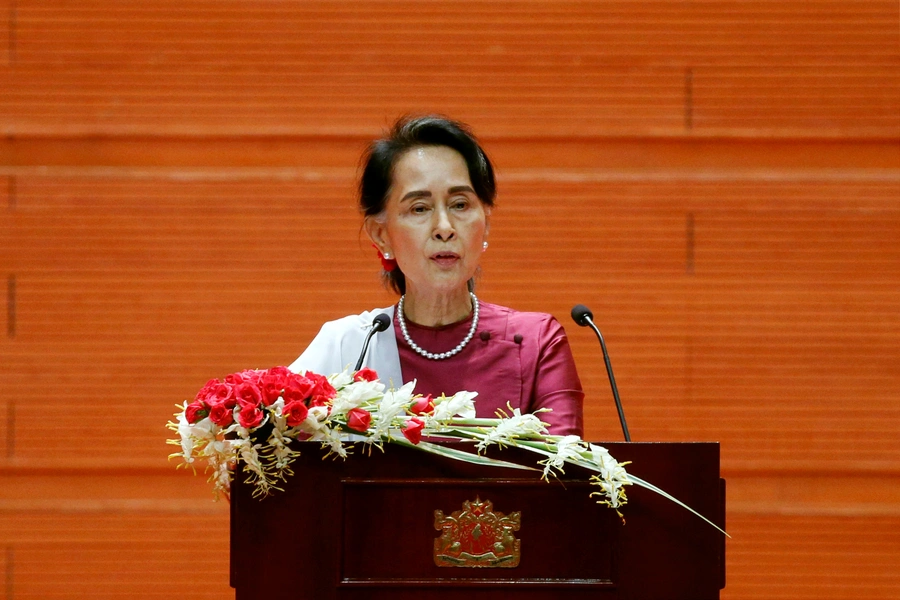 In a major address to the Myanmar public, and the international community today, Aung San Suu Kyi gave her first significant speech about the ongoing crisis in Rakhine State. This crisis has now become probably the worst humanitarian catastrophe in East Asia. Reports suggest that people have been fleeing Rakhine State at a faster rate than in any refugee exodus since 1971. Over 400,000 people have fled Rakhine State into Bangladesh in recent weeks. The UN has referred to the crisis as ethnic cleansing, and there seems to be no letup in the Myanmar military's offensive in Rakhine State. Although President Trump did not mention the Rohingya in his address at the United Nations, Secretary of State Tillerson called Suu Kyi about the crisis. Other countries that historically have been strong backers of Suu Kyi, including Britain and Sweden, have expressed growing concern, and called private UN sessions about the crisis.

Suu Kyi decided not to come to this week's United Nations General Assembly, and instead gave a major speech in Naypyidaw about the crisis. The speech confirmed much of what has already become evident about her approach to Rakhine State. That approach, reflected in this speech, is one in which she downplays the crisis, focuses instead on her other domestic priorities, refuses to recognize the Rohingya as citizens of Myanmar, plays to overall public opinion in Myanmar, and mostly defers to the military.

Suu Kyi sees her major priorities as addressing insurgencies in the north and northeast of the country, as I mentioned in a recent Washington Post article; she views the Rakhine crisis, however horrific, as just one among many challenges in border lands. The speech reflected these priorities. She, like many ethnic Burmans, seems to view the Rohingya as outsiders—she referred in the speech to "Muslims" in Rakhine State but did not refer to them as Rohingya.

She also seems to understand the political calculus in Myanmar; most of the population, as well as the army commanders, probably are supportive of the army's scorched earth approach to Rakhine State—or at least do not mind it. Crowds rallied in central Myanmar to hear and cheer Suu Kyi's speech; the domestic context of how her approach to Rakhine is viewed is vastly different from the international context.

Although Suu Kyi did indeed intend the speech for international audiences, and spoke in English, she only generally condemned all rights violations. She suggested that Naypyidaw did not understand the causes of the refugee outflow, basically pardoning the military for atrocities that are largely to blame for the exodus. She also seemed to suggest that the situation on the ground in Rakhine was becoming more peaceful and that many Rohingya were not fleeing—a dubious claim—and this might be because the situation in Rakhine is not as dire as the world believes. There is little evidence to support the idea that the armed forces are creating peace in Rakhine. She further added that Myanmar did not fear investigations into the crisis, even though journalists and aid workers have largely been kept out of northern Rakhine.

There is political calculus by Suu Kyi in this speech. The military commander-in-chief dominates security policy, and she may feel she can little sway what the armed forces do in Rakhine anyway. Most of the Myanmar population probably is uninterested in Rakhine State—at best.

But the speech was still even less than Suu Kyi perhaps could have said to an international audience, and it understates her own influence both domestically and internationally. Though the military has control of security policy, Suu Kyi's immense popularity at home means that she could use the bully pulpit to change minds and indirectly influence the armed forces—and demonstrate that the civilian government is not totally prostrate to the army. She did not try to do any of those things today.