Australia Wants to Boost Economic Ties With India
Australia's new India economic strategy shows how India's growing economic weight makes it an unavoidable economic partner, despite the challenges in navigating its market.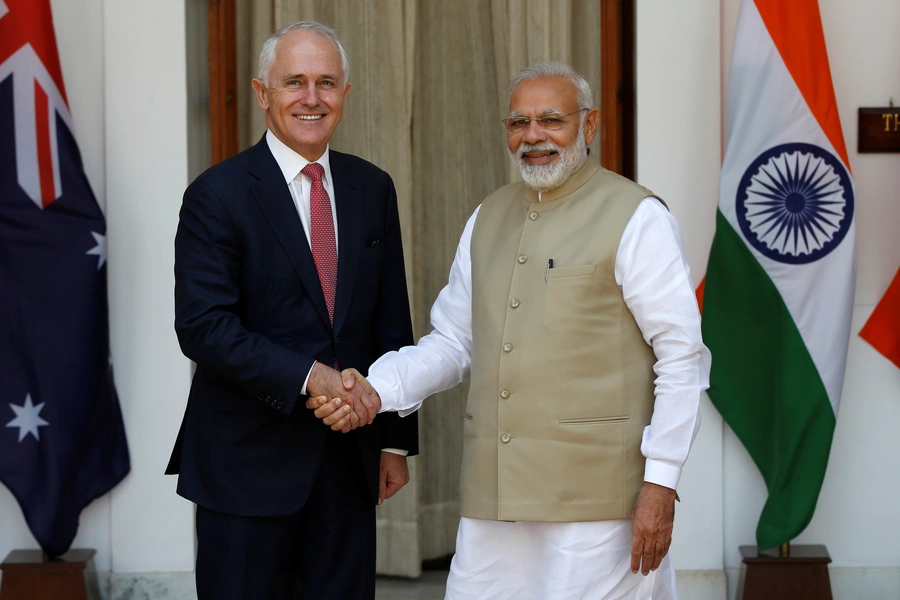 As the United States places emphasis on the "Indo-Pacific"—a term echoed by Japan, India, Australia, and others—the framework of the "Quad," a consultation involving these four democracies in the region, has come to the fore. Australia-India ties are weaker than the bilateral ties between other Quad countries, so this is a relationship that has ample room to grow.    
In the Australian government's foreign policy white paper released last year, the Indo-Pacific region featured prominently, along with a clear statement about the importance of expanding economic ties with a rising India. Today, after more than a year in preparation, Australian Prime Minister Malcolm Turnbull released his government's new India economic strategy. At 514 pages, and packed with detailed analyses, this report will become a reference point for the coming years.
Australia's interest in developing a stronger economic relationship with India comes at a time when Australia is increasingly aware of its economic exposure—and potential vulnerability—to China. It also comes at a time when the Australian government acknowledges the need to "catch up," so to speak, in India. Former Secretary of the Department of Foreign Affairs and Trade (and former High Commissioner to India) Peter Varghese, now chancellor of the University of Queensland and the lead on this immense undertaking, notes in his introduction to the strategy:  
Timing has always been a challenge in Australia's relationship with India….Today the risk is that we are not moving fast enough and Australia might fall behind as other countries accord India a higher priority….We cannot afford to lose momentum or to assume that the logic of complementary interests will be enough to take the economic relationship to the level it needs to rise.
The report contains ninety recommendations toward its "ambitious India strategy" of drawing India into Australia's inner circle by 2035. Specifically, the strategy seeks "to lift India into our top three export markets, to make India the third largest destination in Asia for Australian outward investment, and to bring India into the inner circle of Australia's strategic partnerships, and with people to people ties as close as any in Asia." These recommendations cover ten sectors: education, mining and natural resources, agribusiness, tourism, energy, health, infrastructure, financial services, sport, and science and technology.
I was interested to see that the ninety recommendations pay significant attention to higher education, the very first of the sectors prioritized. The first immediate-implementation recommendation advocates setting up an Australian higher-education hub in India. The second urges an Australian consortium to partner with a new Indian Institute of Technology. And a major recommendation for implementation over a longer period seeks greater partnership with industry to support more "India literacy" in Australian universities. This all makes a lot of sense given the importance of Australian higher education to its economy—its third-largest export. 
I was also intrigued by the recommendation that Australia should take the lead in supporting Indian membership in the Asia-Pacific Economic Cooperation (APEC) forum. This smart strategic approach would position Australia as a champion of a long-standing Indian ambition, and—as the strategy notes—would also position India to be part of a potential free trade agreement across the APEC region if one ever came into being.
This economic strategy not only contains an excellent overview of the Indian economy and its position in Asia, but also reflects how India's growing economic heft makes it an important partner for any country even as India's market remains challenging. Have a look.
My book about India's rise on the world stage, Our Time Has Come: How India Is Making Its Place in the World, was just published by Oxford University Press in January. Follow me on Twitter: @AyresAlyssa. Or like me on Facebook (fb.me/ayresalyssa) or Instagram (instagr.am/ayresalyssa).