The Crisis of the Century: How the United States Can Protect Climate Migrants
The disastrous effects of climate change could displace more than a billion people in the next thirty years. International and domestic legal systems cannot continue to let climate migrants slip through the cracks.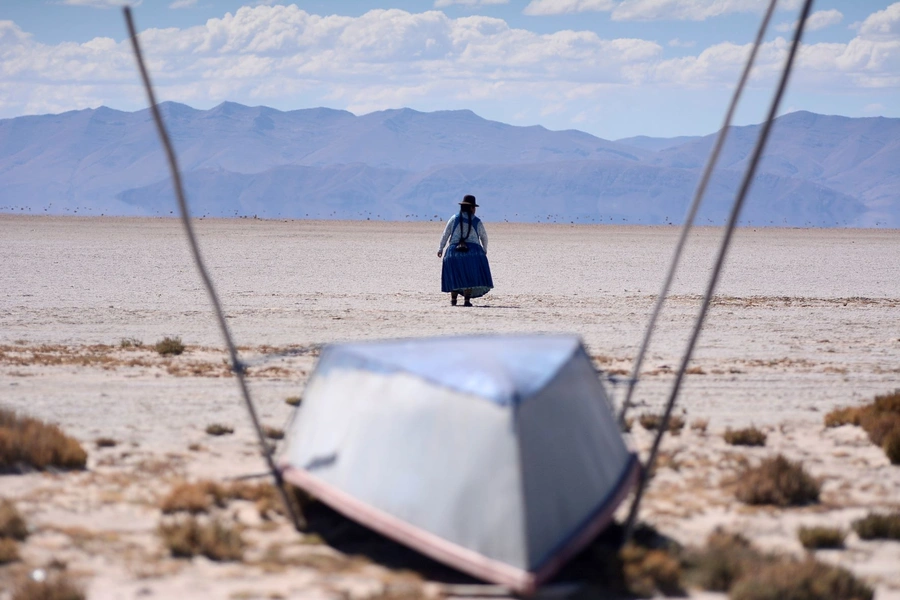 Soaring global temperatures, rising ocean levels, intensifying droughts, and other disastrous effects of climate change could displace more than a billion people from their homes in the next thirty years. And these numbers are only expected to surge in the coming decades.
While several national governments have developed immigration pathways for migrants fleeing natural disasters such as earthquakes and tsunamis, none currently offers protections to migrants displaced by non-disaster-related—or "slow-onset"—climate change, which can consist of droughts, rising oceans, and desertification. If countries continue to fail to incorporate people displaced by slow-onset climate change into their immigration laws, 10 percent of the global population may lack safe, legal residence by 2050. This could exacerbate the underlying drivers of conflict and incite the largest refugee crisis in human history.
While progress remains slow, the Biden administration's October 2021 report on climate migration was a step in the right direction. The report underscored the growing link between climate change and migration and made the United States the first Group of Twenty member to propose a policy process that could potentially offer new legal status and protections to so-called "climate migrants." While the report reaffirmed that, under international law, people displaced by climate change are not legally recognized as refugees and are thus not entitled to asylum protections, it provided much needed attention and useful framing to the global challenge.
Fallen Through the Cracks: International Law and Climate Migrants
Under international law, a "refugee" is defined as someone who has a well-founded fear or persecution in their country of origin based on their "race, religion, nationality, political opinion, or membership in a particular social group." This definition entered into law with the 1951 United Nations Refugee Convention and its 1967 Protocol, whose principles are now considered customary international law and are therefore binding on all states.
Unfortunately, the United Nations has failed to legally define climate migrants. While the UN High Commission for Refugees (UNHCR) has stated that "people displaced across borders in the context of climate change and disasters may in some circumstances be in need of international protection," the United Nations has declared that such people are not considered refugees and are not protected from non-refoulement from states. Therefore, despite the recognized dangers climate migrants face in their countries of origin, international law allows states to deport these migrants.
Several UN bodies have attempted to rectify this incongruity, although only multilateral conventions and the UN Security Council can create binding international law. First, the UN General Assembly passed a nonbinding resolution that identified climate migrants as in need of protection but failed to provide any policy recommendations. Second, the UNHCR offers legal advice to states responding to "disaster displaced" individuals, but it does not consult on slow-onset climate change. Third, the UN's International Organization for Migration launched the Migration, Environmental, and Climate Change Division, but is unable to generate support for new conventions. Furthermore, given that climate migrants have not been incorporated into current UN refugee definitions and frameworks, UN agencies have not made the resettlement of climate migrants a priority.
Defining Disaster: Ignoring Slow-Onset Crises
In the absence of international law, the United Nations and international nongovernmental organizations have pushed states to adopt their own definitions and protections for climate migrants. However, many states have failed outright to acknowledge climate migrants or focused solely on those fleeing tangible disasters, ignoring slow-onset crises.
For example, in 2021, President Joe Biden restored Temporary Protected Status (TPS) to Haitians residing in the United States who had been displaced by the 2010 earthquake, extending the Obama-era policy that initially granted them TPS. TPS was created in 1990 to offer short-term sanctuary (up to eighteen months) to civilians fleeing civil wars and humanitarian disasters until the relevant conflict was resolved or countries of origin had recovered from the specific disaster.
While national responses to disaster displacement are not perfect, they are certainly more robust than protections offered to those fleeing slow-onset climate crises. When disasters like hurricanes or earthquakes strike, it is easy for migrants arriving at borders to prove that the environmental disaster drove their displacement. One only needs to turn on the news to see swaths of destroyed homes and an insufficient local emergency response to know those people need refuge. The ease of identifying the cause of displacement encourages immigration judges to grant TPS to victims of disaster displacement, knowing that once the country of origin begins to rebuild and restore order, those with TPS can return home.
In contrast, many of the repercussions of slow-onset climate change are ambiguous, making it difficult for migrants and judges alike to identify climate change as the driver of displacement. For example, extreme weather patterns in Central America's dry corridor—comprised of El Salvador, Guatemala, Honduras, and Nicaragua—have increased the poverty and insecurity of agriculture-dependent families, contributing to displacement and migration. The UN World Food Program reports that regional farmers, who account for more than 50 percent of local industry, have had the worst dry season in more than thirty-five years, leaving many without income. More than 25 percent of households were unable to afford enough food due to low crop yields in 2021. Unlike previous incidental dry seasons, however, summer droughts and torrential winter rains have been consistently worsening in recent decades, forcing farmers who have worked the land for generations to abandon it and migrate in search of economic opportunity and stable nutrition elsewhere.
If these families arrived at the southern U.S. border seeking protections due to climate-induced economic deprivation, they would be turned away. Poverty is not sufficient cause to be granted asylum under the UN definition of refugee nor does it qualify victims for TPS. Yet, these families were displaced by circumstances beyond their control, just like the victims of the Haitian earthquake. Their livelihoods became unsustainable due to the changing planet, yet immigration laws treat them as merely impoverished foreigners.
While it could be argued that farmers affected by changing weather patterns and desertification can simply find different jobs in their home countries, some victims do not have such options. Take the island nation of Kiribati. By the end of this century, rising sea levels will entirely submerge the country under the Pacific Ocean, forcing the relocation of more than one hundred thousand inhabitants to other countries. Yet, if a Kiribatian showed up on California's shores hoping to create a new life in the United States, and seeking to spare their children and grandchildren the trauma of emergency evacuation in the future, they would be denied. They have no claim to persecution and asylum, and they are not fleeing disaster. Not yet.
A New Way Forward
International and domestic legal systems have allowed slow-onset climate migrants to slip through the cracks, leaving them without legal status, protections, and migration options. The Biden administration's report, however, signals that the United States is ready and eager to take a leading role in reforming legal conceptions of climate migration to prevent catastrophe in the coming century.
The report does not detail what legal status for climate migrants might look like, but a good place to start would be to expand TPS to cover those displaced by slow-onset climate change. Were TPS granted to citizens of a certain nation or region, those individuals could not be deported from the United States and could obtain an employment authorization document permitting them to work. This would enable climate migrants to establish a physically and financially secure life away from their now- (or soon to be) uninhabitable countries of origin.
Expanding TPS through executive order is also a politically expedient option. Such a step could add slow-onset climate change as a qualification for TPS, while avoiding fractious debate within a politically deadlocked Congress. Given the polarizing nature of immigration legislation, an exclusively executive policy change would ensure that climate migrants are provided some protections sooner rather than later. The White House could further authorize the secretary of homeland security to unilaterally designate which countries and regions are eligible for TPS.
While TPS by definition offers only a temporary resolution for displaced people, it is a step in the right direction to acknowledging climate migrants' right to legal status and protection. Looking forward, the United States should strive to offer victims of irreversible climate change a path to citizenship or permanent residency beyond TPS. To be sure, doing so would require an act of Congress, something that is certainly not guaranteed. However, offering TPS as an intermittent protection for climate migrants could encourage other national governments to adopt similar or more robust protections, which might in turn motivate the United Nations to pursue a new convention on climate migrants. If the United States takes critical steps to recognize and protect climate migrants, it will signal that global asylum norms must shift to meet the twenty-first century threat of climate displacement.
Anya Howko-Johnson is a former intern for CFR's International Institutions and Global Governance program.