Campaign Roundup: Republican Presidential Candidates Debate in Miami
Each Friday, I look at what the presidential contenders are saying about foreign policy. This week: What the Republican candidates said at the third GOP presidential debate.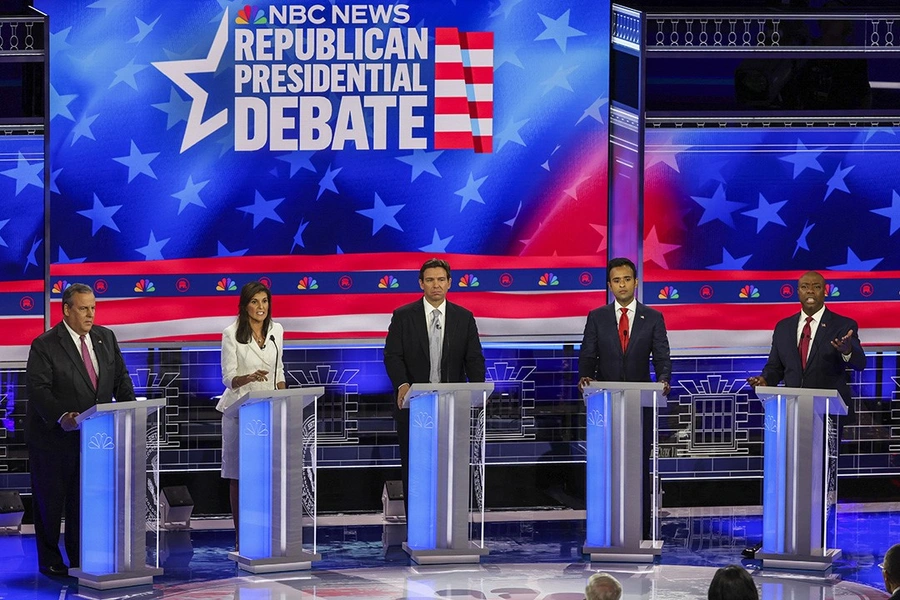 Much has been made in recent months about the Republican Party turning inward on foreign policy. A majority of Republicans now say "the United States should stay out of world affairs rather than taking an active part." Increasing numbers of Republican lawmakers, whether leading their constituents or following them, oppose U.S. support for Ukraine. In all, Republican foreign policy thinking has begun to look less like the confident internationalism of Ronald Reagan and more like the crabbed isolationism of Robert Taft.
To judge by the Republican debate in Miami on Wednesday night, however, the Republican Party's inward turn does not equate to a more pacific or detached foreign policy. The five candidates on the stage—former President Donald Trump skipped the debate as he did the first two primary debates—seemed intent on one-upping each other on who had the most belligerent and pugnacious approach to world affairs.
When asked about U.S. support for Israel in its fight with Hamas, Ron DeSantis said he would urge the Israeli government to "finish the job once and for all with these butchers, Hamas." Nikki Haley struck the same note, saying: "finish them. Finish them." Tim Scott argued that "not only do you [Israelis] have the responsibility and the right to wipe Hamas off of the map, we will support you." Not content to stop there, the senator from South Carolina urged President Joe Biden "to strike in Iran. If you want to make a difference. You cannot just continue to have strikes in Syria on warehouses, you actually have to cut off the head of the snake and the head of the snake is Iran and not simply their proxies." None of the other candidates challenged the wisdom of possibly plunging the United States into yet another war in the Middle East.
The pugnacious postures carried over to the discussion of the danger posed by the flow of fentanyl from Mexico into the United States. DeSantis said he would authorize "maritime operations to interdict precursor chemicals going into Mexico." Haley went further. She would "send special operations in to take out the cartels." Vivek Ramaswamy insisted he would "be smoking the terrorists on our southern border." Once again, no one on the stage challenged the wisdom of these policy prescriptions.
Perhaps the belligerence can be attributed to the candidates' desire to look "tough," a trait that Republican voters seem to cherish in their presidential nominees. But such talk perpetuates the misleading notion that overwhelming military power solves complex problems overseas. The history of U.S. foreign policy is littered with examples to the contrary. The U.S. invasion of Iraq, which helped fuel the current surge in isolationist sentiment, is perhaps the freshest example. But given the growing frequency of calls to use military force against drug cartels in Mexico, Republican candidates might want to read up on the Mexican-American War, the Tampico Incident and the resulting U.S. invasion of Veracruz, and the Pershing ("Perishing") expedition. As the saying goes, those who do not learn from history are condemned to repeat it.
Campaign Update
The New York Times/Siena poll released on Sunday offered good news for Donald Trump and bad news for Joe Biden. The poll showed Trump leading Biden by three to ten percentage points in a head-to-head matchup in five of the six most likely battleground states in 2024—Arizona, Georgia, Michigan, Nevada, and Pennsylvania. Biden leads only in Wisconsin. Diving deeper into the poll results—the cross-tabs are here—Biden is underperforming with many of the demographic groups that helped propel him to victory in 2020 like young voters, Hispanics, and women. The number of non-white voters favoring Trump was particularly notable.
The New York Times story summarizing the poll results put the point bluntly: "In a remarkable sign of a gradual racial realignment between the two parties, the more diverse the swing state, the farther Mr. Biden was behind, and he led only in the whitest of the six." Biden's biggest challenge may be one he cannot surmount: his age. Seven-in-ten respondents said he is "too old" to serve a second term. Only four-in-ten said the same about Trump, who is just four years younger.
Biden got similarly disappointing news on Wednesday with the release of an Atlanta Journal-Constitution/University of Georgia poll. It found Biden running in dead heats in Georgia against Trump, DeSantis, and Haley. Biden won the Peach state in 2020 by less than 12,000 votes. So he has not improved his position with Georgia voters in the three years since.
As alarming as these two polls are, Biden has reasons to dismiss them. To begin with, incumbent presidents often poll poorly a year out from Election Day. Voters are focused on the incumbent's failings rather than the flaws of a theoretical opponent. Beyond that, the New York Times/Siena poll surveyed registered voters rather than likely voters, so the results could be substantially off. And neither the New York Times/Siena poll nor the Atlanta Journal-Constitution/University of Georgia poll included third-party candidates. (Speak of which, Jill Stein announced yesterday that she is running for president as a candidate of the Green Party.) But they could decide which way the battleground states go.
The biggest reason for Biden to dismiss both polls, though, is the results of actual votes in state-level elections on Tuesday. By all accounts, it was a great Election Day for Democrats. They held onto the governorship of Kentucky, took both houses of the Virginia state legislature, and saw Ohio voters back abortion rights. Perhaps the polls of Biden's popularity are missing something important about how voters feel about the two parties.
All that leads to two different stories of what is happening. Politico summarized them necessarily:
1. Time to chill out. Polls are one thing, actual votes are another. These are not election returns consistent with a president whose approval numbers are struggling to break 40% and who is falling badly behind Donald Trump, the most divisive politician of his generation. Beshear won despite tons of GOP money being spent to tie him to Biden, so there's plenty of room for the incumbent to recover.

2. Time to freak out. The polls are absolutely right: The problem isn't the Democratic brand; it's Joe Biden. The anti-MAGA coalition that showed up in 2018, 2020, and 2022 is still intact, sure, but it's not going to show up for just anybody. Trump is certain to bring out his own special universe of voters next year, and Americans are giving every possible signal that they won't be happy if the alternative is an 81-year-old Biden.
We will learn which argument is right next November 5.
The Candidates in Their Own Words
Doug Burgum, who didn't qualify for the Miami debate, accused Biden this week of "funding both sides" of the Israel-Hamas conflict by working with Qatar to secure the release of American hostages being held in Gaza.
Burgum argued that Biden should be reading the riot act to Doha rather than soliciting its help. "If we're actually negotiating from our strengths in this position then we should be saying, 'Qatar, hey, your airways, Qatar Airways, you want to be flying the United States. You want to have full diplomatic relationships. Do you want to have a full economic relationship with us?'
Ramaswamy introduced what he called his "no to neocons" website on Tuesday. The website accuses the Bidens of having "sold off our foreign policy to make their family rich." The website also accuses Nikki Haley of having "profited obscenely from her time in government." Ramaswamy insists that he will demand that appointees in his administration sign a pledge that states: "1. Avoiding WW3 is a vital national objective; 2. War is never a preference, only a necessity; 3. The sole duty of U.S. policymakers is to U.S. citizens."
Ramaswamy also went on Fox News to answer questions from six voters:
He called Hamas's attack on Israel "subhuman," but cautioned that:
as a friend, if I'm president of the United States, I would talk to the leadership in Israel and let them know that I do have some concerns of their own probability of success for a prolonged ground invasion in Gaza. I would encourage them to go for an in-and-out operation. Quickly target the leadership of Hamas. Get that job done.
However, he made it clear that he opposes direct U.S. involvement in the conflict: "I'm against any further specific military support of this war…. I don't think it is in either Israel's interest or our interest for the U.S. to get involved in another protracted conflict in the Middle East."
What Pundits Are Saying
James Kitfield examined what DeSantis learned during his time as a U.S. Navy officer serving as a judge advocate advising a SEAL team in Iraq. Kitfield concluded that DeSantis's memoir and his statements on the campaign trail suggest "that as part of a wartime SEAL team task force—one of the most secretive and male-dominated organizations on earth, where rules sometimes have to be bent and authority is rarely questioned—DeSantis learned the importance of relentlessly attacking your opponent and always staying focused on the mission at hand. He also developed strong opinions on how, as commander in chief, he would broaden his 'war on woke' to fundamentally transform the Defense Department and U.S. Armed Forces to better reflect the hard-charging macho ethos of an elite SEAL team in combat."
The Campaign Schedule
The Iowa caucuses, the first nominating event on the election calendar, are sixty-six days away (January 15, 2024).
The South Carolina primary, the first Democratic primary, is eighty-five days away (February 3, 2024).
The Nevada primary, the first Republican primary, is eighty-eight days away (February 6, 2024)
Election Day is 361 days away.
Sinet Adous and Michelle Kurilla assisted in the preparation of this post.