Meet Nikki Haley, Republican Presidential Candidate
The former South Carolina governor and former U.S. ambassador to the United Nations announced her candidacy for the 2024 Republican presidential nomination.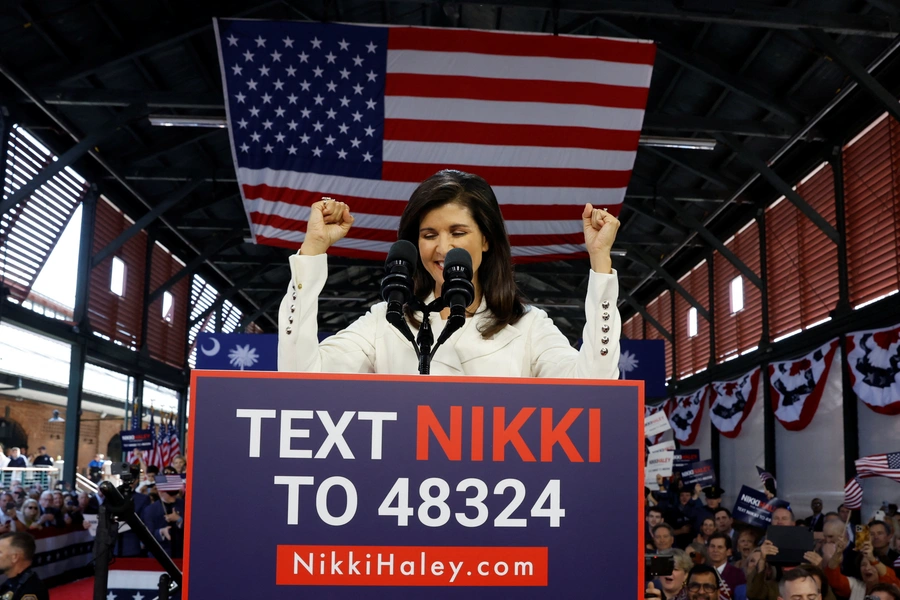 The United States has never had a woman president. It also has never had a president of Indian descent (though it currently has its first vice president of Indian descent). Nikki Haley, the former governor of South Carolina and former U.S. ambassador to the United Nations, hopes to change that. If Haley makes it to the White House, she might set another first, namely, being the first president born in South Carolina. That accomplishment merits the qualification "might" because both North Carolina and South Carolina claim to be Andrew Jackson's birthplace. (Jackson, for the record, always said he was from South Carolina.) And if Haley succeeds in her quest to sit in the Oval Office, she would be the first president since Jackson to be the child of immigrants.
The Basics
Name: Nimrata Nikki Haley (née Randhawa)
Date of Birth: January 20, 1972
Birthplace: Bamberg, South Carolina
Religion: Raised in the Sikh faith; converted to Christianity (Methodist) in her twenties
Political Party: Republican
Marital Status: Married to Michael Haley since 1996
Children: Rena (24) and Nalin (21)
Alma Mater: Clemson University, B.A. in accounting, 1994
Career: CFO of the family clothing business, Exotica International; South Carolina House of Representatives (2005-11); governor of South Carolina (2011-17); U.S. ambassador to the United Nations (2017-18); member of the Board of Directors of Boeing (2019-20); founder of Stand for America PAC (2019-22)
Campaign Website: https://nikkihaley.com/
Twitter Handle: @NikkiHaley
Instagram Handle: @nikkihaley
Haley's Announcement
Haley formally announced her run for the presidency today before a crowd of several thousand at the Charleston Visitor Center in her home state of South Carolina. John Hagee, the senior pastor of Cornerstone Church, gave an opening prayer and called Haley a "defender of Israel." South Carolina native and American Idol winner Candice Glover sang the national anthem. Cindy Warmbier, the mother of Otto Warmbier, the University of Virginia college student who was mortally injured in 2017 while in North Korean custody, was among those making introductory remarks. Haley took the stage to the tune of "Eye of the Tiger" and spoke for nearly a half hour.
Haley hit the notes one would expect from a Republican presidential candidate. Foreign policy figured prominently in what she had to say. She argued that on Biden's watch, terrorists had killed U.S. troops in Afghanistan, Iran had gotten closer to having nuclear weapons, North Korea had tested more ballistic missiles, and Russia had invaded Ukraine. She said China was the most dangerous enemy in U.S. history, called Americans seeing a Chinese spy balloon in the sky "unthinkable," and expressed her hope that communist China would end up on the "ash heap of history." She also called for an America that is "strong and proud, not weak and woke."
Haley neither praised nor criticized Donald Trump in her speech. She mentioned him just once, when she noted that he had asked her to serve as U.S. ambassador to the United Nations. Whether she had Trump in mind when she said that Americans were "ready to move past the stale ideas and faded names of the past, and we are more than ready for a new generation to lead us into the future" may lie in the ear of the beholder.
Haley's announcement wasn't a surprise. The hometown Charleston Post and Courier ran a story back on January 31 with the headline: "It's Official: Nikki Haley Running for President. Formal Announcement Feb. 15." The next day she tweeted: "My family and I have a big announcement to share with you on February 15th!" Then last week, Fox News Digital obtained a video teasing Haley's run. The ninety-second video was heavy on foreign policy and ended with: "Where will you stand?" Yesterday, she tweeted out a video that ended with: "I'm Nikki Haley, and I'm running for president."
Get excited! Time for a new generation.

Let's do this! 👊 🇺🇸 pic.twitter.com/BD5k4WY1CP

— Nikki Haley (@NikkiHaley) February 14, 2023
Haley plans to visit New Hampshire tomorrow and then heads for Iowa on Monday. That's no coincidence. They are the first two states on the Republican presidential nominating calendar.
Today's announcement makes Haley just the fifth prominent Republican woman ever to run for the presidency. (If you are keeping count, thirteen women have run for the Democratic nomination, with six in 2020 alone.) She is the first woman of color to run for the Republican nomination. No Republican woman has yet come close to winning the nomination. Indeed, two of Haley's predecessors (Michele Bachman and Elizabeth Dole) did not make it past the first official nominating event.
Get excited! Time for a new generation.

Let's do this! 👊 🇺🇸 pic.twitter.com/BD5k4WY1CP

— Nikki Haley (@NikkiHaley) February 14, 2023
Haley's Story
Haley was born to Indian Sikh parents who immigrated to the United States via Canada, where her father earned his Ph.D. before taking a job at Voorhees College, a historically Black college in Denmark, South Carolina. Her mother earned her law degree in India and then a master's degree in education, which led to her teaching in the Bamberg, South Carolina, public school system for seven years. Haley has an older sister and two brothers, one of whom served in Operation Desert Storm as a member of the United States Army chemical corps.
When Haley was four, her mother opened a clothing store, Exotica International, which grew into a multimillion-dollar business. At the age of thirteen, Haley began doing the books for the store. After graduating from Clemson in 1994 with a bachelor's degree in accounting, she became the company's chief financial offer.
Haley met her future husband, Bill Haley, during her first weekend at Clemson. She convinced him to drop "Bill" and go by his middle name, "Michael." The two were married in September 1996 in Hilton Head, South Carolina. In a reflection of their different religious upbringings, they held two wedding ceremonies, one Methodist and one Sikh.
Haley's career in politics began in 2004 when she won a seat in the South Carolina House. She got there by defeating an incumbent Republican who at the time had the longest tenure in the South Carolina House. Her victory made her the first Indian American elected to state office in South Carolina. She was re-elected twice. In 2009, she decided to run for governor, in part because of the encouragement of the state's incumbent governor who was term limited. She subsequently picked up the endorsement of GOP presidential candidate Mitt Romney. Then, just three weeks before the 2010 Republican primary, Haley won the endorsement of Sarah Palin. That catapulted Haley from trailing in the polls to winning the nomination and eventually the governorship. In doing so, she became the second Indian American to become a governor of any state—Bobby Jindal of Louisiana became the first three years earlier—the first woman of Indian descent to become a governor, and the first woman to serve as governor of South Carolina.
Haley was governor of South Carolina when Dylann Roof, a twenty-one-year-old white supremacist and neo-Nazi murdered nine Black parishioners at Charleston's historic Emanuel African Methodist Episcopal Church in June 2015. That tragedy helped convince the South Carolina legislature to vote to remove the Confederate battle flag from the State House grounds. Haley signed the legislation within twenty-four hours of its passage. She said the flag was "an integral part of our past [but] does not represent the future of our great state."
Haley's six years as governor resembled the tenure of many southern Republican governors. She cut taxes and favored stricter laws on immigration, abortion, and voting. In 2011, she signed a law that authorized the police to stop and check the immigration status of arrestees and employers to check citizenship status of job applicants and employees. In 2016, she signed legislation banning abortions at twenty weeks, calling pro-choice feminism "not real feminism." One area in which she didn't follow broader trends in the Republican party was with calls to prohibit transgender people from using the bathroom of their choice. She dismissed such laws as unnecessary.
Haley earned a singular distinction during her time as governor. She became the first sitting governor whose spouse was deployed to a combat zone. Her husband Michael spent 2013 in Afghanistan as his Army National Guard unit worked to help Afghan farmers.
Haley's success as governor won her national attention. In 2012, pundits speculated that Romney might tap Haley as his running mate. When asked how she would respond, she said, "I'd say, 'Thank you, but no. I made a promise to the people of this state (South Carolina). And I think that promise matters. And I intend to keep it." In 2016, she was selected to give the Republican Party's response to Obama's final State of the Union address. That same year, Time magazine named Haley among the top 100 influential world leaders.
Haley's Relationship With Donald Trump
Like many Republicans, Haley wasn't initially a fan of Trump's 2016 presidential candidacy. She first backed Sen. Marco Rubio, and, after he dropped out, Sen. Ted Cruz. She appeared to take a swipe at Trump in her State of the Union response, saying: "During anxious times, it can be tempting to follow the siren call of the angriest voices." She was specific, however, several weeks later when she said that Trump represented "everything a governor doesn't want in a President." She ended up voting for Trump, but continued to say she was "not a fan."
Haley opposed Trump partly for reasons of style. "Every time someone criticizes him, he goes and makes a political attack back," she complained in 2015. "That's not who we are as Republicans. That's not what we do." She also rejected his policy prescriptions. She took exception to his call to build a wall along the U.S. southern border and to many of his other comments about immigration. "If you want to talk about tackling illegal immigration," she told the National Press Club in 2015, "then let's talk about it, but we don't need to attack so many millions of people who came here... and did it the right way, like my parents."
Trump noticed Haley's barbs.
The people of South Carolina are embarrassed by Nikki Haley!

— Donald J. Trump (@realDonaldTrump) March 1, 2016
Trump and Haley eventually put their mutual antagonisms aside. In 2017, he nominated her to be the U.S. ambassador to the United Nations. She served in the post for twenty-three months. She did not bring much foreign policy experience to the position. That hardly held her back. In March 2017, after just two months on the job, she spoke at the Council on Foreign Relations. Her main theme was she intended to shake up the United Nations just as she had done in the South Carolina state legislature and when she became governor.
Haley frequently called out the shortcomings of UN agencies during her tenure as UN ambassador, as might be expected for a member of an administration pushing an America First foreign policy. But at times she publicly dissented from Trump's statements. In October 2017, for instance, she said that Russia's meddling in foreign elections amounted to "warfare." (Trump, of course, disputed that Russia had interfered in the 2016 election.) Two months later, she said that the women who had accused Trump of sexual harassment "should be heard."
Despite these and other dissents, Haley left the White House on good terms with Trump. He praised her departure announcement as "very elegantly done" and predicted that she was "going to make a lot of money."
Haley has waffled on Trump since leaving the administration. At first, she praised her ex-boss. In 2019, she said that "in every instance I dealt with him, he was truthful, he listened and he was great to work with." Her tone changed immediately after January 6, 2021. She said that Trump had "let us down" and that "he's lost any sort of political viability he was going to have." By the fall of 2021, however, she was again singing Trump's praises: "He has the ability to get strong people elected, and he has the ability to move the ball, and I hope that he continues to do that."
Haley said two years ago that she would not run for president if Trump chose to run again. She obviously changed her mind. Trump said last fall that it would be "very disloyal" of Haley or any other member of his administration to run against him for the presidency. He subsequently told an interviewer: "You know what, Nikki, if you want to run, you go ahead and run."  That sentiment may not have been genuine. Trump also posted a video clip on Truth Social of Haley promising not to run against him.
Haley's Message
Haley's Twitter announcement and her formal announcement speech both stressed that it is "time for a new generation." She pointed out that Republicans lost the popular vote in seven of the past eight elections, and that the "Washington establishment has failed us over, and over, and over again." Haley promised to deliver "fiscal responsibility, secure our border, and strengthen our country, our pride, and our purpose."
It's an open question whether that pitch by itself will differentiate Haley in what could be a crowded Republican field. Potential candidates like Ted Cruz, Ron DeSantis, Mike Pompeo, and Chris Sununu were also born after 1970. They, too, are likely to pledge to balance the federal books, stop illegal immigration, and chart a confident foreign policy.
A subtext to Haley's candidacy is that she is the daughter of immigrants. Her Twitter announcement video began by noting that she was born in a town where the train tracks divided white people from Black people, and that in that world she "was different." Nonetheless, her mother stressed that her "job was not to focus on the differences, but the similarities." That message may play well with moderate, suburban women voters that Republicans have lost in recent years. Still, Haley will hear criticisms that she is selective as to when she identifies as a minority. And, she could face a challenge from a fellow South Carolinian, Republican Senator Tim Scott, who may have an even more appealing personal biography and who could siphon off local support.
Expect Haley to stress that she doesn't like bullies and that she wears heels for a reason: "It's not for a fashion statement," she has said. "It's because if I see something wrong, we're gonna kick them every single time." That matters because "when you kick back, it hurts them more if you are wearing heels."
Haley's Foreign Policy Views
Foreign policy looks to figure prominently in Haley's pitch to be president. The short video leaked to Fox Digital News and her Twitter announcement video both featured photos of Xi Jinping and Vladimir Putin and stressed her commitment to confront bullies.
It's hard to predict what a Haley foreign policy would look like. She had scant foreign policy experience before becoming U.S. ambassador to the United Nations. Once in Turtle Bay, her remarks represented the Trump administration's views and not necessarily her own personal positions. She has said relatively little about foreign policy since stepping down as ambassador beyond ripping Joe Biden repeatedly for his "weakness" overseas. And because she only formally announced her candidacy today, or yesterday if a tweet counts as an announcement, she has yet to face questions from reporters and editorial boards about what she proposes to do as opposed to what she likes to criticize.
That said, Haley looks to be staking out what might be called a traditional, tough-minded Republican approach to foreign policy. In that respect, it more closely resembles Reaganism than Trumpism. Haley hasn't embraced the America First-style isolationism that has gained traction in some parts of the Republican Party. Back in 2017 during her confirmation hearing, she said that "NATO is an important alliance for us to have, and now we need more allies than ever and we need more alliances than ever." She tweeted her dismay back in November 2021 at Biden's failure to stop Russia from threatening Ukraine:

Our friend and ally Ukraine is crying out for help as Russia amasses nearly 100,000 troops at their border. And so far, Joe Biden has done nothing to stop it.

This pattern of abandoning our allies needs to stop now.

— Nikki Haley (@NikkiHaley) November 17, 2021
She supported U.S. military aid for Ukraine after the Russian invasion, but insisted that the invasion "never would have happened" if Trump were still president. Even as other Republican have begun to question aid for Ukraine, Haley has continued to argue that "NATO and the United States need to continue to support Ukraine because they're almost there." 
Haley also has joined the new Washington consensus that it is time to get tough on China. She says that she refused to watch last winter's Beijing Olympics to show her solidarity with the Uyghur people. She has predicted that China will invade Taiwan and called for the United States and its partners to do more to help the Taiwanese, though she hasn't said whether she favors abandoning the decades-long U.S. policy of "strategic ambiguity." She has also insisted that the United States should "hold Beijing accountable for COVID, stop China from buying American farmland, impose consequences for China's spying, and start acting like the leader of the free world." She has yet to sketch out, however, how she will do these things, or how her approach to China would differ from what the Biden administration is doing or from what other Republican presidential nominees are likely to propose.
More on Haley
Haley has written three books. Her first, titled Can't Is Not an Option: My American Story, is a memoir and was published in 2012. Her second book, With All Due Respect: Defending America with Grit and Grace, published in 2019, recounts her time as U.S. ambassador to the United Nations and offers, as the publisher described it, "a behind-the-scenes account of her tenure in the Trump administration." Her third book, which was released last year, is If You Want Something Done: Leadership Lessons from Bold Women. It profiles ten path-breaking women who challenged stereotypes and showed that they had the strength and courage to lead.
Tim Alberta profiled Haley for Politico back in 2021, concluding that "the 2024 hopeful can't decide who she wants to be—the leader of a post-Trump GOP or a 'friend' to the president who tried to sabotage democracy."
19thnews.org discussed the race and gender challenges Haley has to navigate in the Republican primaries, given that Republican voters are "more likely to be white and embrace traditional gender roles than the population at large."
Stuart Stevens, a former Republican political consultant who worked on the presidential campaigns of George W. Bush and Mitt Romney, argued that "no political figure better illustrates the tragic collapse of the modern Republican Party than Nikki Haley." 
Natalie Allison explored the gender challenges that Haley confronts in pursuing the Republican nomination and concluded that personal "drive has carried Haley further than any other woman in South Carolina politics—and further than most women in today's GOP."
Other posts in this series:
Meet Doug Burgum, Republican Presidential Candidate
Meet Chris Christie, Republican Presidential Candidate
Meet Ron DeSantis, Republican Presidential Candidate
Meet Will Hurd, Republican Presidential Candidate
Meet Asa Hutchinson, Republican Presidential Candidate
Meet Vivek Ramaswamy, Republican Presidential Candidate
Meet Tim Scott, Republican Presidential Candidate
Meet Francis X. Suarez, Republican Presidential Candidate
Meet Marianne Williamson, Democratic Presidential Candidate
Sinet Adous and Michelle Kurilla assisted in the preparation of this post.