Meet Tim Scott, Republican Presidential Candidate
The U.S. senator from South Carolina is a candidate for the 2024 Republican presidential nomination.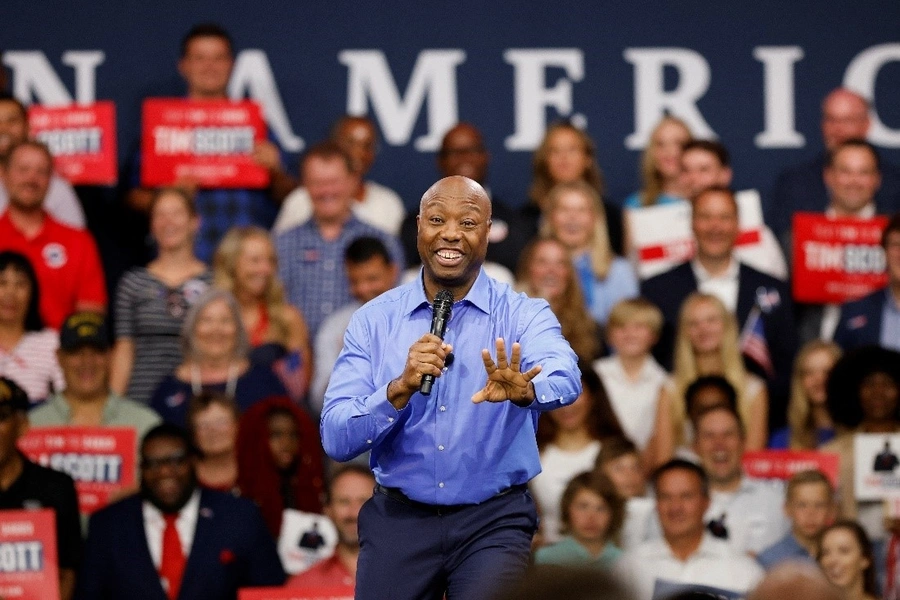 Can a presidential candidate win the Republican presidential nomination in 2024 by running on a message of seemingly relentless optimism? Tim Scott certainly hopes so. Described as "the exact opposite of Donald Trump," the senior senator from South Carolina has largely avoided campaigning on grievances. He prefers to talk about how the United States is a "land of opportunity." The descendant of enslaved African Americans, he offers his personal story as evidence of what America makes possible—his family "went from cotton to Congress in one lifetime." If Scott wins the nomination, he would be the first African American to lead the Republican ticket. And if he wins the presidency, he would join James Buchanan as the only bachelor presidents. Scott would certainly hope that the parallels to Buchanan would end there. The nation's fifteenth president is widely regarded as one of the worst, if not the worst, president in U.S. history.
The Basics
Original name: Timothy Eugene Scott
Date of Birth: September 19, 1965 (age 57)
Birthplace: North Charleston, South Carolina
Religion: Christian
Political Party: Republican
Marital Status: Bachelor
Children: None
Alma Mater: Charleston Southern University, B.S. in political science, 1988; Presbyterian College (1983-1984)
Career: Founder, Tim Scott Allstate; Member of Charleston County Council (1995-2007); Chairman of Charleston County Council (2002-2003; 2007-2009); South Carolina House of Representatives (2009-2011); U.S. House of Representatives for South Carolina's 1st District (2011-2013); U.S. Senate (2013-present)
Campaign Website: VoteTimScott.com
Twitter Handle: @SenatorTimScott
Instagram Handle: @SenatorTimScott
Scott's Announcement
Scott formally announced his candidacy last month in a gym at Charleston Southern University, his alma mater. Like his rival presidential candidate Ron DeSantis, Scott's announcement stumbled over some technological glitches. In his case, his mic stopped working in the middle of his speech. The crowd came to his rescue. They chanted his name: "Tim Scott, Tim Scott, Tim Scott!"
The speech was deeply personal. Scott made the case for "the miracle of America," which he described as a "land of opportunity and not a land of oppression." He recounted his family's history. His grandfather was born in Jim Crow South Carolina and was forced out of school in the third grade. Scott today is one of three African-American senators, and the only Black Republican senator. Hence, the campaign line about "from cotton to Congress."
Scott focused his criticism on Joe Biden rather than on any of his Republican rivals. He called Biden "weak" and argued that under Biden's leadership the United States has
become a nation in retreat. Retreating from our heritage and our history. Retreating from personal responsibility and hard work. Retreating from strength and security. Even retreating from religious liberty and the worship of God himself. They say opportunity in America is a myth and faith in America is a fraud. But the truth of my life disproves their lies.
Scott name-checked a range of foreign policy issues in his speech. He pledged that "the drug cartels using Chinese labs and Mexican factories to kill Americans will cease to exist" and that he will "rebuild a military so lethal and powerful that our adversaries will fear us." He also said that that under his leadership the United States "will not try to be the world's policeman" and that "China started this new economic cold war, but America, we're gonna finish it."
Scott's Story
Scott was born and raised in North Charleston, South Carolina. His father was a Vietnam veteran who served in the U.S. Air Force; his mother was a nurse. His parents divorced when he was seven years old. It was a bitter separation; Scott saw little of his father while growing up and only reconciled with him when he was in his early thirties. Scott and his mother and brother initially moved in with his maternal grandparents and lived in one bedroom in a seven-hundred square foot house. Scott's mother worked sixteen-hour shifts to support her family.
Education wasn't initially a priority for Scott. He flunked four of his classes in his first year of high school. Ironically, one of those classes was civics. His mother exercised tough love in response. She made him go to summer school and take a job to pay for it. Scott held a number of different jobs during his teenage years, including working at a gas station and serving popcorn in a movie theater.
Scott says he was "disillusioned and angry" as a teenager. A turning point in his life came when he was fifteen and met John Moniz, the owner of a Chick-fil-a that Scott frequented. Scott credits Moniz, who died of a heart attack—or of a pulmonary embolism, accounts differ—in 1985 when Scott was just nineteen, with teaching him life lessons that were "simple" yet "profound." The thrust of Moniz's advice, says Scott, was that "he taught me how to be more valuable in my own eyes so that later I could be more valuable at work, which would add zeros to my paycheck."
Scott was the star running back on his high school football team. He was injured in a car accident his senior year, which limited his playing time. He still showed enough potential to earn a partial scholarship to play at Presbyterian College in Clinton, South Carolina, a 170-mile drive northwest of Charleston. He eventually transferred to Charleston Southern University, which at the time was known as Baptist College at Charleston. He graduated in 1988 with a degree in political science.
Scott worked as an insurance agent after leaving college. But his attention soon turned to politics. Public service had been a longstanding interest of his. He had participated in South Carolina's Palmetto Boys State program, which helps "young men to learn about the American system of government and politics by participating in a mock governmental system," when he was in high school. He confided to a friend that when he was lying awake at night he would whisper "President Tim Scott … I'm going to do it. I am going to run for president." He was elected student body president as a senior.
In 1995, Scott won a special election for an at-large seat on the Charleston County Council. His victory made him the first Black Republican to win elected office in South Carolina since the late nineteenth century. (Had things gone slightly differently he might have run as a Democrat. He had initially approached the local Democratic Party about running but they told him "to get in line.") Scott served on the county council until 2009, eventually becoming chair. While on the council, he led an effort to post the Ten Commandments on the wall of the council's chambers despite being told that doing so would trigger a legal fight that the council would lose. Scott, who wanted to remind local residents of moral absolutes, said that "whatever it costs in the pursuit of this goal is worth it." As predicted, the council lost the court challenge and incurred significant legal fees.
In 2008, Scott won a seat in the South Carolina House of Representatives. He was the state's first Republican African-American representative since 1897. Two years later, Scott switched his sights to  lieutenant governor. However, when the local U.S. House representative announced his retirement, Scott switched races. It was a smart move. Scott rode the Tea Party wave to victory. He refused to join the Congressional Black Caucus, even though the other Black Republican elected in 2010 agreed to do so. Scott explained his decision as follows:
My campaign has been about themes that unite all Americans—restoring the American dream by reducing the tax burden, decreasing government interference in the private sector, and restoring fiscal responsibility, and I don't think those ideals are advanced by focusing on one group of people.
Then fate intervened. Incumbent South Carolina Senator Jim DeMint announced in 2012 that he was resigning his seat to become president of the Heritage Foundation. South Carolina Governor Nikki Haley, who is also running for the 2024 Republican presidential nomination, named Scott to fill the empty seat. He won the 2014 special election to fill the remainder of DeMint's term. He was reelected to full six-year terms in 2016 and 2022. Scott remains the first and only Black Republican senator from the South since Reconstruction.
Scott has never married and has no children. He says that, between taking care of his mother and fulfilling his political duties, getting married and having a family fell on his list of priorities. He doesn't drink and prefers to sleep late and work late into the night.
Scott's Message
Scott is running on an optimistic and traditional message about America's opportunities. He is promising to deliver "a new American sunrise. Even brighter than before." Drawing from his own experience, he is a big advocate of education as an equalizing tool. He favors an "Opportunity Agenda" that gives others the chance to pull themselves up by their bootstraps. He takes great pride in having succeeding in getting provisions to create federal "opportunity zones" into the 2017 rewrite of the U.S. tax code. That legislation gives companies that invest in historically distressed areas preferential tax treatment.
Scott contrasts his message of hope with what he sees as the Democrats' effort to "sell a drug of victimhood and the narcotic of despair" that will weaken rather than strengthen the United States:
The progressive left is trying to make America into a grievance culture when in fact we have always stood on the foundation of greatness. Our original sin should never define us because our story of redemption is what we've been living for more than fifty-plus years. The greatest story of progress in the world is American progress in the last fifty years. I wish we'd spend more time talking about the goodness of this nation and stop the cancel culture.
Critics have responded that Scott's claim that Democrats are "pushing us into a culture of grievances instead of a culture of greatness" was "either a confession or a projection" about the current state of the Republican Party.
One issue where Scott breaks sharply with Democrats generally and many African Americans specifically is whether systemic racism exists in the United States. He is an emphatic no. He doesn't deny the Blacks have been discriminated against over the course of U.S. history. He himself has experienced racism firsthand. Indeed, he has made his ability to overcome the obstacles he has faced central to his political message. But he has said time and again, including in his 2021 Republican rebuttal to Biden's address to a joint session of Congress, that "America is not a racist country." Or as he has also put it, "today is not 1865" and "today is not 1923."
Scott combines his optimism about America's possibilities with a firm embrace of social conservativism. He wants to expand religious freedoms, restrict abortions, end marriage equality, and repeal the Affordable Care Act.
Scott and Donald Trump
Scott supported Trump's presidential candidacies in both 2016 and 2020. He was a reliable vote for Trump during his presidency, voting to support his positions nearly 97 percent of the time. Scott's support for Trump continued after the January 6 insurrection. Scott said that the attack on the Capitol "does not have to do with the president who said go 'peacefully' to protest." When asked earlier this year if he had any policy differences with Trump, he answered that there are "probably not very many at all. I am so thankful that we had President Trump in office."
Nonetheless, Scott has on occasion broken with Trump. He criticized Trump's claim after the 2017 Nazi rally in Charlottesville, Virginia, that there were "very fine people on both sides." He subsequently went to the White House to explain to Trump that African Americans had faced "three centuries of challenges from white supremacists, white nationalists, KKK, Nazis." In 2018, Scott blocked the Senate confirmation of two Trump judicial nominees over their hostility to Blacks. In 2020, he disputed Trump's claim that expanded vote-by-mail efforts would endanger the integrity of the election. And in January 2021, he declined to join the effort to overturn the presidential election results.
Scott initially rebuked the Justice Department rather than Trump when the forty-fifth president was indicted last week for mishandling classified information and obstruction of justice. Scott slammed what he called "the weaponization of the Department of Justice against the former president." He leveled this criticism before the Justice Department's indictment was unsealed and despite saying that what makes the United States distinctive is that "we look at every single case based on the evidence." Once the indictment was public, Scott adjusted his position. He said that Trump faces a "serious case with serious allegations," but that nonetheless the Biden administration is "targeting and hunting Republicans."
Trump responded favorably to Scott's entry into the presidential race: "Good luck to Senator Tim Scott in entering the Republican Presidential Primary Race. It is rapidly loading up with lots of people, and Tim is a big step up from Ron DeSanctimonious." The gratuitous jab at Ron DeSantis suggests that Trump's kind words for Scott reflected a political calculation, namely, that more challengers entering the race would make it harder for the Florida governor to win the nomination.
Scott's Foreign Policy Views
Foreign policy hasn't figured prominently in Scott's political career. He served primarily on committees with a domestic focus during his first decade in the Senate. He did join the Foreign Relations Committee in January 2023. Scott has not made any foreign policy issue a focal point of his run for the White House.
Scott largely approved of Trump's handling of foreign policy. Among other things, he urged Trump to withdraw the United States from the Paris Climate Agreement. Scott's positive assessment of Trump's handling of foreign policy held up even after Trump held his highly criticized 2018 Helsinki press conference in which he sided with Vladimir Putin on the question of election interference in 2016 and suggested he might turn some U.S. citizens over to Russian authorities. "We elected the president; he has to be our leader on global affairs, foreign affairs," Scott said at the time. He went on to add: "The truth of the matter is that I believe America is more secure today than it has been in the last decade."
Biden doesn't earn the same praise from Scott. He says that Biden's "weakness on the world stage has emboldened our adversaries," thereby inviting Russia to invade Ukraine. Scott nonetheless backed Biden's decision to support Ukraine and has stuck to that position ever since. He says that support for Ukraine is in America's "vital national interest" and that "degrading the Russian military" solves two problems. "First, it prevents or reduces attacks on the homeland," and second, "it will reduce the likelihood that Russia will have the weaponry or the will to attack on NATO territory, which would get us involved." Scott also says he wants "accountability for every single dollar spent," and that there should be "no such thing as a blank check" for Ukraine. 
Little separates Scott from his Republican rivals, or Biden for that matter, on China. He says that "the Chinese Communist Party's goal is not just to surpass us. It is to beat us." For that reason, he wants the U.S. military to have "a stronger presence" in the Indo-Pacific. Scott also argues that the United States "must get serious about building our strategic advantage over China by unleashing private sector innovation and confronting the CCP's [Chinese Communist Party's] illegal tactics and outright theft." He accused Biden of "a dereliction of duty" in waiting nearly a week back in February to order the shooting down of the Chinese spy balloon. Scott vowed not to applaud during Biden's State of the Union address to display his disapproval of Biden's timidity. Scott has refused so far to say how he would respond to a Chinese attack on Taiwan. He does say, however, that the United States must "continue to provide the resources to the Taiwanese military" and that "we must stand shoulder to shoulder with the Taiwanese government and the military when it comes to defending what we believe is our ally." Scott has called on the Biden administration to share classified information about the origins of COVID. He says that "we have compelling evidence that the Wuhan lab, not nature, is the reason [for] Covid."
Scott's positions on border security are similar to those of his Republican rivals. He vows that "on my first day as Commander-in-Chief, the strongest nation on Earth will stop retreating from our own southern border. If you don't control your back door, it's not your house. And if our southern border is unsafe and insecure, it's not our country." He would secure the southern border by, among other things, completing Trump's promised wall, freezing the assets of Mexican drug cartels, designating them as terrorist organizations, and allowing the U.S. military to fight them.
When it comes to trade, Scott says the United States needs "a renewed commitment to free enterprise, free trade, rule of law, and international U.S. leadership." He has said little about the specifics of his trade policy, however. His campaign website doesn't discuss the issue. Back in 2015, he voted in favor of granting trade promotion authority, which makes it easier for presidents to negotiate trade deals. He voiced his objections when Trump considered imposing tariffs on foreign automobiles and parts. BMW and Mercedes-Benz are among the foreign automobile manufacturers with operations in South Carolina.
Scott acknowledges that climate change is real. "There is no doubt that man has had an impact on our environment," he admits. "There is no doubt about that. I am not living under a rock." But reducing the emission of the heat-trapping gases driving climate change is not a priority for him, despite the fact that his hometown of Charleston is vulnerable to rising sea levels. He opposed the Paris Climate Agreement because he thought it was a bad deal for the United States, even though it imposed no binding requirements on Washington. He voted against the Inflation Reduction Act, which provided billions to reduce emissions and counter climate change.
More on Scott
Scott has written two books and co-written another. The co-authored book, Unified: How Our Unlikely Friendship Gives Us Hope for a Divided Country, was the first to be published, having been released in 2018. It tells the story of Scott's friendship with (now former) Republican South Carolina Representative Trey Gowdy. The two men first met in 2010 and "won't allow racial lines to divide them. They work together, eat meals together, campaign together, and make decisions together."
Two years later, Scott's first sole-authored book, Opportunity Knocks: How Hard Work, Community, and Business Can Improve Lives and End Poverty, was published. It tells the story of his life, "with a focus on adversity and opportunity" and recounts "some of Senator Scott's own brushes with racism as well as the many discussions he's had with people who want to help, including President Trump."
Last summer, Scott's latest book, America, a Redemption Story: Choosing Hope, Creating Unity, hit bookstore shelves. It "invites readers on a compelling journey to reclaim the American dream today. Weaving together deeply personal memoirs, stories of his family's struggle with poverty and injustice, and stirring accounts of fellow Americans past and present, Scott says we can see the truth of America's identity in the stories of individuals--people whose lives embody the hope and resilience that have carried the nation through its greatest failures and challenges."
Politico profiled Scott back in 2018 with an article titled "God Made Me Black on Purpose." It concludes that "for all of his trailblazing, Tim Scott is also a living testament to a lack of progress. Breaking through isn't enough—not for him. He sees minorities lagging on the socioeconomic spectrum. He sees that nativism and prejudice are alive and well…. Sometimes he struggles to hold back; all he wants to do is unleash a lifetime of exasperation and say what he really thinks—about Trump, racism, law enforcement and the hypocrisy in both parties. The only thing holding him back is the feeling that now it's his turn to sacrifice."
Last month, Politico followed up with a story on "55 Things You Need to Know About Tim Scott." Among other things, when Scott "wants to get pumped up, he listens to 'Word Up,' by Cameo. If he's having a tough day, he listens to 'The Blessing,' by Kari Jobe."
The New York Times has weighed in with "Five Things to Know About Tim Scott." It notes that "Scott has broken from other Republicans in acknowledging bias in policing and pushing for reform, though not to the extent Democrats have."
Other posts in this series:
Meet Doug Burgum, Republican Presidential Candidate
Meet Chris Christie, Republican Presidential Candidate
Meet Ron DeSantis, Republican Presidential Candidate
Meet Nikki Haley, Republican Presidential Candidate
Meet Will Hurd, Republican Presidential Candidate
Meet Asa Hutchinson, Republican Presidential Candidate
Meet Vivek Ramaswamy, Republican Presidential Candidate
Meet Francis X. Suarez, Republican Presidential Candidate
Meet Marianne Williamson, Democratic Presidential Candidate
Sinet Adous assisted in the preparation of this post.