Meet Vivek Ramaswamy, Republican Presidential Candidate
The venture capitalist and Woke Inc. author announced his candidacy for the 2024 Republican presidential nomination.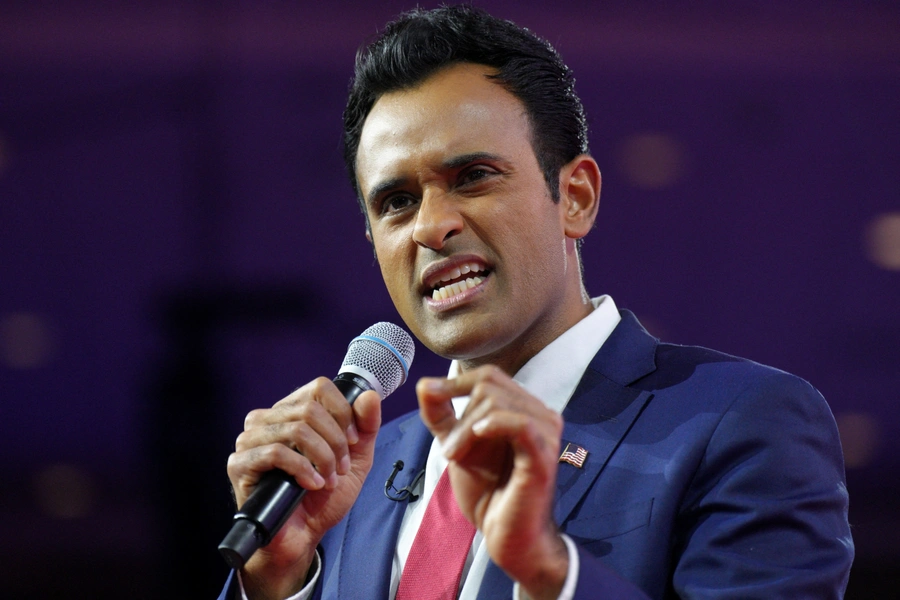 Can someone with no political experience and little name recognition make it to the White House? History suggests not. But Vivek Ramaswamy thinks he can break the mold. The multi-millionaire tech entrepreneur and "anti-woke" crusader is running for president on the platform of restoring E Pluribus Unum, the idea that America represents the many becoming one. If Ramaswamy succeeds, he will not only be the first person of Indian descent to sit in the Oval Office, he will be the youngest president ever. On January 20, 2025, he will still be seven months short of turning forty.  
The Basics
Name: Vivek Ramaswamy 
Date of Birth: August 9, 1985 
Birthplace: Cincinnati, Ohio 
Religion: Hindu 
Political Party: Republican 
Marital Status: Apoorva Tewari Ramaswamy 
Children: Karthik (3 years) and Arjun (7 months) 
Alma Mater: Harvard College, A.B. in biology, 2007; Yale University, J.D., 2013 
Career: Co-founder of Campus Venture Network (2007-2009); partner at QVT Financial (2007-2014); founder and CEO of Roivant Sciences (2014-2021); co-founder and executive chairman of Strive Asset Management (2022-present) 
Campaign Website: www.vivek2024.com 
Twitter Handle: @VivekGRamaswamy 
Instagram Handle: @vivekgramaswamy 
Ramaswamy's Announcement 
Ramaswamy announced his run for the presidency by releasing a four-minute video online on February 21.
Ramaswamy's message wasn't the usual mix of promises on jobs, wages, health care, and foreign policy. It was instead about identity. Namely, in his view, Americans have become so consumed with their differences that they have lost sight of what unites them. His mission is to restore a sense of national pride and community. 
Ramaswamy's announcement was notable in two other respects, one large, the other small. On the former, he never mentioned the Republican Party or past Republican presidents in his announcement. No Lincoln. No Reagan. No Trump. On the latter, Ramaswamy will go down in the record books as the first major party presidential candidate to mention ivermectin in an announcement speech.  
Ramaswamy's Story 
Ramaswamy was born and raised in Ohio to immigrant parents from India. The New Yorker nicely summarized the arc of his life: 
Ramaswamy's mother worked as a geriatric psychiatrist; his father was an engineer and a patent lawyer at General Electric. They came to the U.S. from South India before Vivek was born, in 1985. Growing up in the Cincinnati area, Vivek established himself as an overachiever: an accomplished pianist, a nationally ranked tennis player, and the valedictorian of his Jesuit high school. He graduated from Harvard College and Yale Law School, worked at a hedge fund, then started a pharmaceutical company, Roivant Sciences, where he made hundreds of millions of dollars. That a chunk of this wealth derived from a failed effort to bring an Alzheimer's drug to market is something he doesn't dwell on in speeches. 
The demands of running a pharmaceutical company didn't stop Ramaswamy from turning his talents toward cultural criticism. His issue? Corporate America's embrace of socially conscious investing. He sees it as hypocrisy that allows companies to obscure how they are damaging the fabric of American society. His criticism quickly made him a fixture on Fox News. Does this mean that Ramaswamy is a conservative? Perhaps not. "I feel like I recoil when I see someone describe me as a conservative," he told an interviewer. "Not that there's anything wrong with being a conservative. It's just not how I would describe myself." 
Ramaswamy stepped down from Roivant Sciences in 2021. He kept up his attacks on "wokeness." But in addition to his cultural criticism, he founded a new investment company, Strive Asset Management, with the backing of libertarian billionaire Peter Thiel. Strive's self-proclaimed mission is "to restore the everyday citizens in the American economy by leading companies to focus on excellence over politics." That is, no socially conscious investing.  
One of Ramaswamy's law school friends was J.D. Vance, the author of Hillbilly Elegy, and now the junior senator from Ohio. Ramaswamy says he considered running for the Senate seat that Vance won. He eventually decided against throwing his hat in the ring. Why? "One of your main jobs as a senator is to make laws, and I came to understand that many senators were not interested in engaging in that job," he said. "Their goal was to get on cable television, and I was already on cable television." 
Ramaswamy's Message 
Ramaswamy contends that the central problem facing the United States is identity. As he told Tucker Carlson last month: "We are in the middle of this national identity crisis where we have celebrated our diversity and our differences for so long that we forgot all of the ways we're really just the same as Americans, bound by a common set of ideals that set this nation into motion 250 years ago."  
Ramaswamy is short on specifics about how he would rebuild the supposedly splintering e pluribus unum. He is clear on what he opposes. He thinks, for example, that affirmative action is a "national cancer." Indeed, he says that his first step as president will be to cancel Executive Order 11246, which has been in place since 1965 and "requires affirmative action and prohibits federal contractors from discriminating on the basis of race, color, religion, sex, sexual orientation, gender identity, or national origin."  
When it comes to the positive steps he would take to focus Americans on their common interests, Ramaswamy turns to generalities about how he wants to reaffirm "those basic rules of the road: meritocracy, the idea that you get ahead in this country, not on the color of your skin, but on the content of your character."  
Ramaswamy and Trump 
Ramaswamy has avoided directly criticizing former President Donald Trump. He says he's "not running against President Trump" at all. But, of course, he is. By the same token, he has been quick to emphasize that he is in step with Trump's approach to what ails the United States. "I am taking the Trump America first agenda to the next level to actually get the job done," he recently told a reporter, adding that "I believe I am leading and will continue to lead this field with the specificity of policy proposals and vision that I put on the table."  
Ramaswamy doesn't think that Trump will attack him. "I'd be surprised if he came that way with me just because we're friends. I think we have a deep, mutual respect for one another. We're both energetic people. And, in fact, Trump, hasn't singled out Ramaswamy for attack, let alone given him a derisive nickname. 
Ramaswamy's Foreign Policy  
Unsurprisingly for someone who has spent most of his career as an investor and entrepreneur, Ramaswamy has a thin foreign policy record. The world beyond America's shores didn't figure in his campaign announcement. 
Ramaswamy's early forays on the campaign trail suggest he has a lot to learn. Last month, conservative talk show host Hugh Hewitt asked him about the U.S. nuclear triad. Ramaswamy responded, "Are you talking about our new axis of evil?" Hewitt explained that the triad stood for the land, sea, and air legs of the U.S. nuclear force structure. Ramaswamy admitted that "I am not familiar with that," but added, "I'm a fast study."  
In the same interview with Hewitt, Ramaswamy argued that "we're going to have to take on China" and that doing so is "going to involve some measure of sacrifice" because the United States has grown "economically dependent on" China.   
Ramaswamy has attacked "climatism," which he describes as "prioritizing the goal of containing climate change at all costs." He hasn't explained how it is that governments that have talked more about cutting carbon emissions than actually reducing them—carbon emissions rose yet again in 2022—can be fairly described as attacking the climate change problem at all costs. 
More on Ramaswamy 
Ramaswamy has written two books, with a third set to hit the bookstore shelves in April. His first book, Woke, Inc.: Inside Corporate America's Social Justice Scam, debuted in 2021. It became a New York Times bestseller. It argues that corporate America's pursuit of ESG—environmental, social, and governance—goals "robs us of our money, our voice, and our identity." 
In Nation of Victims: Identity Politics, the Death of Merit, and the Path Back to Excellence, which was released in September 2022, Ramaswamy called on Americans to reject "victimhood culture" and to "put excellence first again." 
Ramaswamy's third book, Capitalist Punishment: How Wall Street Is Using Your Money to Create a Country You Didn't Vote For, promises to expose "how three Wall Street firms …. and their allies use the retirement funds of everyday Americans to vote for environmental and social agendas that most Americans reject." 
The New Yorker profiled Ramaswamy last December, calling him "The C.E.O. of Anti-Woke, Inc."  
Politico profiled Ramaswamy on the eve of his presidential announcement and also did a Q&A with him about his opposition to the ESG movement. 
PharmaVoice profiled Ramaswamy, noting that his calls for the United States to get tough on "Chinese business appear to be newly held, as two of Roivant's subsidiaries during his time leading the company … notably focused on the innovations of medicine in China and for patients across Asia. 
In its profile of Ramaswamy, Business Insider highlighted the fact that he "moonlighted as a rapper" while he was an undergraduate at Harvard. 
Other posts in this series:
Meet Doug Burgum, Republican Presidential Candidate
Meet Chris Christie, Republican Presidential Candidate
Meet Ron DeSantis, Republican Presidential Candidate
Meet Nikki Haley, Republican Presidential Candidate
Meet Will Hurd, Republican Presidential Candidate
Meet Asa Hutchinson, Republican Presidential Candidate
Meet Tim Scott, Republican Presidential Candidate
Meet Francis X. Suarez, Republican Presidential Candidate
Meet Marianne Williamson, Democratic Presidential Candidate
Sinet Adous assisted in the preparation of this post.