Can Hun Sen Pass Power to His Children?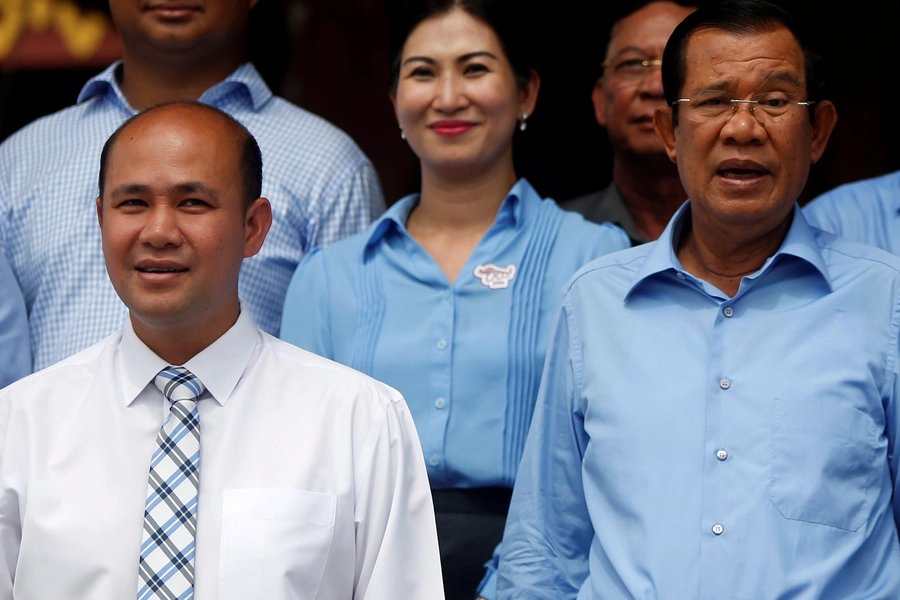 Charles Dunst is a journalist based in Phnom Penh. He was written for the New York Times, the Atlantic, the Washington Post, the South China Morning Post, and the American Prospect, among other publications.
Cambodia became a one-party state in late July, with Prime Minister Hun Sen's Cambodian People's Party (CPP) taking 125 of the available 125 National Assembly seats in an election devoid of legitimate opposition, as the CPP-controlled Supreme Court had dissolved the Cambodian National Rescue Party (CNRP), the main opposition, in November 2017. And yet, while the sixty-six-year-old Hun Sen, who, according to the Phnom Penh Post, promised in March to rule for at least ten years (while also noting that it "could be more"), is beginning to talk more openly about succession, his clan's neopatrimonial grasp on power appears to be looser than often assumed by many Cambodia experts and citizens of the kingdom.
In October, Hun Sen, according to Voice of America, called his son, Hun Manet, "the possible future leader of Cambodia." As reported by Reuters, the prime minister further denied nepotism and defended the promotion of three sons to senior government posts, saying "They all have doctorates or master's degrees. Why should they waste them? I should find work for them." Hun Sen's elevation of his progeny is the apparent first step in a long-term effort to secure an eventual patrimonial succession aimed to keep his family firmly in control of Cambodia. His clan, according to a bombshell Global Witness report, has through allegedly shady business dealings tied to its power over Cambodia, amassed a combined wealth estimated to be between $500 million and $1 billion. The eventual elevation of Hun Sen's children to power would possibly enable the clan to continue lining their pockets.
The prime minister's current shortsighted and unpopular governance, however, runs the risk of inflaming existing anger and displeasure among Cambodian youth. His increased closeness with China and failure to adequately improve social services and limit corruption, coupled with young people's limited memory of the Khmer Rouge period from which Hun Sen claims to have delivered Cambodia, has made him potentially unpopular among this younger generation. His unpopularity among Cambodian youths, and the even weaker appeal of his children, imperils a succession to Hun Manet or another member of Hun Sen's clan.
Almost two-thirds of Cambodia's population is below the age of thirty. These young people, unlike many of their parents and grandparents, do not feel as if they owe Hun Sen for delivering Cambodia from the Khmer Rouge period. Often, they focus instead on how Cambodia lags behind other countries in the region in development.
Cambodia's 2013 national elections—which were largely free and fair and held long before the CNRP's forced closure—offer some evidence of Hun Sen and the CPP's unpopularity among the country at large, and particularly among young people. In that election, the opposition almost won control of the lower house of the legislature, shocking the CPP; it may actually have won the election if not for vote irregularities. The CNRP depended heavily on young and urban voters for its strong showing.  
Hun Sen's plans for patrimonial succession would likely include elevating one of his sons, probably Hun Manet, to the top of the CPP's organizational structure and then running him for prime minister in a sham election—a repeat of the unfree and unfair 2018 election, with a different figure at the top of the ticket. In order to keep up a democratic veneer, this succession would require some public campaigning and, despite a lack of legitimate electoral competition, leave the clan vulnerable to political opposition during the succession period – as other autocratic leaders have found when trying to pass power to their children.
In recent years, Hun Sen has increasingly allied himself with China, as Beijing both props up his regime and has provided Cambodia with at least $4 billion in bilateral loans. In return, Hun Sen has given China cover at ASEAN meetings, helping divide the organization and preventing a coordinated response on issues related to the South China Sea, among others.
Cambodians young and old, however, have skepticism about China's influence in their country. "The negative influence of China on the Cambodian government is real and something that should not be overlooked," Ou Virak, the founder of Future Forum, a Phnom Penh-based think tank, told the Diplomat in November. "The threat is real about how close we have got to China."
While Hun Sen's authoritarian regime is not now checked, his actions, particularly his alignment of Cambodia with China, often inflame the public, including the young—and this anger could come out in a succession period. In addition, younger Cambodians are often angry at the government's graft and lack of effectiveness—views that also could erupt after Hun Sen and his iron rule passes from the scene. Noan Sereiboth, a twenty-nine-year-old political blogger and researcher, told German news service DW in July that the CPP has failed to provide its citizenry with adequate medical care, education, and public transport, or done enough to fight corruption.
While this anger is currently controlled by the CPP's legitimacy among some segments of the population due to continued high growth rates, the repression of the opposition, and splits within the opposition itself, in a period of succession anger might well erupt, coalescing around opposition to a handover of power to another member of Hun Sen's family. Hun Sen is unlikely to face a serious revolution while he leads the country, as he forcefully wields fear to solidify his power. Hun Sen rules through "a system of personal patronage in which money was passed upward in exchange for protection" but one that is effective in maintaining his grip on power, writes Sebastian Strangio in his book Hun Sen's Cambodia, a seminal account of the prime minister's regime.
This power is tied directly to Hun Sen's political and personal capabilities; it remains unclear if Hun Manet has similar skills. In a succession period, however, a new leader would be weaker than his predecessor. "One of the greatest threats to personalist regimes' stability is succession. Systems governed around a cult of the individual set up a self-defeating incentive structure," writes Brookings Institution nonresident fellow Torrey Taussig in the American Interest. "Domestically, the succession dilemma facing autocrats makes their systems more prone to volatility and infighting among elites."
When a country's governance revolves around a single person—such as Cambodia around Hun Sen—the leader's successor, even his son, should be able to step in and immediately assert similar control over potentially volatile elites. Hun Manet, however, has failed to demonstrate such skills; he is also likely to face external opposition led by youth, including the remaining CNRP leaders, who oppose the CPP.
The Hun Sen clan recognizes the need to win over this youth and get them to favor Hun Manet's succession. Mory Sar, co-founder of the Cambodian Youth Network, told VOA Cambodia in June 2018 that the CPP is unnerved by its lack of effective control over a youth population. Hun Sen has tried to increase his popularity among youth voters by implementing educational reforms and raising the minimum wage. A VOA Cambodia investigation found that a CPP drive to ensure voter loyalty included instructions to recruit "new members, especially youth, to support the party."
Additionally, Hun Many, Sen's fifth son and a current CPP lawmaker, is the president of the Union of Youth Federations of Cambodia (UYFC). Hun Many himself is quoted by a state-friendly outlet, the Khmer Times, as saying: "The next youth generation must vow to maintain and support the harmony of the country" — a not so subtle call for the youth to support a harmonious succession to Hun Manet. It is unclear if this engagement has effectively quelled youth discontent with the CPP.
Besides the fact that younger Cambodians may not buy into a continuation of rule by the Hun clan, once Hun Sen dies or hands over power during his lifetime, Hun Manet or another chosen successor would face the standard difficulties of succession. These will include proving to senior government figures and the public alike that he is worthy of such power.
"In personalized authoritarian systems, the death of a leader poses a serious challenge to regime survival," writes political scientist Anja Osei in a working paper for the World Congress of Political Science. Only "a small group of non-monarchies that have experienced a 'seamless passage of power from one autocratic ruler to his preferred heir.'"
Indeed, while Hun Manet, if he was handed power, would initially control the armed forces, military police, and secret police, he so far appears to lack his father's ability to appeal to the public and engender public support.
"Hun Manet's military credentials do not automatically equal party support," writes Jonathan Sutton of the University of Otago in East Asia Forum. "Whether he is capable of managing the endemic rivalries and factionalism that characterize the party remains to be seen."
It is difficult to imagine Hun Manet, who has been described as "stiff", according to Singapore's TODAY news service, and lacks his father's political capabilities, securing popular support or even convincing enough Cambodian elites to back him. He would, however, need these elites to support his succession, especially if he takes power after his father's death and is unpopular with a motivated public.
As Sutton adds, "There is little positive evidence that Hun Manet has enough support among the Cambodian political elite to hold power on his own any time soon." Indeed, in a succession Hun Sen's likely chosen son would be primed to face both public and internal opposition in his path to power.