Coronavirus in South Asia, April 30, 2020: India, Pakistan, and Bangladesh Begin Easing Restrictions
Although coronavirus cases in India, Pakistan, and across the region have not increased as quickly as some feared (so far), South Asia's economies are struggling deeply. Sri Lanka and the Maldives experienced a surge in cases.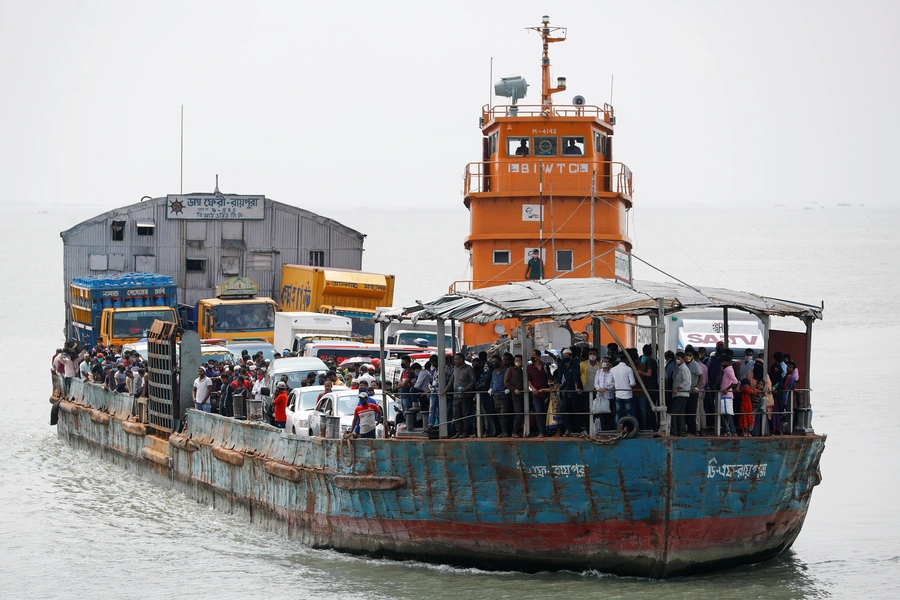 Although coronavirus cases in India, Pakistan, and across the region have not increased as quickly as some feared (so far), South Asia's economies are struggling deeply. Sri Lanka and the Maldives experienced a surge in cases.
South Asia mounts COVID-19 response: Coronavirus cases are growing steadily in most South Asian countries, although experts' worst fears about overwhelmed health systems have not yet come to pass. Only the Himalayan countries Nepal and Bhutan have managed to keep the coronavirus at a barely detectable level. The coronavirus pandemic has spurred regional cooperation, notable for a region characterized by the lack of it. On April 23, Pakistan hosted a video conference of South Asian Association for Regional Cooperation (SAARC) health ministers. India has engaged in what could be called "hydroxychloroquine diplomacy," supplying millions of units of the anti-malarial drug that some say helps COVID-19 patients to Afghanistan, Bhutan, Bangladesh, and the Maldives, among other countries.
Of note is the glaring gender disparity in COVID-19 cases across the region. Due perhaps to greater exposure, disease severity, access to testing, or other factors, men make up 81 percent of positive cases in the Maldives, 79 percent in Pakistan, and 68 percent in Bangladesh.
India's grim economic outlook: India's strict forty-day lockdown, set to expire on May 3, has saved thousands of lives, says Prime Minister Narendra Modi. Though hospitals have not been overwhelmed and India's caseload is small compared to its population, cases continue to climb. India had over thirty-three thousand cases as of April 30, of which nearly twelve thousand were in the state of Maharashtra. Indian citizens largely took the stay-at-home orders seriously. In fact, overall mortality rates in many parts of the country are lower than in previous years, perhaps because of fewer traffic accidents or underreporting.
India's economy will take a long time to recover from the lockdown. On April 28, Moody's again downgraded its economic growth outlook for 2020, from 2.5 to 0.2 percent. A poll of Indian economists suggests the economy will shrink by 5.2% in the second fiscal quarter, which would be India's first quarterly contraction since at least the 1990s. As of April 27, Indian lawmakers were considering a package that would make small businesses eligible to take on extra debt backed by the Modi administration. A noted agricultural economist this week urged the Indian government to design a much larger stimulus of around 5% of GDP in order to rescue the economy.
Unemployment fell from 26 to 21 percent, per the Centre for Monitoring Indian Economy private survey data, on April 26 as India gradually lifted restrictions on certain sectors primarily in rural areas. The Modi government let non-essential manufacturing and agriculture, including agricultural industries like fertilizer, recommence in less impacted areas. Many expect the government to prolong the shutdown after May 3 in hard-hit "red zones" but lift more restrictions elsewhere.
Economic package in Pakistan: Across much of the world, Ramadan is an isolated affair for Muslims this year. Less so in Pakistan, where Prime Minister Imran Khan bowed to religious leaders' pressure and allowed communal prayers to go forward, despite medical professionals' concerns. Pakistan extended its lockdown until May 9 but allowed exporting industries and some commercial activities to resume. To prop up the faltering economy, which the IMF predicts will contract 1.5% this fiscal year, the government approved a package to pay the utility bills of 350,000 small businesses. Officials also said they would negotiate for debt relief with eleven countries, including the United States. The IMF has approved a $1.4 billion disbursement to Pakistan to offset the cost of its pandemic response.
On April 30, Khan said that the country's death rate has been "lower than feared." An official noted that cases were 30 to 35 percent lower than anticipated; on the other hand, Pakistan only has the capacity to test just eight thousand people per day. Pakistan has over 16,000 confirmed cases and 358 deaths as of April 30.
Despite restrictions, Bangladesh factories reopen: Bangladesh's nationwide "general holiday," which closed most businesses with exceptions for agricultural and industrial goods manufacturers, was extended by ten days to May 5. But after a month-long pause, over two thousand ready-made garment factories have reopened, although with fewer workers to allow for distancing. Hearing this news, thousands of desperate workers poured into Dhaka by ferry, auto rickshaw, and foot despite a travel prohibition. Health experts have criticized the decision to reopen factories, saying workers will be put at risk. The government has directed factory owners to pay garment workers 60 percent of their normal wages for April.
Bangladesh has over seven thousand total cases, among which are five hundred doctors, as of April 30. COVID-19 cases have been confirmed in 95 percent of the country's districts and cities. Bangladesh's capital, Dhaka, is the center of the outbreak. At under 300 tests per million, Bangladesh's per capita testing rate is lower than many of its neighbors including India, Sri Lanka, and Thailand.
Taliban rejects Afghan humanitarian ceasefire proposal: The Taliban, angered by the Afghan government's slow release of prisoners under the U.S.-Taliban peace deal, rejected UN, U.S., and President Ashraf Ghani's calls for a ceasefire to contain the coronavirus and stepped up attacks against Afghan forces. The fighting limits Afghanistan's public health response and endangers stalled peace negotiations. News reports this week characterize President Trump as pushing to withdraw all troops.
Official testing has yielded 1,949 cases in Afghanistan as of April 29, although the real number is likely far higher—as of April 22, Afghanistan was testing just one hundred samples per day. Assistance pledges to Afghanistan to help with the pandemic have spurred debate over the government's capacity to manage the funds directly, versus the capabilities of nongovernmental organizations.
Nepalis, at home or far away, stuck in limbo: Nepal's nationwide prohibition on nearly all movement by foot or vehicle will continue an additional ten days until May 7. Nonetheless, unemployed workers, some with children, have been observed walking long distances back to home villages. The government has not yet decided whether to partially lift some restrictions on agriculture and industry, as India has done. This picture of Nepal, however, is incomplete without considering the millions of migrant workers in far-flung places, especially the Persian Gulf and Southeast Asia. The Nepali Times reports at least fifty Nepalis living abroad have died of COVID-19. International flights to Nepal are suspended until May 15, including for citizens. Although Nepal's health system is handling just thirty-eight active cases as of April 28, it must now also battle measles outbreaks following disrupted vaccination drives.
Hundreds of Sri Lankan sailors fall ill: Sri Lanka has 649 confirmed cases as of April 29, a number which has sharply risen in the last two weeks. The Gotabaya Rajapaksa administration has implemented Sri Lanka's lockdown with a heavy hand. Police arrested over forty thousand people for violating curfew between March 20 and April 28. On April 25, Sri Lanka reimposed a complete nationwide lockdown and extended it through May 4. The central government had previously lifted restrictions in most districts, though not the capital, during daytime hours, but backtracked after nearly 250 sailors at a naval base near Colombo tested positive.
Bhutan averts outbreak: Bhutan relied heavily on contact tracing and far surpassed its regional peers in testing (relative to its population) to prevent the spread of COVID-19. With twelve total cases, the country has the fewest in South Asia, although it also has the second-smallest population. Stores still must close at 7:00 p.m. every night, but Prime Minister Lotay Tshering said on April 25 that he does not anticipate needing to implement an India-style strict lockdown. Unemployed Bhutanese are able to apply for relief deposits from a royal family fund. On April 27, the UN Development Program announced that it will disburse $340,000 to the Bhutan government to upgrade the health ministry's COVID-19 monitoring technology, supply personal protective equipment, and disseminate information to vulnerable groups. Bhutan officials expect GDP growth to slow this year to 4.7 percent; the World Bank's forecast for Bhutan in 2020, by comparison, is 2.2 to 2.9 percent.
Maldives: The Maldives had just a few scattered new cases until mid-April, when the number began rapidly growing in the dozens. Over 40 percent of the Maldives' 278 total cases as of April 29 are Bangladeshi citizens. According to Human Rights Watch, Bangladeshi migrant workers make up a quarter of the Maldives population. Just one person has died; around 70 percent of cases are below the age of forty. On April 17, the government ordered people in the capital, Male, to stay at home for two weeks and later extended the lockdown until mid-May. Travel between islands is still suspended.