A Crack in the Wall? Not So Fast.
What can the quick rise—and equally quick fall—of a state-approved app that allows Chinese netizens limited access to western social media tell us about the CCP's evolving approach to information, censorship, and internet governance?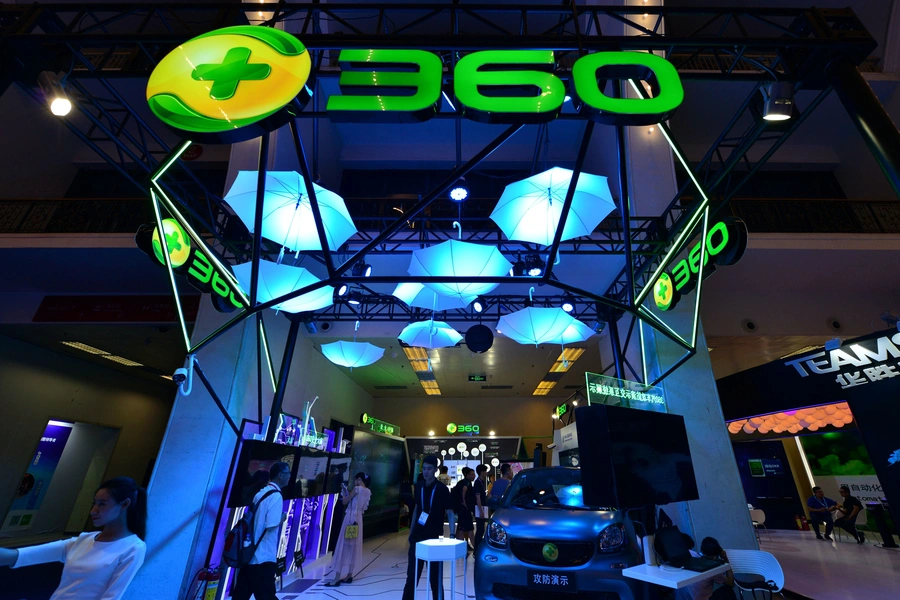 Viola Rothschild (@vrothsch) and Hongshen Zhu are PhD students in political science at Duke University. They study Chinese politics, authoritarian institutions, and information.
On October 9, a journalist for Chinese state-run media outlet the Global Times tweeted, "Exciting news!! #China launched a new web browser Tuber that can connect to FB, Twitter, Google, etc, without using VPN!!...a great step for China's opening up!" The next day, she posted a flat, matter-of-fact reversal: "Update: #Tuber is no longer on the Huawei App Store this afternoon."
So it was that Chinese netizens were recently offered a fleeting glimpse at a semi-open internet via Tuber, a state-approved app that allowed users very selective access to long-banned Western social media platforms and search engines including YouTube, Facebook, Twitter, Instagram, and Google. Tuber is 70 percent owned by cybersecurity software giant Qihoo 360, one of China's biggest cybersecurity software companies. Qihoo has close ties to the government: founder Zhou Hongyi serves as a member of the Chinese People's Political Consultative Conference's National Committee and Economic Committee; two of the firm's executives are members of the Cybersecurity Association of China. This suggests that Beijing sanctioned—or at least permitted—Tuber's release.
What can Tuber's quick rise—and equally quick fall—tell us about the CCP's evolving approach to information, censorship, and internet governance?
China has gone to extreme lengths to keep its internet closed—employing an army of censors to remove sensitive posts and disseminate pro-government messages, periodically purging app stores of illegal VPNs, mandating companies censor sensitive content on their platforms with sophisticated content-monitoring algorithms, and using subtler nudges to inconvenience and distract citizens searching for information, among other tactics.
Coming amid ongoing tensions between the United States and China and talk of a "splinternet" and a new "tech Cold War," cracking open the Great Firewall seems like a move in a different direction.
So, why would the CCP open the internet, if only just a little? And why pull the plug just as quickly?
Some analysts suggest that Tuber is a "CCP-run honeypot," its primary goal to track netizens' internet behavior and alert authorities of suspect browsing patterns. Sure enough, Tuber registration requires a Chinese phone number, which is linked to a person's unique identification number. The platform's terms of service threaten to suspend user accounts and share their data with law enforcement if they "actively watch or share" content that violates the Chinese Constitution, endangers national security and sovereignty, spreads rumors, or disrupts social order.
Increased monitoring is only one piece of the story, however. A growing group of Chinese academics, journalists, and think tank experts have been pushing for a strategic opening up to Western media, arguing that it is in Beijing's best interest. The conflation of a newfound confidence and nationalistic pride among younger Chinese netizens and the emergence of sophisticated tools of government monitoring and control have accelerated calls to experiment with opening up the internet.
Jin Canrong and Di Dongsheng, high-profile professors at Renmin University that host popular internet talk shows, believe that Chinese netizens should be allowed to see for themselves (to an extent). Pragmatic and appreciative of China's development, netizens will not be so easily persuaded by messages on Western social media. Jin has suggested that the Chinese government permit access to Twitter and Facebook in China, to "let them in so that you can manage them—as young people are leaping the Wall anyway." And leap the wall they do. Nationalist armies of net-savvy Chinese trolls using VPNs are already disrupting China-related discussions on Western social media. For instance, despite the Great Firewall, thousands of pro-CCP memes and slogans appeared on Facebook and Twitter threads during the Hong Kong democracy protests in 2019 and 2020. Di joked in one video (removed by Guan Video amid the Tuber saga), "the Wall is not protecting the Chinese but the West."
Strategically and selectively opening Western media can help bolster support for Chinese officials' accounts on social media, and even galvanize patriotic feelings in the face of perceived Western bias. Indeed, a recent academic study finds that exposure to anti-Chinese discrimination makes overseas Chinese students significantly reduce their belief that political reform is desirable for China and increases their support for authoritarian rule.
Several prominent Chinese journalists and officials have amassed substantial Twitter followings—Global Times Editor-in-Chief Hu Xijin, dubbed "China's greatest internet troll," has 443,000 followers; and Ministry of Foreign Affairs spokespeople Zhao Lijian and Hua Chunying have 774,000 followers and 658,000 followers respectively. For a wide Western audience, these English-language accounts are some of the most highly visible sources of the Party line. Amid international outcry demanding the Chinese government be held responsible for the coronavirus pandemic, the mass detention of Uyghurs in Xinjiang, and trade and technology infringements (among other issues), Chinese government official accounts on Western social media may be missing the support of their strongest allies: ordinary Chinese citizens.
In a Weibo post, Hu Xijin suggests that the timing is ideal: "China should use the window of this epidemic to make some bold attempts to further open up and promote information exchanges between Chinese society and the outside world so that the Chinese people can learn more about the true state of the outside world." Beijing believes that the Trump presidency is precipitating American decline. Western social media platforms, for their part, are flooded with toxicity, misinformation, and divisive rhetoric surrounding the coronavirus pandemic and upcoming 2020 presidential elections—democracy, in its current state, does not look particularly appealing. An unfiltered view of the unraveling and decline of Western civilization, these influential voices assert, would only serve to reinforce the authority of the Chinese state and the burgeoning nationalism of its netizens.
Why then did Tuber suddenly disappear? Officials likely got spooked after the browser racked up over five million downloads in just a few days. Similar reversals have occurred in the past when the Great Firewall seemed to open a crack: a plan to open the internet for foreign tourists visiting Hainan province was scrapped after causing a domestic outcry in June 2018; a similar legal VPN Web browser, Kuniao, was also pulled in 2019 after experiencing a flurry of downloads. There is certainly risk involved. Even a sanitized version of the internet can introduce dissenting ideas and alternative truths from Taiwan, Hong Kong, and beyond. Moreover, the latent dissatisfaction that burst through in the early months of the pandemic is evidence that Chinese netizens can and will still mobilize online to voice their concerns. Despite tiptoeing around opening up, China's policymakers and regulators are wary, insecure, and deeply preoccupied with control.
Tuber's fate remains unclear, but what is clear is that China will continue to experiment with easing up on internet restrictions. The Ministry of Foreign Affairs recently launched an initiative to promote cross-border data flows, and the Vice Minister of Commerce just approved Beijing's earlier plan to allow foreign firms to invest in VPN services in a trial area. But, make no mistake, the willingness of China's leaders to experiment with opening the internet is not a sign of liberalization—rather it is a signal of Beijing's growing confidence and control.