Cyber Week in Review: April 10, 2020
WhatsApp limits forwarding in attempt to fight coronavirus disinformation; Zoom's troubles mount as it is banned by Google and U.S. Senate; Rights groups call for unblocking of voice over IP in several Gulf states; and Cambodia grants prime minister sweeping executive powers, allegedly to fight coronavirus.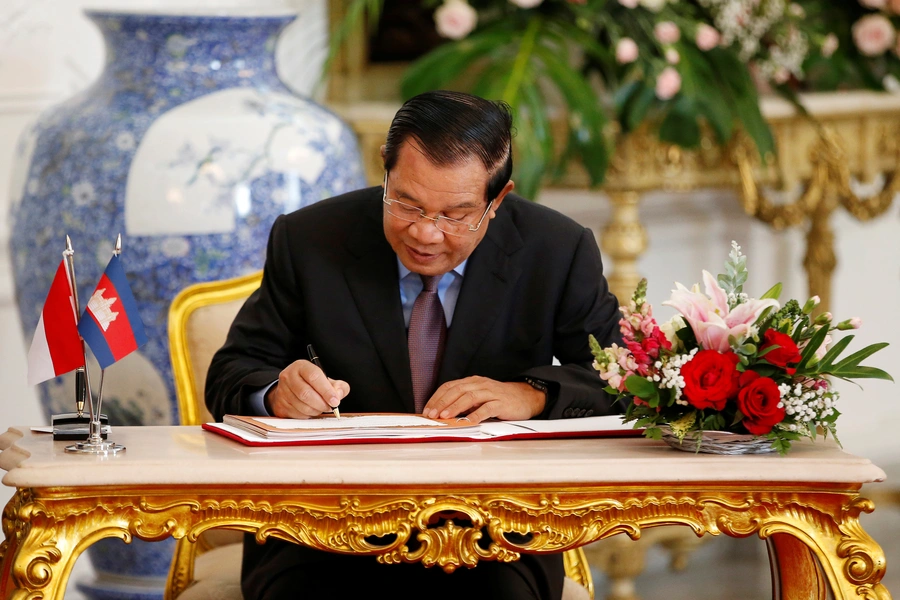 WhatsApp Limits Forwarding in Attempt to Fight Coronavirus Disinformation
On Tuesday, WhatsApp announced that it would limit the forwarding of certain messages in an attempt to contain coronavirus disinformation that has run rampant on the platform. Though WhatsApp messages are encrypted and thus cannot be read by the company, since last year it has flagged highly forwarded messages and prevented users from sending them to more than five contacts at once. The company has now lowered that limit to a single contact. Disinformation on WhatsApp has been a particularly large problem in emerging economies. For example, messages that have circulated in India in recent weeks include intentionally misleading information about new treatments, disinfecting procedures for cities, and satellite images showing that the virus is being contained.
Zoom's Troubles Mount as It Is Banned by Google and U.S. Senate
Zoom, the video-conferencing software that has been used by workers forced to remain home during the COVID-19 pandemic, faced mounting troubles this week. Security researchers discovered that Zoom's software used a potentially weak encryption method and had a bug whereby users in a "waiting room" could eavesdrop on meetings they had not been allowed into. On Wednesday, Google banned the use of the Zoom desktop app on its corporate laptops, and Michael Stenger, sergeant at arms of the U.S. Senate, told Senators to avoid using the software due to security concerns. Zoom's CEO, Eric Yuan, has been actively trying to restore trust in his company, livestreaming an apology and explaining how he plans to address security and privacy concerns. Yuan also apologized this week after it was revealed that Zoom had routed data from non-Chinese users through China since at least February. That revelation led the Taiwanese government to ban Zoom for official business.
Rights Groups Call for Unblocking of VoIP in Several Gulf States
Twenty-nine rights groups, including Human Rights Watch, released a statement Tuesday calling for the unblocking of Voice over Internet Protocol (VoIP) platforms in Oman, Qatar, and the United Arab Emirates (UAE). These countries have long banned VoIP under the pretense of protecting their national telecommunication companies, but the rights groups say these bans during the COVID-19 outbreak severely impact migrant workers, who make up a significant fraction of the population of all three countries and have been hit particularly hard by the virus. Depriving them of access to platforms that use VoIP, like WhatsApp, prevents them from communicating with their family and accessing health information disseminated on the platform by governments and organizations, like the World Health Organization.
Cambodia Grants Prime Minister Sweeping Executive Powers, Allegedly to Fight Coronavirus
On Friday, the Cambodian parliament passed a law granting Prime Minister Hun Sen practically unlimited emergency executive powers to address the outbreak of COVID-19 in Cambodia. Human Rights Watch warned that the government was using the crisis as a pretext to "assert absolute power over all aspects of civil, political, social, and economic life – all without any time limits or checks on abuses of power." The bill specifically grants the government the ability to perform unlimited surveillance and censorship on all forms of telecommunications and media, including social media. Cambodian police have already arrested and charged multiple citizens, including a fourteen-year-old girl, for their social media activity during the outbreak. The bill passed unanimously in the Cambodian National Assembly, where Prime Minister Hun Sen's party controls every seat.