A Decade On, Will There Ever Be Justice for the Mumbai Attacks?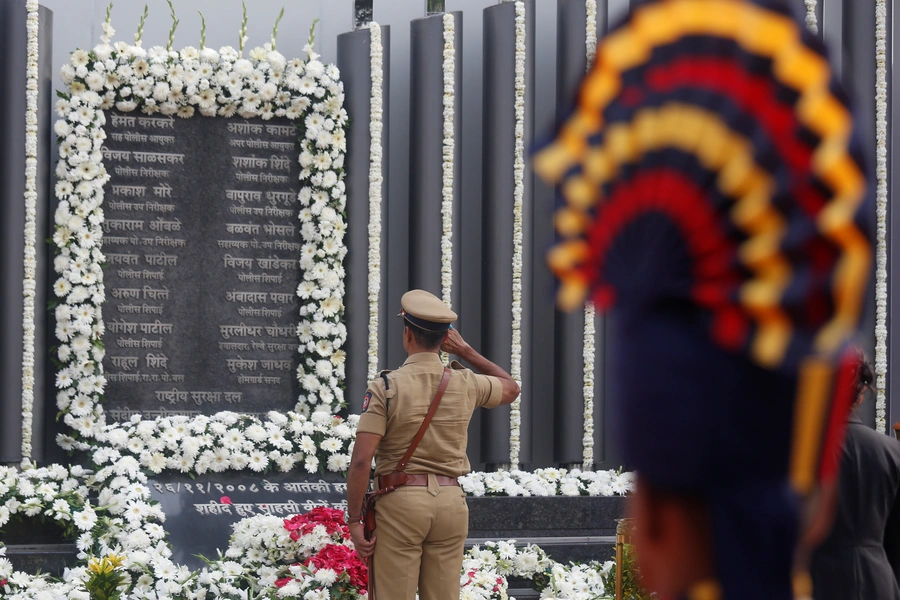 Ten years ago today, terrorists laid siege to Mumbai over a period of three days. Images of the iconic Taj Mahal Palace Hotel in flames shocked the world, but terrorists also attacked the Oberoi Hotel, Chhatrapati Shivaji Terminus railway station, Leopold Cafe, and the Chabad House. One hundred sixty-six people were killed, including six Americans.
The Government of India and the United States government hold the Pakistan-based terrorist group Lashkar-e-Taiba (LeT) responsible for the Mumbai attacks. This terrorist group is under UN Security Council and U.S. terrorism sanctions, including both Executive Order 13224 and Foreign Terrorist Organization designations, as well as sanctions for specific individuals in the group.
Secretary of State Mike Pompeo issued a statement on November 25, 2018 expressing solidarity with victims of the attack, and bluntly adding: "It is an affront to the families of the victims that, after ten years, those who planned the Mumbai attack have still not been convicted for their involvement. We call upon all countries, particularly Pakistan, to uphold their UN Security Council obligations to implement sanctions against the terrorists responsible for this atrocity, including Lashkar-e-Tayyiba and its affiliates."
Ten years on, it's worth reviewing who has been held to account. The one terrorist captured alive during his attack on the Chhatrapati Shivaji Terminus—a gunman, Ajmal Kasab—was tried in India, convicted, and hanged in 2012. Kasab was a Pakistani citizen from Punjab who joined LeT.
In the United States, David Coleman Headley, a U.S. citizen, was convicted in 2013 for his roles in the planning of and advance reconnaissance for the Mumbai attack. Tahawwur Rana, a Canadian, was convicted the same year of support to LeT.
But the trial of seven members of this terrorist group has been stalled in Pakistan for years; earlier this year, former (and ousted) Prime Minister of Pakistan Nawaz Sharif made headlines (and controversy in Pakistan) for publicly acknowledging the activity of this group, and asking publicly why the trial could not be completed.
On November 25, 2018, the United States issued a new "Rewards for Justice" incentive of $5 million for "information about the individuals responsible for these [Mumbai] attacks." The reward joins two issued back in 2012, one for $10 million concerning information that could "bring to justice" Hafiz Muhammad Saeed, the founder and head of LeT—which continues to operate under the name Jamaat-ud-Dawa—and one for $5 million issued in 2012 for Hafiz Abdur Rahman Makki, also of LeT.
In the Financial Action Task Force (FATF), an international collective focused on denying financial flows to terrorist groups, Pakistan was placed on the "gray list" in June 2018. U.S. security assistance has been suspended for nearly a year due to Pakistan's inaction on various terror groups operating from its soil.
Despite specific sanctions, the suspension of security assistance, FATF scrutiny, and public calls for action, Hafiz Saeed remains at large in Pakistan. In the Pakistani general elections of July 2018, LeT/Jamaat-ud-Dawa "fielded" some two hundred candidates for office. Earlier this year the religious affairs minister of the Pakistani government appeared on stage with Saeed at a public discussion.
Ten years on, we are still asking if there will ever be justice for the Mumbai attacks.
Selected resources on the Mumbai attacks:
My book about India's rise on the world stage, Our Time Has Come: How India Is Making Its Place in the World, was published by Oxford University Press in January. Follow me on Twitter: @AyresAlyssa. Or like me on Facebook (fb.me/ayresalyssa) or Instagram (instagr.am/ayresalyssa).